INTERNATIONAL Symposium "italy in Transit"
An annual professional and academic meeting held in Boca Raton in Winter (the best time to be in Florida). 
Guests are invited to share their research about Italy seen as a fluid space where identities cross and new encounters are shaped. It is a symposium (from syn: together) because speakers commit to the whole program and listen to each other to compare ideas. Everyone gets richer from a synchronic, sympathetic, synergetic confrontation.
Organized by the FAU Italian Studies Program, in collaboration with the John D. Calandra Italian American Institute (New York) and the FAU Initiative for the Study of the Americas, under the patronage of the Consulate General of Italy in Miami.
February 10-11, 2023
The VII Symposium in Parchi Letterari, in Miami Italian Scientific Community
PAST EDITIONS
2022
Recordings of almost all sessions are available: Friday plenary session A Portrait of italian America . Saturday session 1 Italian Culture in High Schools; session 2 Literature in Transit; session 3 Cultural Crossings; session 4 Mario Mignone Session on Italian American Studies; session 5 dedicated to Anthony Riccio, Italian Magical Realism; session 6 Michele D. Serra New Italian Film Series, Magical Realism in Italian Cinema, with Marco Bonfanti.
2022 Group Portrait
Recording of Friday night session. minute 1'-23' Greetings / 24'-1h29' Marco Bonfanti and Anna Godano / 1h'29-end Italians in the Americas and Beyond.
Recording Saturday first part: 1-13' Greetings / 13'-1h31' Exploration Through Study / 1h31'-2h54' Long Distance Collaborations /  2h54'-4h31' Mario Mignone Session on Italian American Firsts / 4h32'-end I World Summit of Italians in Transit (Brazil; beginning of Iceland). [We have to use Zoom? Let's use it to its full potential and connect Italians across 24 time zones!]
Recording Saturday second part: I World Summit of Italians in Transit (Iceland, South Africa, New Zealand, Mars, Hawaii). This I Summit is particulary striking: Italian voices from the corners of the world explain their research from Iceland ants to the mission to Mars.
2020
Below, group pictures of the IV Symposium; write-up of the event in "La Voce," Canada's leading Italian American magazine; and the bag hand-printed by FAU Printing Club with Philippe Apatie's photograph.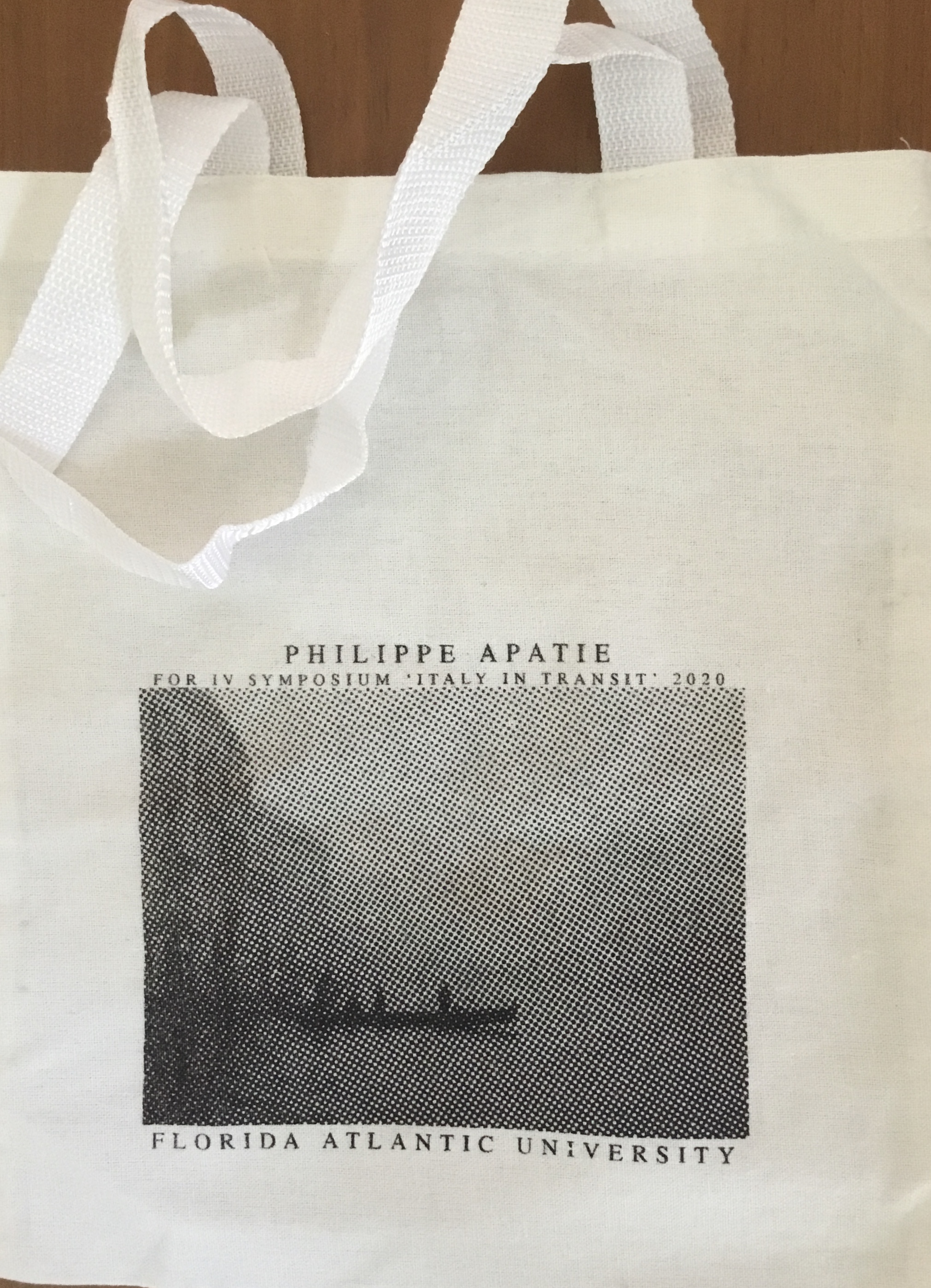 2019
Write-up of the 2019 Symposium in "We The Italians." Photos from 2019 edition