RALPH FASANELLA FELLOWSHIP
FOR THE STUDY OF HIS ARTISTIC LEGACY - NEW PROJECT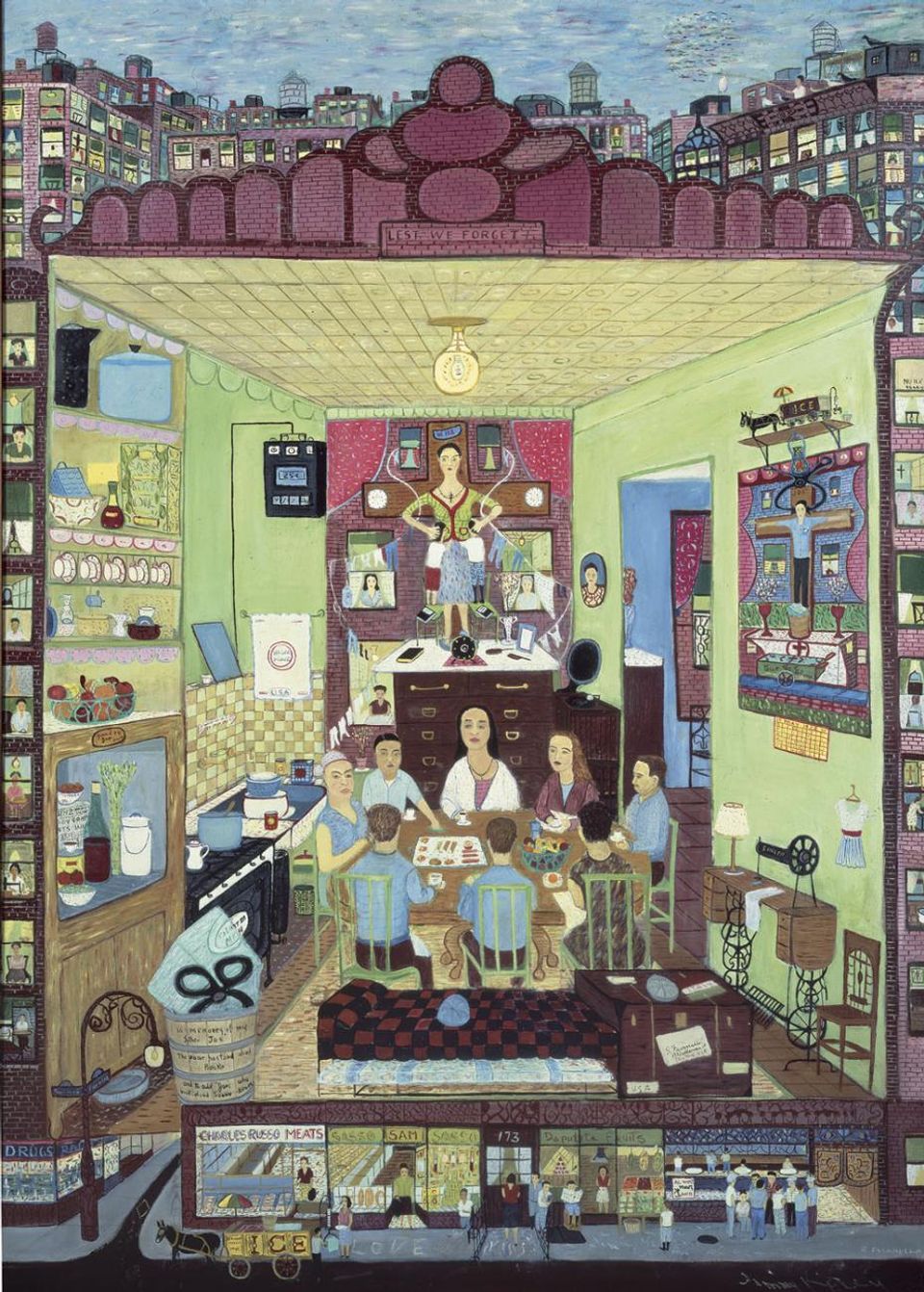 The Fellowship funds a visiting scholar for a variable duration of time, supporting the advancement of research and special projects pertaining to the activism, artwork, and legacy of Italian American painter Ralph Fasanella.
Ralph Fasanella was born to Giuseppe Fasanella and Ginevra Spagnoletti, Italian immigrants, in the Bronx on Labor Day in 1914 and died in 1997. His mother was a progressive woman who instilled in him a strong sense of social justice. Fasanella worked delivering ice with his father from a horse-driven wagon, as a textile worker in garment factories, as a truck driver, a machinist in Brooklyn, a union organizer, and as a gas station owner / operator in Bronx, NY.
He became profoundly aware of the growing economic and social injustice in the United States, as well as the plight of the working class and turned his incisive mind and incessant hand to working as a self-taught artist. New York Times art critic Benjamin Genocchio described Fasanellas paintings as…bold, colorful compositions loaded with minute detail. His canvases – scenes of everyday urban life, crowded with people and buildings – celebrate popular interests along with social and political events. They provide a compelling, sometimes critical portrait of post-World War II America.
Today, Fasanella's work is in the permanent collections of the American Folk Art Museum, The Fenimore Art Museum, the Metropolitan Museum of Art, and the Smithsonian Museum of American Art as well as part of numerous public art projects. His Family Supper, shown above, is on permanent display in the Great Hall at the Ellis Island Museum.
To expand the enduring legacy of Ralph Fasanella's artistic career, his children, Marc Fasanella, and Gina Fasanella-Mostrando, in collaboration with Florida Atlantic University's Italian Program, have partially funded a fellowship for the study of his work writ large at Florida Atlantic University. The fellowship will be given to an individual to conduct a study on the entirety of Ralph's oeuvre. Additionally funded through grant applications, corporate as well as private donations and the sale of select reproductions of Fasanella's paintings, the fellowship is integrated with the Italian Program's Marco Pozza Fellowship for Special Projects.
The fellow's primary goal is to extend their experience in research while advancing the scholarly mission of the FAU Italian American Studies Program. The fellow will participate in the research training of graduate students and give lectures on their research, produce relevant publications in peer-reviewed academic journals, and participate in conferences with the goal of spreading knowledge of and appreciation for Ralph Fasanella's life and work.
The fellowship may also be used for dissertation research leading to a PhD in Italian American / Comparative Studies. The ideal fellow is versed in the different fields that help interpret Fasanella's work, ranging from American and European politics to Art and Labor History, as well as Italian American studies.
The fellowship is now limited, but applications are accepted. Send a CV, a letter of intent explaining the intended scope of research, a timeline, and two letters of recommendation from Professors acquainted with the candidate's research potential, to Dr. Ilaria Serra, Professor of Italian and Comparative Studies
Florida Atlantic University – CU242, 777 Glades Road / Boca Raton FL 33431; iserra1@fau.edu / (561) 297-0286.