Program Highlights
THIS IS NOT A CELEBRATION OF PAST ACCOMPLISHMENTS, BUT A LAUNCHING PAD FOR NEW IDEASl
NUOVE IDEE SONO BENVENUTE!
President Tony Di Perna welcomes Dr. Serra at the Italian American Heritage Society's first in-person meeting in Boca Raton, May 2022.
Toast following GKA Initiation and GKA Research Day Spring 2022. Gamma Kappa Alpha National Italian Honor Society Research Days are dedicated to hands-on study activities on specific projects, such as handwritten letters from WWII, an opera manuscript from 1812, Tom DiSalvo's engaging paintings. The Spring 22 Research Day was dedicated to a new art book project by Manuela Filomena, Calli Abisognio and Italian artists: "Rahul" (more to come in Fall).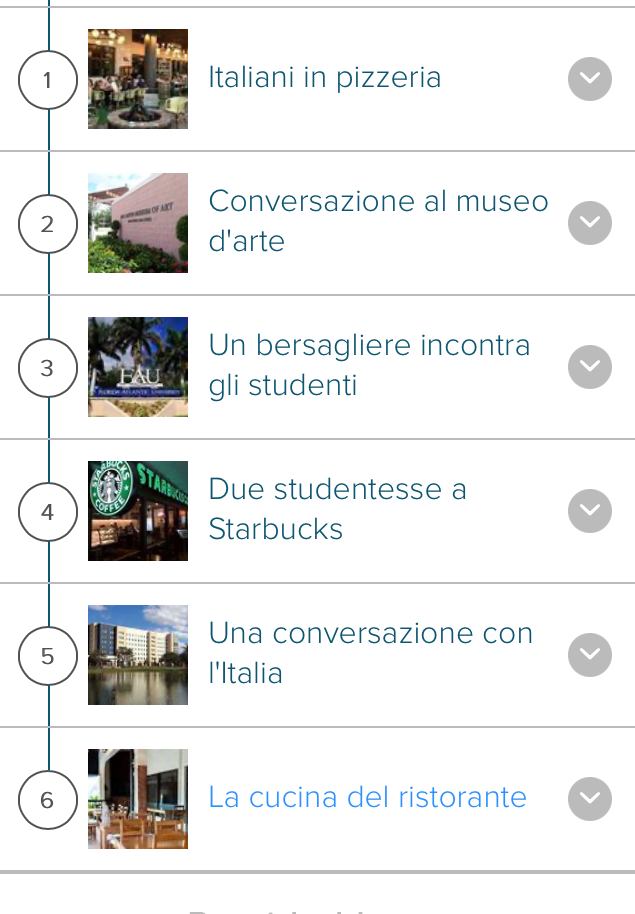 Two new projects from the students/journalists of the class "Leggere la stampa": the first audio tour of Italian Soundscapes in Florida (click on the link to take the audio tour) and the first issue of the newspaper "ITA@FAU" (click on the link to leaf through the paper).
Students, professors and singer and songwriter Mattia Colore (composer for Leonardo Pieraccioni's film) sing in the event "Songs for Peace in Seven Languages" organized by the Department of Languages, Linguistics and Comparative Literature and the Peace and Justice and Human Rights Initiative.
Federico Blumer, author of "Il viaggio di scoperta," and the "inflorencer" Sara Innocenti explain their social media presentations of Italian art and culture to our live audience, in the meeting coordinated by Dr.Jonathan Ramazzini O'Neill. Recording available upon request.
Franco Ferrini, screenwriter for Dario Argento and Sergio Leone, Alberto Lattuada and Carlo Vanzina, met the students for an interview on his prolific work, coordinated by PhD student Manuela Filomena. Recording available upon request.
The Zoppé Family Italian Circus performs at the VI International Symposium Italy in Transit, February 2022. Their exhibition concludes the lecture about their family history between the US and Italy, delivered by Dr. Ilaria Serra. The family photographs are now part of the FAU Italian American Documentary Archive. In the picture: Dean Michael Horswell and Ilaria Serra, between the members of the family Zoppé-Wallenda: Tosca, Chiara, Delilah and Delilah, Tino and Giovanni.
FAU students' semester readings include Franco Beato's Nel mondo dei sottouomini con Luigi Bozzato. Beato virtually met the students during the 2022 Giornata della memoria (Day of remembrance) from Padua, Italy.
92-year old bersagliere Renato Gasi leads the student in a musical military march in "Leggere la stampa" class. Renato Gasi's story is the topic of the student-produced "Italian Soundscape in Florida" podcast map (new project).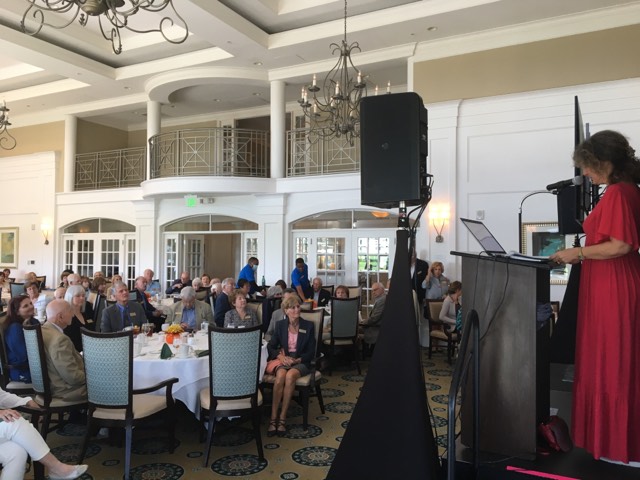 FAU Italian outreach: Dr. Ilaria Serra presents "Italian Film Composers" to the Italian Cultural Society in Naples, Florida, and thanks long-time friends of the Italian program, Il Circolo, Italian Cultural Society of the Palm Beaches, for their "investment" in Italian human capital. 
Visits to the Medieval costume show at FAU: high school students of Italian and their parents from Boca High School (Prof. Maria Deriu) and West Boca High School (Prof. Marianna De Tollis), and Italian 2 FAU students.
Consul Cristiano Musillo at the opening of the show "Fashion in Dante Alighieri's Times" at FAU Theater Lab, November 4, 2021. The program included Italian readings by FAU students, presentations on embroidery in the French Middle Ages (Chair Marcella Munson), embroidery in the British Renaissance (Maura Bernard, MA student), artisanal chocolate (by Italian graduate Ryan) and singing by Dr. Hutchings' opera students. 
The readers who took part in the Divine Comedy Reading Marathon: three hours of uninterrupted reading in English or Italian. November 2021.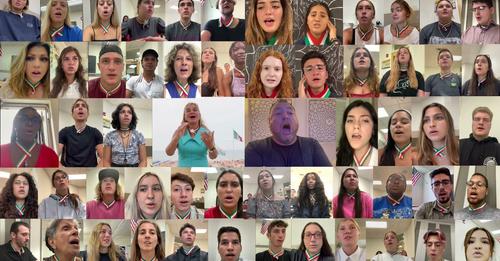 Click on the image to watch the video of the FAU Italian Choir singing Dante's sonnet "Tanto gentile e tanto onesta pare" arranged by Barbara Salani and led by tenor Carlos De Antonis (XXI Week of Italian Language in the World, 2021). Students received the certificates of appreciation by the Consulate General of Italy in Miami.
Recording of the musical version of "Tanto gentile e tnanto onesta pare." Students and teachers sing Dante's sonnet arranged by Barbara Salani, for the video sponsored by the Italian Consulate General in Miami for the XXI Week of Italian Language, 2021. WATCH THE VIDEO
Intermediate Italian students with teacher Viviana Pezzullo, after their presentation of the works of art by Florida artists in an exhibit at the Schmidt Art Gallery at FAU.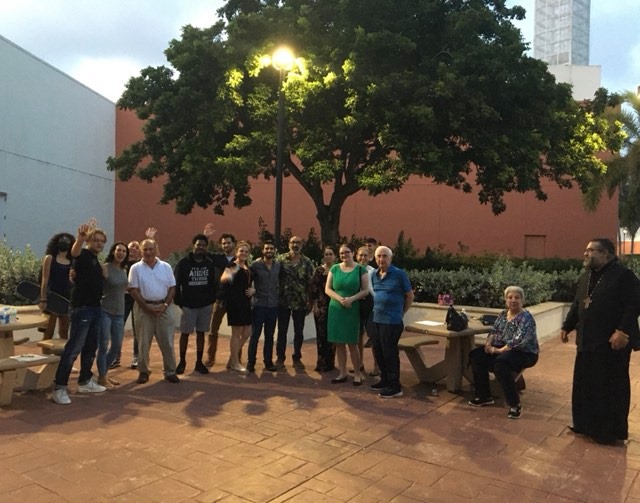 Beautiful Florida evening with "Microfono aperto" Arts Showcase organized by Club Insieme. Songs by Jessica Romero, Calli Abisognio, Richard Leon, Clifton Dikes, Keyanna Diaz, Prof. Pettener and Serra, and Austin Sanniota Edwards. P oems by Isabella Cipollone and Attilia Cappelli.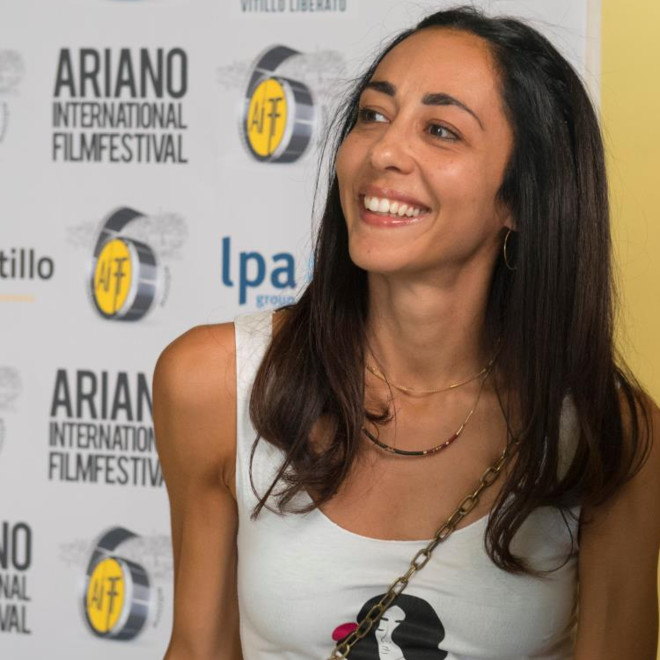 Manuela Filomena, Ph.D. student in Comparative Studies at FAU, has been interviewed in "Italian Cinema Today." She speaks about her experience at FAU Italian Program. Read the interview here. 
Liza Burnham thanks Calli Abisognio for her translation of "Destinazione Chicago" by Giuseppe De Bartolo, Professor at the University of Calabria. Our student's translation provides a precious link between two sides of the family divided by immigration.
A delegation from FAU Italian and the Italian Consulate General in Miami visit the castle of Castiglione del Terziere in Tuscany, to lay the groundwork for a new international study project. Wtach the video invitation here.
"Concerto per Myriam," the celebration for the 35 years at FAU of Prof. Myriam Ruthenberg, founder of FAU Italian Studies. Sponsored by the Il Circolo. Italian Cultural Society of the Palm Beaches and the Consulate General of Italy in Miami. Directed by Barbara Salani; starring tenor Carlos De Antonis and the Italian Program Choir. The repertoire included the new composition "Tanto gentile e tanto onesta pare" by Barbara Salani. April 2021. Click for  entire Concert Video (50') and for Concert presentation (1'30").
Interview with Dr. Ilaria Serra in "The Floridian," quarterly publication of the Grand Lodge of Florida, Order of the Sons of Italy, 21.3 (2021).
Richard Leon and Calli Abisognio, recipients of the 2021 Lena Camiccia-Arnautou Scholarship for Excellence in Italian Studies. Calli also received the "Marco Pozza Research Fellowship for Special Projects" for her translation.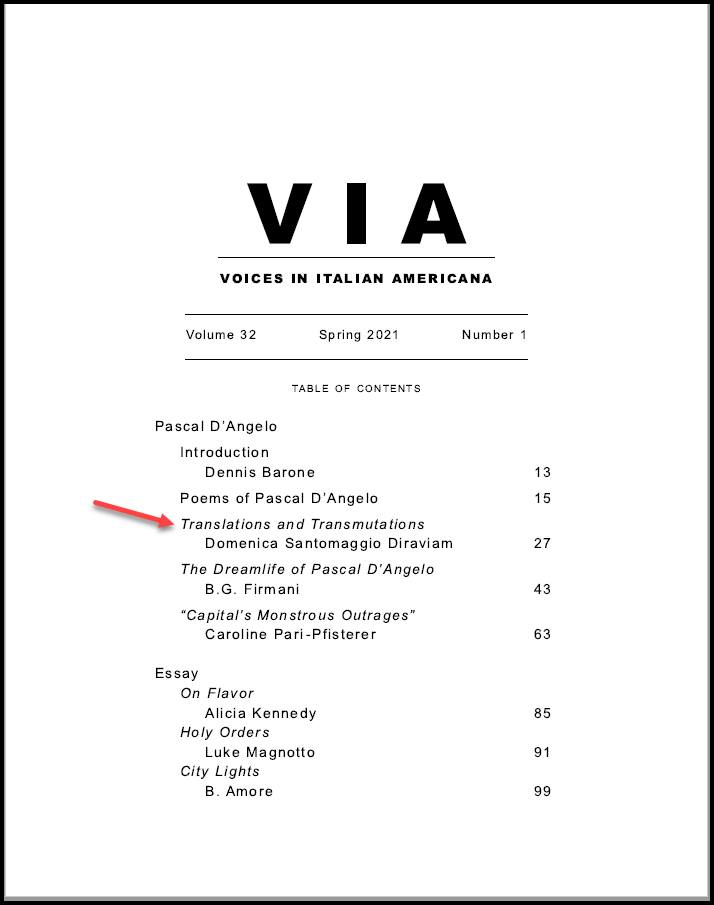 Congratulations to Ph.D. candidate Domenica Diraviam for her publication of "Pascal D'Angelo: Translations and Transmutations" in VIA. Voices of Italian America, 32.1 (2021), 27-42.
Inter-university collaboration between Florida Atlantic University and Augusta University, Georgia. Students of Dr. Emanuele Pettener's Intermediate/Advanced Italian class and students of Dr. Giada Biasetti's Spanish translation class presented the tri-lingual translation of Viviana Viviani's poems. Viviani joined the meeting from Milan, April 2021. Dr. Biasetti earned her MA in Comparative Literature at FAU. Go to the recording.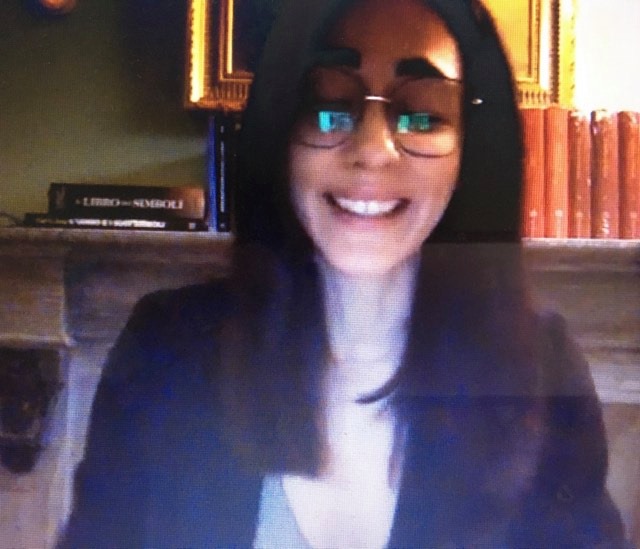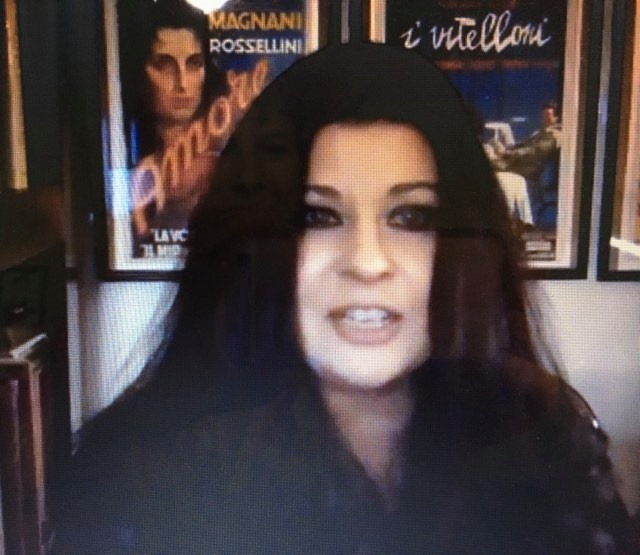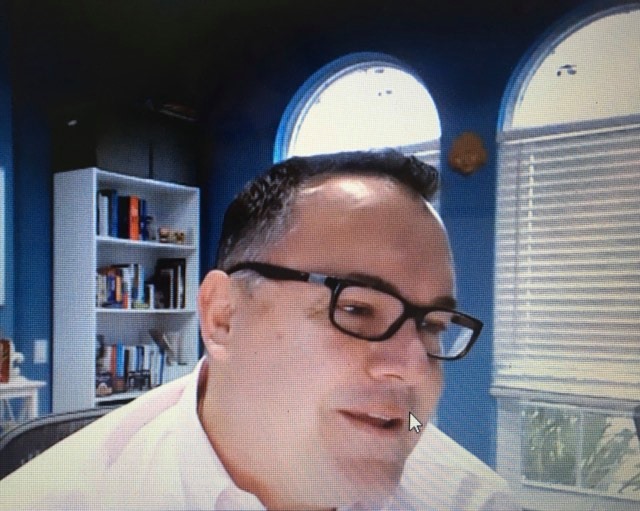 II FAU Italian American Film Festval in Spring 2021, organized by Manuela Filomena (from her computer in Campania!). Guests are filmmakers Andrea Didado, Nina Misuraca Ignaczak, and Jeannine Guilyard. Opening greetings by Basil Russo (ISDA), Courtney Ruffner and Alan Gravano (IASA). Some special guests: Nicola Timpone (Marateale Film Festival) and FAU alumnus Simone Puleo, Ph.D.
Isabella Cipollone Movilla presents "Il verde senso: An Analysis of the Symbolic Meaning of the Garden in Italian and Italian American Culture" at the 11th Annual Undergraduate Research Symposium, April 9, 2021. Faculty mentor Dr. Ilaria Serra. Isabella was also the recepient of the Myriam Swennen Ruthenberg Award for Writing Excellence in Italian.
Author Elisabetta Tiveron meets the students for a Venetian walk among Palladian villlas and green cuisine, in celebration of the 1600 anniversary of the foundation of Venice.
Italian student and Printing club president, Kylie Aylies, silkprinting the bags for the participants of the V International Symposiu Italy in Transit.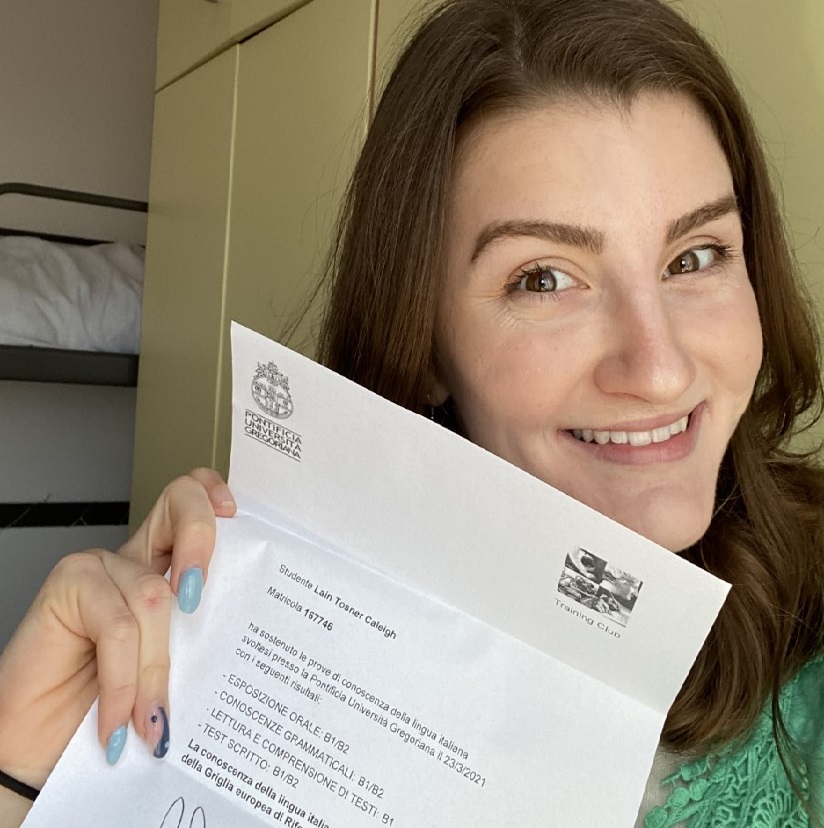 Caleigh Tosner, student of Dr. Pettener, shows her level B2 Italian language certification earned at Pontificia Università Gregoriana, Spring 2021.
The first graduate with an Italian Major, Pino Panzera, class of 1997, shakes hands with Dean Michael Horswell.
Dr. Myriam Ruthenberg is honored for 35 years of service at Florida Atlantic University by the Italo-American Cultural Association, president Tony Phillips, in March 2021. Here also with Paul Finizio, president of Il Circolo of the Palm Beaches-Italian Cultural Society.
Graduate and undergraduate students of the "Italian American Cinema" class have been translated and published in the Italian website, "Strade Dorate: Osservatorio di Cultura Italoamericana." Their considerations on key-images of Italian American cinema are titled "Immagini: frammenti di italoamericanità."
Dr. Serra discusses the Polish-Italian movie,"Dolce fine giornata," at the Judy Levis Krug Boca Raton Virtual Jewish Film Festival, March 2021, with Wendy Honig, artistic director.
Ph.D. candidate in Comparative Studies, Viviana Pezzullo, published a scholarly article in the new annual, peer-reviewed journal "gender/sexuality/italy." The article is titled "Rural Italy in Feminist Writing: Dialogism, Polyphony, and Heteroglossia in Amanda Guiducci's La donna non è gente" and is available here.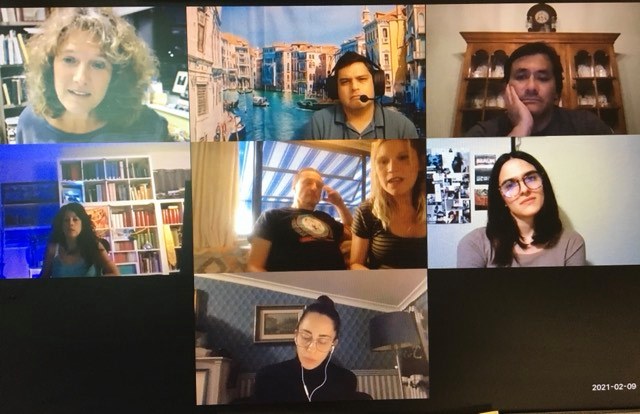 "Italian America: Translating Identities" class meets three living  research topics: memorialist Arlene Spagna (from Boynton Beach), the Zoppe' Circus family (from Arizona), the curators of poet Efrem Bartoletti's archive (from Bologna), Mariolina Camilleri, daughter of the great Andrea Camilleri (Rome) and Rabbi Barbara Aiello (Calabria). Spring 2021.
"Masterpieces of Italialian Literature" class records their "Intervista Impossibile" to la lupa in Dante's Infermo. This is Florida Atlantic University's video entry for the competition organized by the Consulate General of Italy in the 700th anniversary of Dante's death.
"Readings in Intermerdiate/Advanced Italian" class meets authors Kathleen Powell and Brittni Zilberti and discusses their works, the novel In balia della corrente and the blog of an American expat in Italy. February 2021.
MA student Federico Tiberini, Ph.D. students Viviana Pezzullo and Domenica Diraviam, together with Isabela Ribeiro-Ochoa, Hristo Joseph and Dr. Ilaria Serra, are interviewed for the Calandra Corner. They tell Joseph Sciorra about the new collection of letters Fruttauro-Vivo in the Itamm-Italian American Memories Documentary Archive (see sidebar menu). The interview is on Youtube.
Venetian writer Tiziano Scarpa meets Florida Atlantic Unversity students of Advanced Italian and the students of the Dante Alighieri  school in Venice, January 2021. Scarpa discussed and presented the new edition of Venice is a Fish. The meeting is on Youtube.
Marianna De Tollis, Ph.D. in Comparative Studies, is the new Italian teacher at West Boca High. Congratulations! Marianna's story is also part of our FlorItalian series.
Ph.D. student Seth Stein conducts the live presentation from the Roman forum and the Roman ghetto on a cold January saturday, with Fulvio De Bonis.
Louis Giannetti, renowned film critic and author of the classic textbook "Understanding Movies," meets students (and ex-students) of Dr. Serra's "Italian American Cinema" class, on December 14, 2020. Giannetti is an Italian American scholar and a dedicated teacher who enjoyed the interaction with the students.
Master students Odra Dorante and David Brubeck conduct the discussions of the first FAU Italian American Film Festival, December 2-4 2020 (in collaboration with NIAF, ISDA and the Russo Brothers Film Forum). This is the opening night with filmmaker Anton Evangelista, and a few of the many participants.
Dr. Pettener's students of Italian Advanced interview poetess Viviana Viviani, whose work they translated in class. She joined the conversation from Milan, Italy, on November 17, 2020. 
Ph.D. student Domenica Diraviam opens the virtual exhibition on the art of Tom Di Salvo, old friend of the FAU Italian Club Insieme, and very interesting painter. His work and his personality are really "al di la' delle reti," and they won't be forgotten. It can be visited here.
Ryann Kretz, dual-enrolled high school student, won the popularity prize at the Competition "Il Fumetto" promoted by Consulate General of Italy in Miami for the XX Week of Italian Language. Her drawing of a hug with her dog, her best friend during quarantine, won Ryann a trip to Italy to continue her Italian studies.
Dr. Emanuele Pettener and students from five universities, with consul Cristiano Musillo, talk to Moreno Burattini, screenwriter of the famous Italian comics "Zagor" and "Lupo Alberto." Organized by the Consulate General of Italy in Miami for the XX Week of Italian Language.
Our students' work has been published! Three poems by poet Viviana Viviani translated in Dr. Emanuele Pettener's Intermediate/Advanced Italian class are published in the the Italian LitMag "Formicaleone." Students worked with passion and debated on each single comma. They are Giuliana Barile, Angela Benitez, Caterina Casadei, Hugo De La Piedra, Alexandrina Dec, Rosie Kenna, Ryann Kretz, Richard Leon, Heidi Moura, Sasha Passadore, Mickela Pitter, Nicole Siedlarek, Dante Silvestri, Seth Stein. Click here to read the poems.
Final class of the graduate course "Poetic Geography of Italy," Spring 2020. Discussion via Skype with Stanislao De Marsanich, president of Parchi Letterari-Paesaggio Culturale Italiano. The entire conversation (in Italian) is here. The title of the class became also the title of the session of the virtual Gran Tour, organized by the journal Leggere Tutti and Parchi Letterari. Click here and find minute 10:49:10 to listen to the presentations. Click here for developments of this collaboration.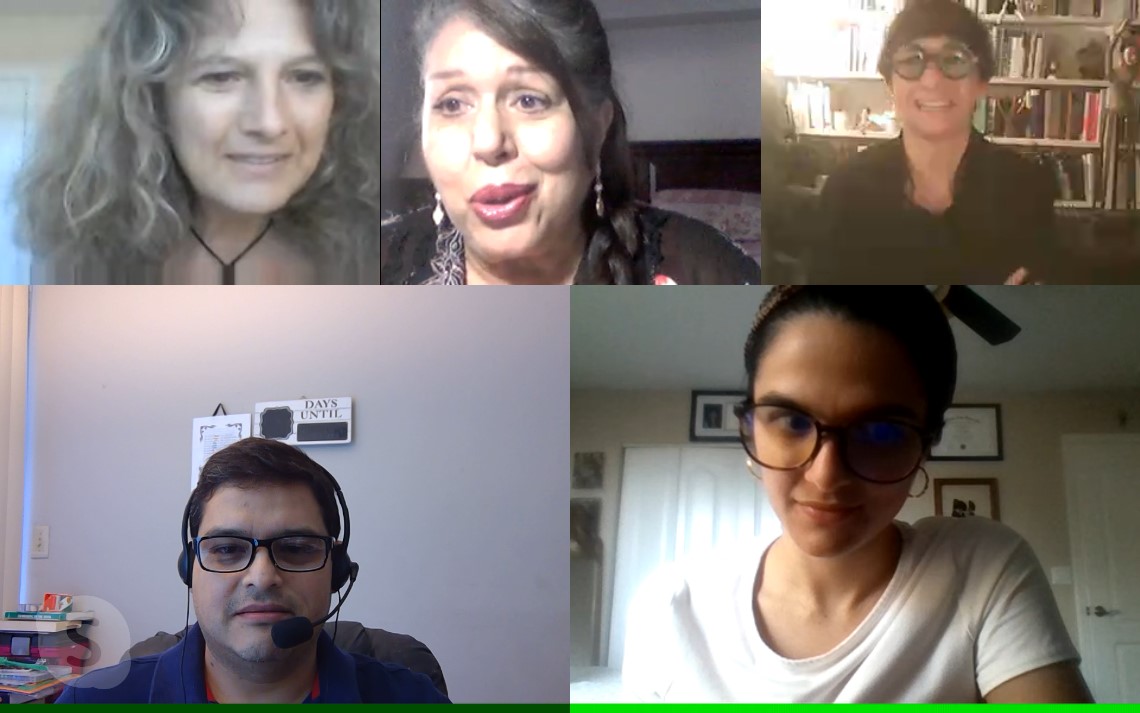 Meeting with poets Anna Toscano from Venice and Luciano Cecchinel from Revine Lago, during the class "Poetic Geograohy of Italy" taught by Dr. Ilaria Serra.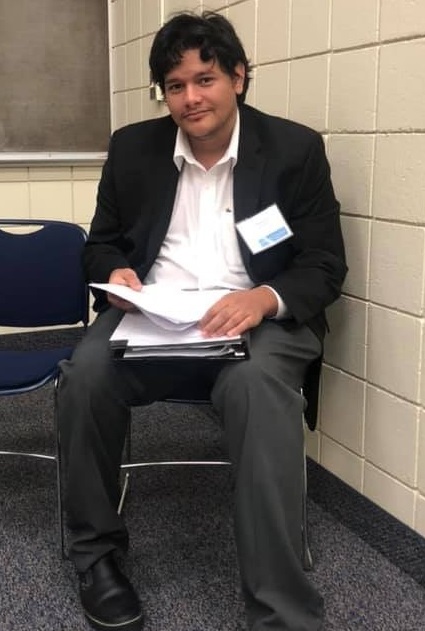 Onyx De La Osa, past vice-president of the Italian Club "Insieme," graduated with a Master of Arts from University of Cetral Florida, with a thesis on Sicilian history, titled "The Uniqueness of a Kingdom: The Frontier Kingdom of Norman Sicily in Comparative Perspective." He says: "My knowledge of Italian helped me read history books."
In Spring 2020, thousands of rainbow flags, mostly painted by children, repeated "Everything will be fine"-"Andra' tutto bene" from every balcony in Italy. This is a class flag prepared by the students of Odra Dorante's Beginning Italian class. They were inspired by Gianni Rodari's poem "Speranza" (Hope).
Viviana Pezzullo, graduate teaching assistant and PhD candidate at Florida Atlantic University, relies on simplicity and human connection to reach her students during the transition to virtual instruction of Italian and World Literature, due to Coronavirus. Watch and read it here.
Italian classes and the Italian Club Insieme did not stop in Coronavirus times.... We still saw each other and met current and past students, and old friends. For the impact of Covid in the Miami Scientific Italian Community, click here.
Students of Italian climbing the ladder of success: Angelo Ybarra, International studies major at FAU Honor College; Gabriela  Rojas, Linguistics major with Italian Minor: Dean's and President's list Fall 2019 and Spring 2018; Heidi Moura, Italian major: Dean's List Fall 2019; and Rosie Kenna, Social Work major: President's and Dean's honor list Summer and Fall 2019.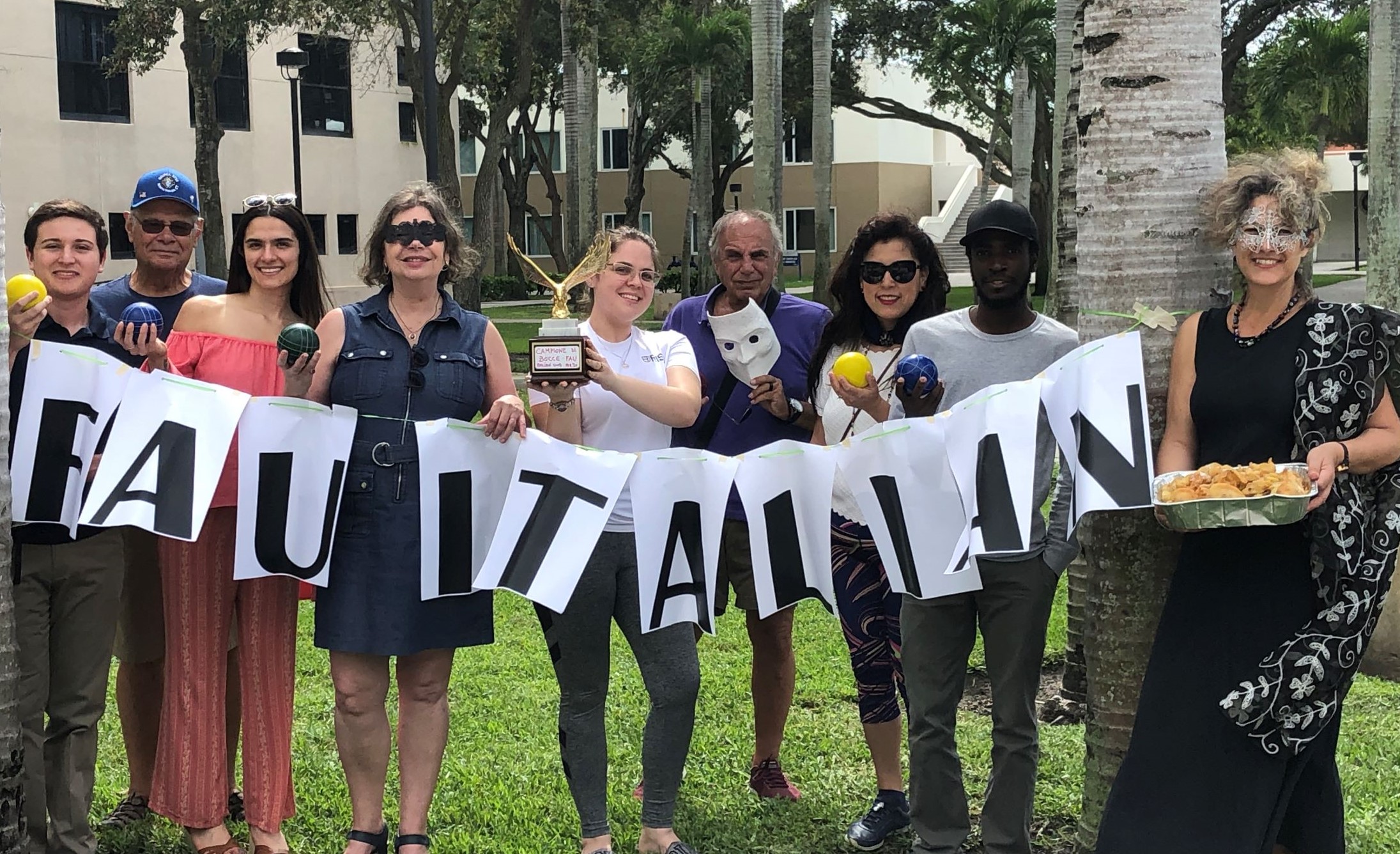 Bocce players at the celebration of the Venetian Carnival 2020 in the FAU Campus. Little did we know this would be our last club meeting before Covid 19 lockdown.
GKA Research Day in Spring 2020. Undergraduate and graduate students meet for primary source research. They read and decypher old family letters in Italian found on a curbside in New York City and brought to the J.D. Calandra Italian American Institute.  They are the core of the Vivo-Fruttauro Collection, the latest addition in our student-driven Itamm-Italian American Memories website (link here). The research day bring together members and future members of GKA Italian National Honor Society at FAU.
Already three of our Graduate students' essays have been published in "Luci ed Ombre," a respected  on-line Italian Cinema journal: Marianna De Tollis, "A Woman, a History, a Movie: Ida Dalser's Tragic Resistance from History to Film" (IV 1, 2016); Enza Iadevaia, "Il melograno e la memoria. Il cinema di Fariborz Kamkari. Identità punteggiate del Cinema Italiano Contemporaneo" (VII 4, 2019) and Natale Filice, "La funzione di Cavalleria rusticana tra riscrittura del Sacro e crisi della presenza ne Il Padrino Parte III di Francis Ford Coppola (VII 3, 2019). Read them here.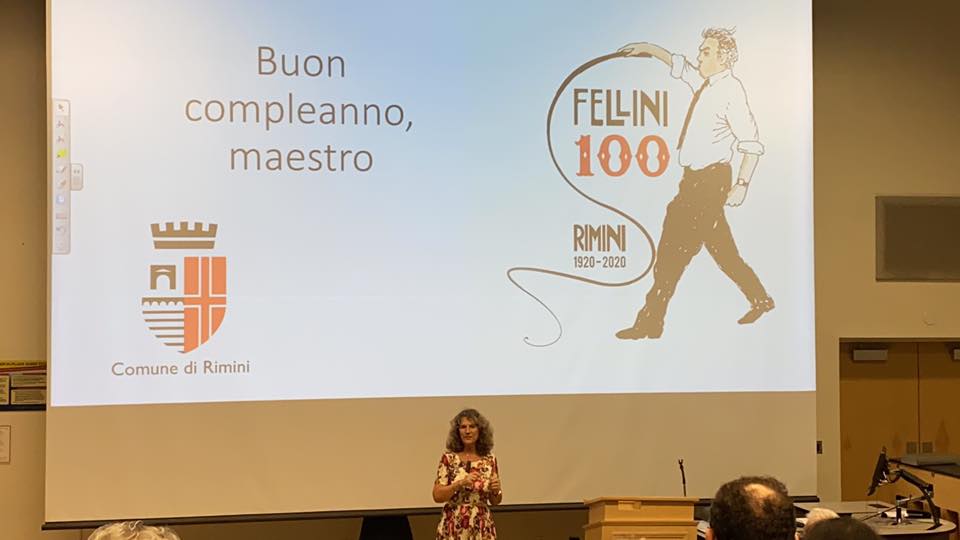 The FAU Italian Program joined the world-wide celebration for 100th birthday of Federico Fellini by showing a selection of pages from "Il libro dei sogni" sent by Comune di Rimini (the city of Rimini, his hometown).
 Nicholas Christodoulidis produced the first 3-D scanning of the capitals of the Doge's Palace, as part of an independent research with Prof. Ilaria Serra. Nick is a student of Italian and graduate of the School of Architecture who participated in the 2009 Study Abroad program in Venice. See the video rendition of this groundbreaking research, presented at the FAU Italian Symposium "Italy in Transit" 2020.
Twice-nominated Pulitzer Price autor John Domini joins Dr. Emanuele Pettener for a conversation on Naples, Italian America and his latest novels. January 2020. A description of the evening and interview with the writer by Jessica Monge, here.
Dr. Emanuele Pettener and Dr. Ilaria Serra receive the award of Program of the Year for the Venice Study Abroad Program. Read more in We The Italians. 
End-of-semester dinner prepared by the students of Dr. Myriam Ruthenberg's class "Italian Culture Through Food", 2019.
The concert "L'Italiano sul palcoscenico" opened the XIX Week of Italian Language in Florida at Florida Atlantic University, at the presence of the Italian Cosul, Cristiano Musillo, and the participation of the students of Italian of Sunrise Park Elemenrary School, Loggers' Run Middle School, West Boca High. Tenor Carlos De Antonis rides a Vespa and FAU students Ethan Vogt and Laura Romero sing as soloists. A memorable event, October 2019. To read more, click on the ODLI newsletter.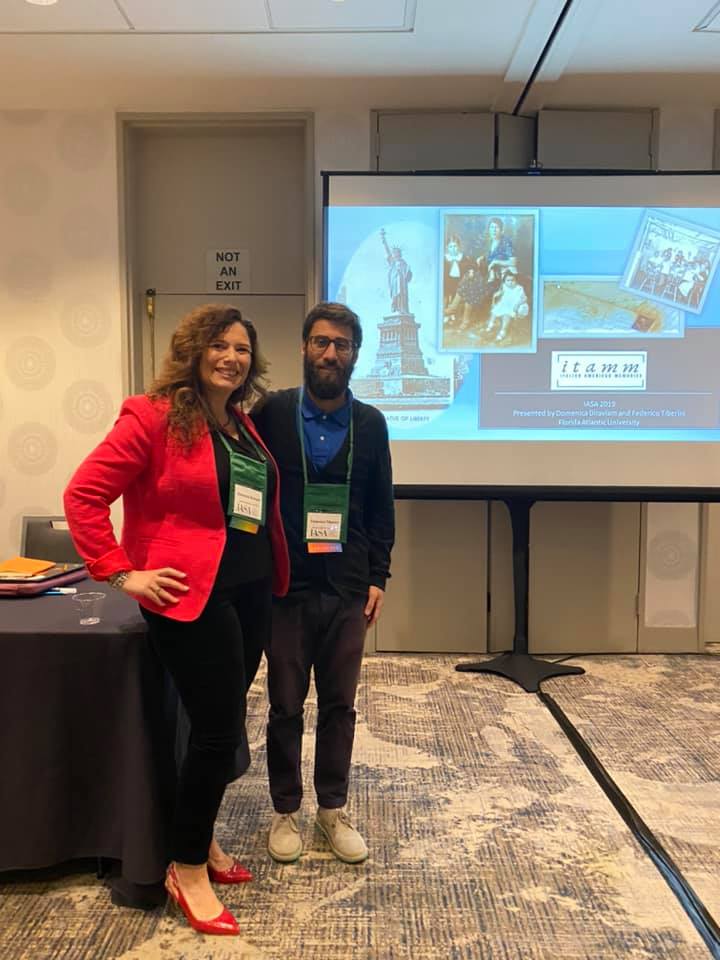 Ph.D. student, Domenica Diraviam, and MA student, Federico Tiberini, present the web project "ITAMM-Italian American Memories" Archive at the IASA-Italian American Studies Association in Houston, Texas, October 2019.
Undergraduate and Honor student, Mary Forrest, presents her experience in the FAU Venice Study Abroad Program 2019 at the  University Honor Program: "Life starts at the end of your comfort zone."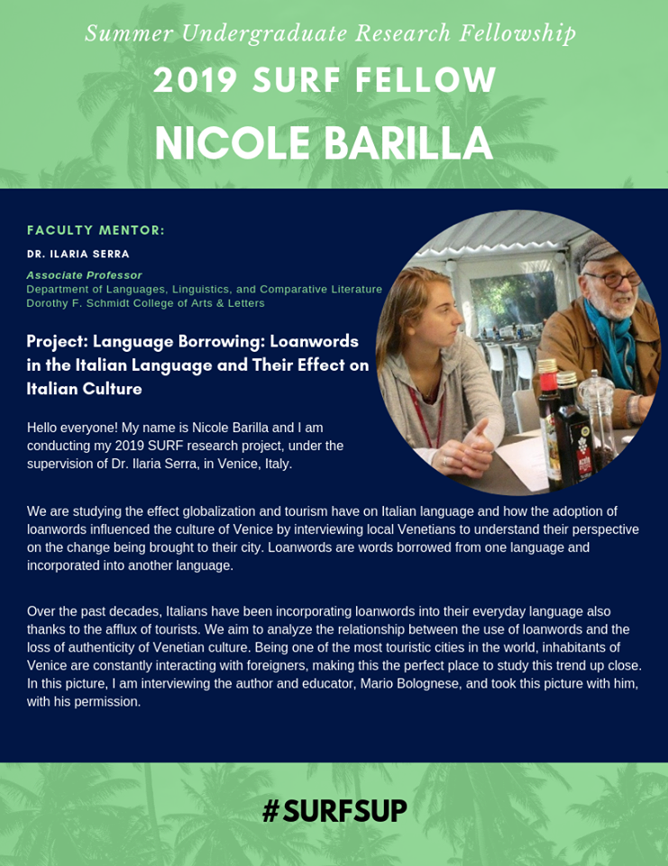 Italian Minor, Nicole Barilla, presents her research in Foreign Loan-Words in the Italian Language, conducted in Venice, Italy, as a Summer Undergraduate Research Fellow recepient.
Ph.D. candidate, Viviana Pezzullo, and research advisor Dr. Ilaria Serra, at the Graduate Research Symposium poster presentations, April 2019.
South Florida contribution, coordinated by FAU Italian, to the Triangle Shrirtwaist Factory memorial in New York City. March 2019.
LLCL faculty members Dr. Frédéric Conrod and Dr. Ilaria Serra introduce famed French philosopher Bernard-Henri Lévy during his appearance at the University Theater, February 2019.
Celebrating the new Italian K-12 curriculum in Boca West, from kindergarten to the university. Principal Craig Sommers (West Boca High), Myriam Ruthenberg (FAU), principal Alicia Steiger and Luisa Mangano (Sunrise Park Elementary), Eufrasio Volpe (Loggers' Run Middle School), Ilaria Serra and Emanuele Pettener (FAU), on February 20, 2019. Thanks to ODLI (Organization for the Diffusion of Italian Language) and Italian Consulate.
"Italian Film Dreams": entry for the international competition "Vivere all'italiana" organized by the Italian Foreign Ministry and produced by the 2019 class, "Italian Language Through Cinema," taught by Dr. Ilaria Serra. The short shows how you can "dream Italian" when you study with us! Click on the photo to see the full video!
Vincenza Iadevaia, Ph.D. won a fellowship at Kadir Has University, and is now an Instructor of Italian at Boğaziçi University. She lives in Istanbul, Turkey.
Marianna De Tollis and Vincenza Iadevaia celebrated their successful dissertation defense in Spring 2019: "Finding a Room on One's Own: Veronica Franco and Sor Juana Inès de la Cruz" (De Tollis) and "Punctuated Identities in Contemporary Italian Cinema" (Iadevaia). In the first photo, Ozpetek's iconic apples and advisors, Dr. Ruthenberg, Dr. Serra, and Dr. Guneratne. Marianna teaches at FAU. 
Special students: Salvatore Lepore, Professor of Chemistry, and Italian and French Major; George Mazzei and Thomas Connors De Angelis long-time tudents and auditors of Italian courses.
Italian Consul in Miami Cristiano Musillo and Serenella De Rosa, Director of the Education Office of the Italian Consulate, visit Florida Atlantic University for the III Symposium "Italy in Transit". Here they are with Jupiter attorney Antonella Balzano, Nichola Cuellar, president of the Italian Club "Insieme," Dr. Ilaria Serra, Tony Phillips, president of Italo-American Cultural Society, of Pompano Beach and Norma Phillips.
Congratulations to Nicolas Cuellar, FAU Freshman, president of the FAU Italian Club Insieme. He has won the NIAF (National Italian American Foundation) trip to Washington DC and will be FAU-NIAF ambassador at FAU.
Marjorie Hernandez has won a $50 Amazon gift card for her Prize at photo competition "Italy in South Florida", organized by FATI (Florida Association Teachers of Italian).
Congratulations, Flaviane Chaves, for winning the prize "Il cioccolato parla italiano," organized by Florida International University and the University of Perugia.
Italian and Chemistry students visit the headquarters and production center of MAPEI in Fort Lauderdale. MAPEI is an Italian-owned international firm, founded in Milan, and its specializes in materials for construction. PMI Day (Piccola e Media Industria), 2018 and 2019.
Rick Zullo, Italian major, interviewed about his experience at FAU in "Sul Romanzo." Read interview.
 Students of "Reading the Italian Press" hold the copy of the Italian weekly newspaper "Gente Veneta" where they wrote a collaborative articles on religious services in South Florida.
Prof. Ilaria Serra welcomes Angelo Sbrocca to Florida Atlantic University. Sbrocca, mayor of the city of Termoli, came to Florida to sign a new sister-city agreement with the town of Pompano Beach.
Master graduate, Jessica Monge, shows here publication of in VIA. Voices of Italian America, of her tri-lingual essay-memoir, titled Radici perdute: una storia scomparsa torna in un presente italiano.
Italian undergraduate and graduate students, Marjorie Hernandez, Nicoletta Sorice, Viviana Pezzullo, and Federico Tiberini gather for a GKA Research Day, one day of reading, cataloging, and describing documents from a World War II letter fund (Patricia Badia Johnson) for our Digital Humanities Project.
Italian undergraduate and graduate students, Marjorie Hernandez, Nicoletta Sorice, Viviana Pezzullo, and Federico Tiberini gather for a GKA Research Day, one day of reading, cataloging, and describing documents from a World War II letter fund (Patricia Badia Johnson) for our Digital Humanities Project.
Advanced Italian students, Zachary Botte, Angela Dalton, Alexandrina Dec, Marjorie Hernandez, Samuele Pasqualotto, Logan Rosenfeld, Nicoletta Sorice, Daniela Rozman, and Prof. Ilaria Serra signed the English subtitles for the Un Posto Altrove. A place Elsewhere by Luca Sella and Andrea Onori, a documentary about two stories of immigration in the city of Venice (2017).
Advanced Italian students, Alexandrina, Zachary, Nicoletta, Daniela and Angela present with Dr. Ilaria Serra at the Symposium Italy in Transit 2018, on "The Poetry of Italian Streets: Photography by Joan Nova."
Inauguration of the painting "Bagheria"  by Tom Di Salvo, a late friend of the Italian program, donated by the Di Salvo family.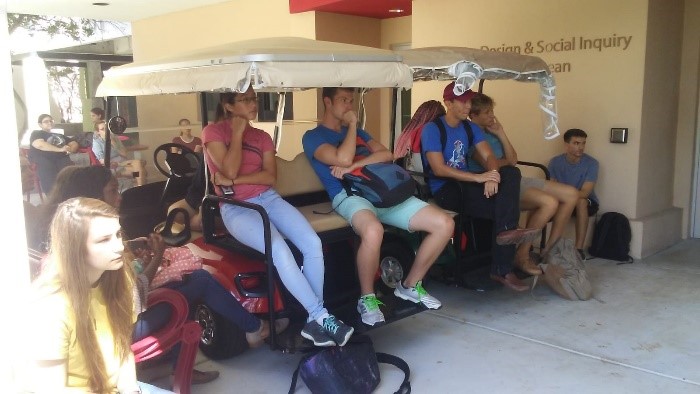 Prof. Myriam Ruthenberg's class on Dante's The Divine Comedy read and comment their favorite cantos in the open air, to students of Introduction to World Literature.
Students of Italian meet author Rosemary Bracco about her novel The Sins of Castel DuMont, during the Oretta del Cappuccino in front of the beautiful "Grassroot" work of art in Culture and Society building, FAU.
Students of Advanced Italian act in short play by Luigi Pirandello, under the direction of actor Fabio Pasquini visiting from Rome.
Students and general audience welcome filmmaker Samuele Rossi who presented his first movie, La strada verso casa.
Laura Evans, student of Italian, performs at the Italian Art Showcase.
Mary Jane Saunders, Florida Atlantic University former president, greets students of Italian during their conversation hours, Oretta del Cappuccino, on campus.
Students of Italian and our Boca community meet pianist, singer and songwriter Giacomo Toni, from Emilia Romagna, who gives an improvised performance in the FAU music room.
Former presidents of the Italian Club, Nicola Pace (Ph.D. student in Mathematics), Madgalena Pire-Schmidt, and Pamela Fuentes sit at the "Club Insieme" table at a student organization event at FAU.
Nicole Abbott, Tiffany Lopez and other students of Advanced Italian use games and songs to teach the rudiments of Italian to the children of FAU A.D. Henderson Elementary school "Italian Club," during a semester-long Academic Service Learning experience.