Student Voices
The laughing faces of our students who composed a chant on the spur of the moment - and expressed their Study Abroad   happiness on the top of the Dolomiti mountains. "The sun is bright, the sky is blue. Study Italian at FAU!" (Click on the picture to listen to the chant)
From the Dolomiti: students thank the donors of Il Circolo-Italian Cultural Society of the Palm Beaches who helped them realize their dream. (Click on the picture to watch the video)
From Burano, VItaly: students thank the donors of the UNICO Highland Beach chapter who helped them realize their dream. (Click on the picture to watch the video)
Landed a wonderful job at the Consulate General of Italy in Miami! Isabella Cipollone Movilla hosts one of the events of the new Italian Cultural Institute in Miami, a fter a successful undergraduate and Master career in Political Sciences and Italian at Florida Atlantic University. (Click on the picture to watch the video)
Italian major, Richard Leon, speaks about his experience teaching English in Lombardy in 2022-23, after graduating from Florida Atlantic University. He shows some of his favorite pictures so far. (Click on the picture to watch the video)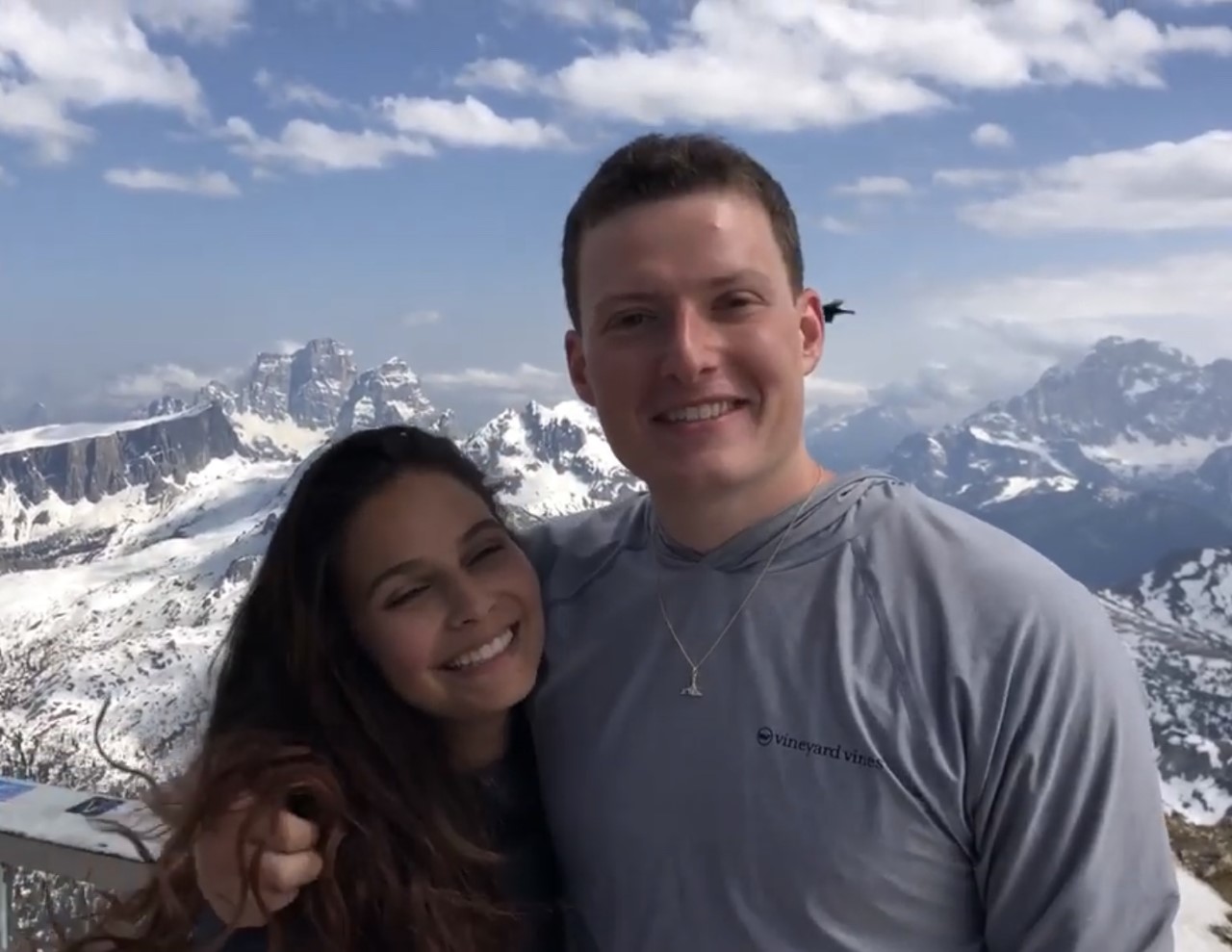 Ashley Alvarez and Eric Margolies on their romance with Italian, from the top of the Dolomiti mountains. "We met in Italian I. We fell in love. We came to the Study Abroad in Venice, and we really fell in love with Italy"... "And we got credit for it"... "The best part!" (Click on the picture to watch the video)
Zachary Scalzo, FAU Italian graduate (BA and Master's) accompanied the Venice Study Abroad program as an instructor of Italian in Summer 2022. He describes the meaning of the verses by Mario Stefani, tattooed on his arm. Zac holds an MFA and is currently artist in residence at the University of Oklahoma. (Click on picture to watch)
Ryan Hauslinger, 2020 graduate, Italian major and pastry chef, recalls his best memories at FAU Italian as a student on the autism spectrum. He speaks from Salem, MA, where he works in a bakery and indulges his passion for the mysterious. We miss his cookies. (Click on picture to watch video)
Alumna Cat Coule tells about her experience in the Poetry Camp in Castiglione del Terziere, with Florida Atlantic University Professors Ilaria Serra and Emanuele Pettener, June 2022. She studied Italian at FAU and is now a life coach with an Italian flare. (Click on the picture to watch the video)
Valentina Sasso and Gianna Alberti show where they study Italian at Florida Atlantic University. Click on the picture to watch the video. Click to watch Richard and Michele's video and George and Ilaria's videos. These videos were prepared in a class workshop with filmmaker Gianni Del Corral.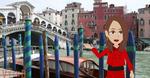 Dawn Dubriel, Italian minor, tells her story with FAU study abroad in Italy, Florence and Venice, and how it changed her life. She then earned two MA degrees and is now a PhD student with a rewarding full-time job. (Click on the picture to watch the video)
Kevin Anderson, FAU Italian major, tells about is experience in the Italian program, his year teaching in Italy after graduation, and the unexpected path his life took after studying Italian at FAU. He has now earned a Master in Linguistics from the University of Seville and is not coming back from there! (Click on the picture to watch the video)
Austin Sanniota Edwards, Master's in Comparative Literature: Italian at FAU, speaks to his students at Olympia Highschool in Orlando, where he is a beloved teacher. He clearly cannot forget his study abroad experiences in Venice, as a student and as an assistant. (Click on the picture to watch)
George Mazzei speaks about his Italian studies at Florida Atlantic University. It is never too late to learn the language of your father. (Click on the picture to watch)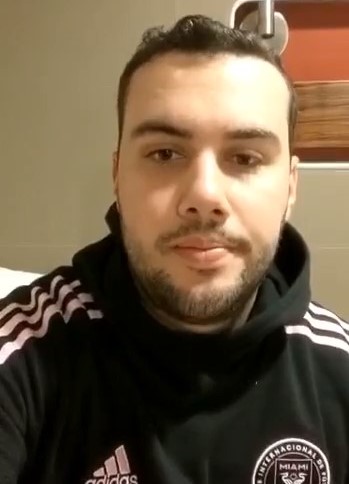 Vicente Pereira Duque, class of 2021, Italian Major, speaks of how taking Italian at FAU "has changed his life." He is a substitute teacher and works on cruise ships, and plays heartfelt soccer. (Click on the picture to watch)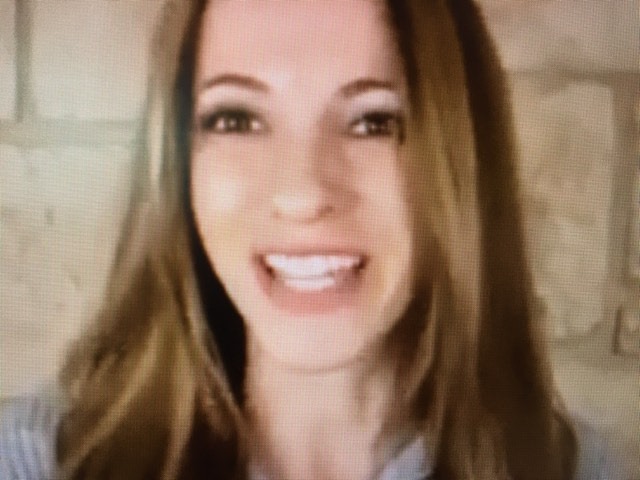 Brittni Rallston Zilberti on the unexpected path her life has taken after her graduation with an Italian minor at Florida Atlantic University, and after writing a letter to Juliet, in Verona. You can read her stories as an expat in her blog. (Click on the picture to watch the video)
This video was done to encourage the students of Italian who had just switched to remote learning for the first time and were locked in their homes. In March 2020, we did not know how it would go, how long it would last, when shops and schools and sports would open again. At FAU, we did not want to lose touch with our students and friends and learned to use Zoom for the first time. Friends, alumni and current students give an encouragement for our Italian classes. In Italian. (Click on the picture to watch)
Nicole Barilla, Italian Minor, and Marjorie Hernandez, Italian Major, speak about their Undergraduate Research study during the FAU Study Abroad Program in Venice, summer 2019. (Click on the picture to watch video).
Nicoletta Sorice on her graduation with a BA in Linguistics: Italian, at 81. She recorded this story for "The Public Storyteller," NPR Radio program by Dr. Caren Neil. Here she is congratulated by Florida Atlantic University president John Kelly. (Click on the picture to listen). Click to listen Nicoletta's advice for young students.
Magdalena Pire-Schmidt on landing a ten-year job experience at Google in California and Ireland, thanks to her B.A. in Italian. (Click on the picture to watch the video)
Italian major, Richard (Riccardo) Leon speaks about his love for Italian, in Italian. He is now teaching in Lombardy for a full year. (Click on the picture to watch the video)
Michelle Trujillo tells how IIalian literature inflluenced her filmmaking. Michelle graduated with a double major in Italian and Communications, and is now a film instructor at the University Wisconsin-Milwaukee where she earned an MFA, Film, Video, Animation and New Genres.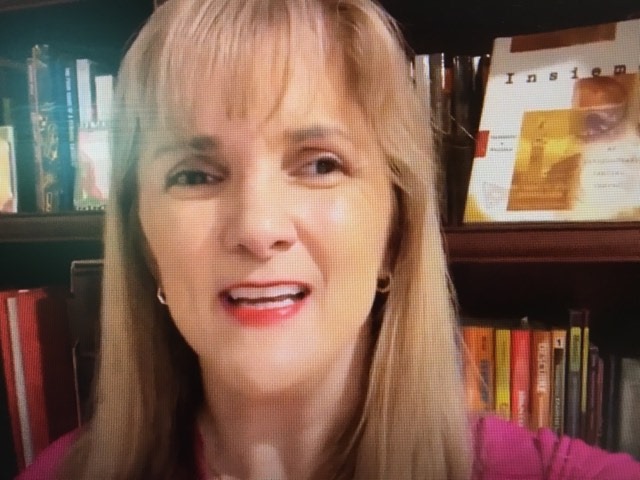 Amy Volpe on how her Italian studies at Florida Atlantic University helped her in her growth. Amy has a career as a teacher in Florida Virtual School and is still an active member of Club Insieme. (Click on the picture to see the video)
Nicholas Christodoulidis, participant in the first Study Abroad in Venice, on his experience singing in the choir of Saint Mark's Basilica. He has perfected an innovative way to scan and reproduce sculptures and is helping to save the Italian artistic heritage. LINK
 Zachary Scalzo on his career as an artist and a scholar – started in the Italian program at FAU. He made a new video above. LINK
Dr. Alessia Martini on continuing her Italian career from Master's to professorship. Alessia's article "Scolpito nella pietra: testimonianze scultoree della comunità italiana di Barre, Vermont" prepared for the "Italian America: Trasnlating Identities" graduate class, has been published in Italian Canadiana 36.1 (2022). LINK
Gianni Croci on Studying in Venice. While there he started the research for his Honor's Thesis, Venetian National Identity: An Ethno-Symbolic Approach. Update: the thesis has been published by FAU in concomitance with the 1600 anniversary of the foundation of Venice and is available here. LINK
Jessica Monge on taking Italian graduate classes. LINK
Camila Rochwerger on her job offers after graduation. LINK
Flaviane Chaves on her experience in the Italian Program. LINK
Alberto Gonzalez on his Venice Study Abroad and Italian experience. LINK
Adam Nakash on his favorite Venice experience: visiting writer Alda Monico (1934-2018) in her home. LINK
Paige Besinger on participating in an excavation camp in Lazzaretta Nuovo Island after her second study abroad in Venice. LINK
Brian Gomez on taking Italian instead of Spanish, his native language. LINK
Dominic Santoya on enrolling in the FAU Venice Study Abroad twice. LINK
Hristo Joseph on why he studies Italian. LINK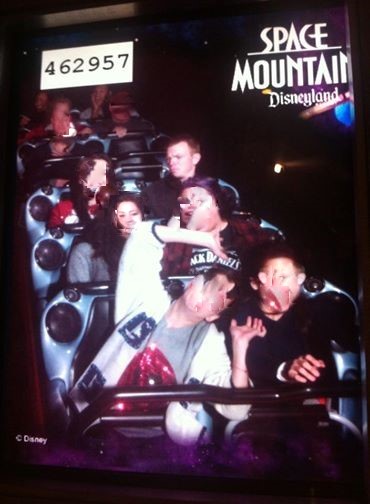 "Reese" Gordon tells his not-too-polished story about how Italian classes and Disney World competed for one student's destiny. Yes, he did get the job in Disney Land, California. Read this entertaining post by clicking on the picture showing the 113th time Reese rode the Space Mountain.