Study in Venice and Earn FAU Credits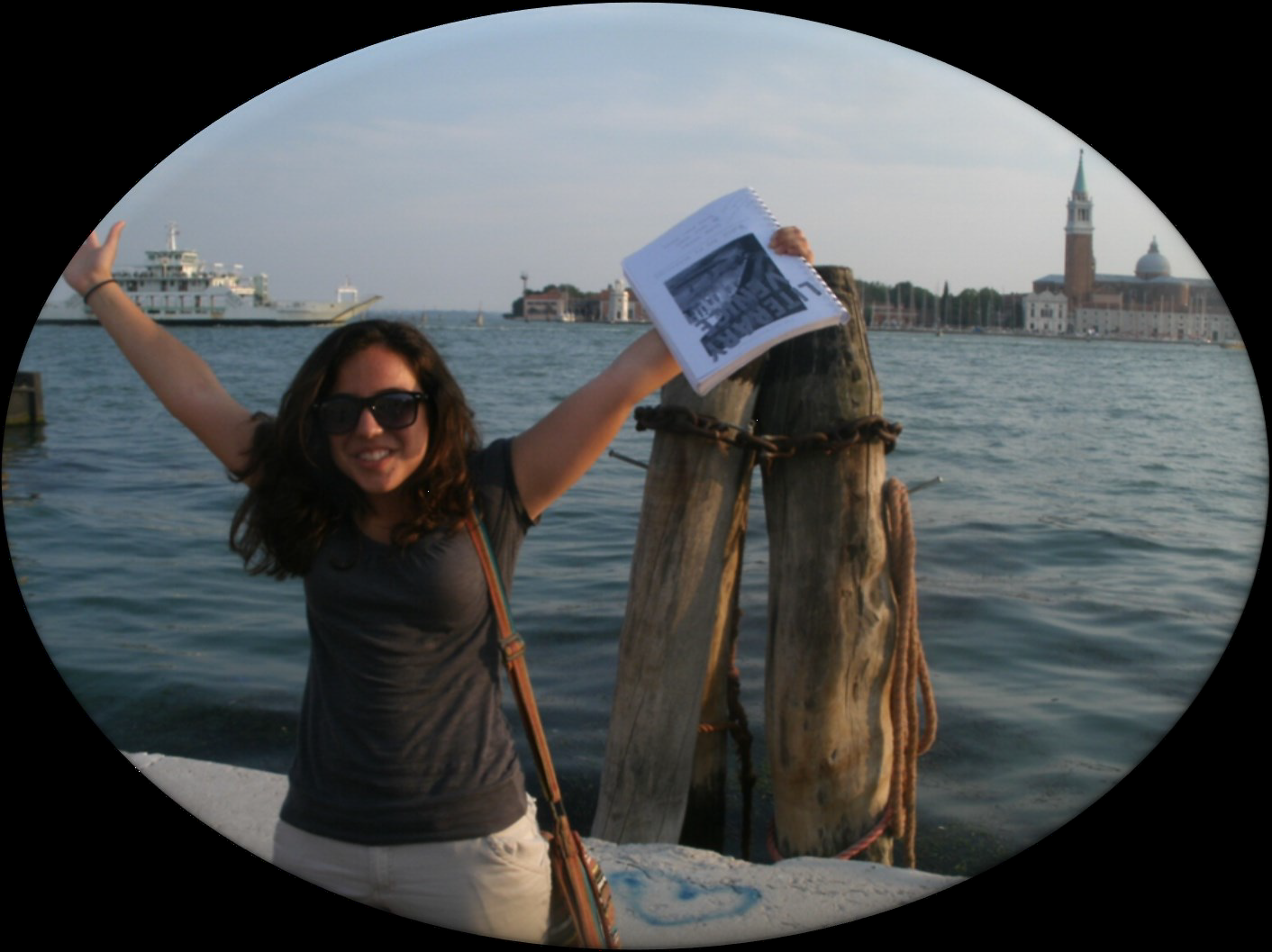 Why Venice Study Abroad?
The study abroad leaders are two native Venetians: Dr. Ilaria Serra and Dr. Emanuele Pettener. They still have many ties with their hometown and are glad to share their knowledge of the city with the students.
In alternate years, the Program is co-led by a professor from the College of Business, the College of Science, or the School of Architecture which takes advantage of the Architecture Biennale exposition in Venice. This makes our program interdisciplinary and attractive for a varied student population.
Venice is a unique city. Its silence, its colors, its water reflections make it a place that does not belong to the logic of this world. The city struggles to keep its fragile identity. Living in this environment is an unforgettable experience. Students not only live the city, but are invited to understand it and engage with its inhabitants.
Our program is also unique. Classes are structured around visits to the city landmarks and participation to many activities such as baking buranei in Burano to crafting traditional masks, from visiting artistic glass factories and wineries to attending opera performances, and participating in volunteering events with local associations. Lessons are enriched with guest lectures by Venetian artists, actors, writers (even in their own homes), filmmakers and film critics (with classes held at La Fabbrica del Vedere). 
Click on the picture to see the video of our cleaning day: more than work, it is a dream in the magic of Venice. By artist Philippe Apatie.
Two Fridays are reserved for organized group excursions. They change every year. Students may take a trip to the Lake Garda and its overlooking mountains or visit the Venetian Villas along the Brenta Canal, by the ancient boat "Il Burchiello": the summer residences of the 16th century, such as Villa Gradenigo of Oriago, Villa Widmann, Villa Foscari Malcontenta, among others. A staple of our trip - that will never change because our students say it is the best day of their lives - is the excursion to the Dolomiti mountains, including Cortina, Lagazuoi, Lago di Misurina, and a panoramic walk at a high altitude (2700 meters above sea level), where lunch is provided in a mountain refuge.
Numerous other activities are organized for all participants, including guided tours of St. Mark's Cathedral, the Ducal Palace, the venetian lagoon, the islands of Torcello, Burano, and Murano, the Lazzaretto Island, the Lido, plus theater shows, concerts, group dinners, mask-making, traditional cookie-baking, meeting with the authorities, and much more. Whatever the city offers that summer: we follow the winds of Fortune (windwane on the background, in the picture below).

Check out these stories by study abroad students.
 Student participating in the traditional Venetian rowing competition called "Vogalonga."
Group Photos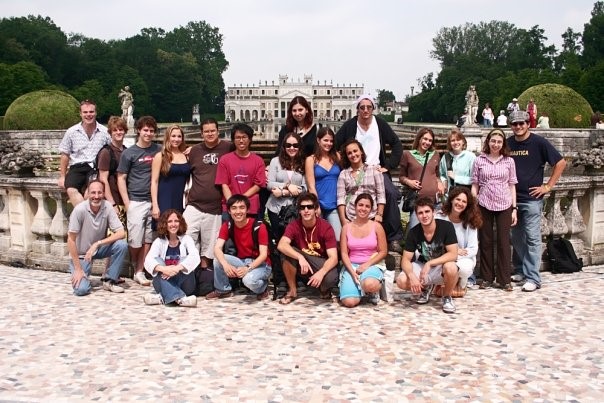 2009 - Villa Pisani
2010 - Punta della Dogana
2011 - Campo Santa Maria Mater Domini
2012 - Campo Sant'Angelo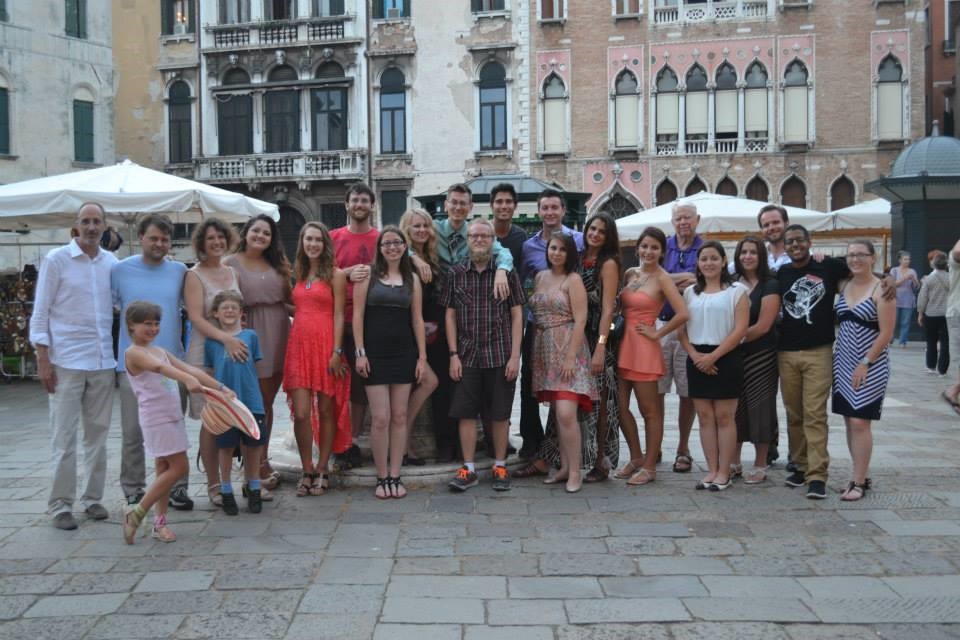 2013 - Campo Sant'Angelo
2014 - Dolomiti, Lagazuoi
2015 - Ponte del Diavolo, Torcello
2016 - Punta della Dogana
2017 - Lagazuoi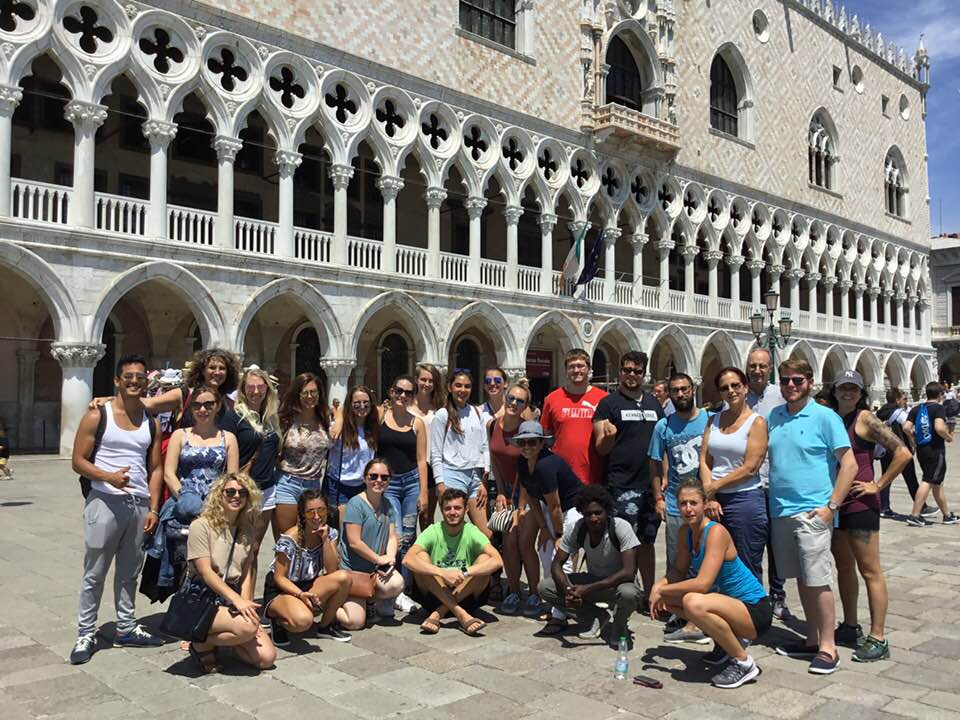 2018 - Palazzo Ducale - and Owls in Venice 10th Anniversary watercolor by Venetian street painter Walter Berton
2019 - Ponte del Diavolo, Torcello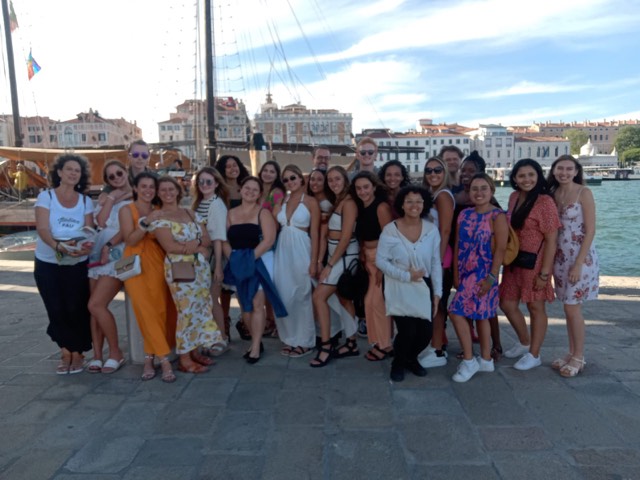 2022 - with Nuovo Trionfo, Venice
2023 - at Lake Misurina in the Dolomiti