Dr. Barbara Ganson
Ph.D., University of Texas
Professor and Director, Latin American and Caribbean Studies
Areas of Expertise
Latin American History
Aviation History
Ethnohistory
Rio de la Plata
Email: bganson@fau.edu
Office Phone: (561) 297-4135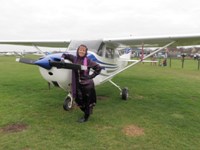 Barbara Ganson received her Ph.D. in History from the University of Texas at Austin in 1994. Her first book, The Guarani Under Spanish Rule in the Rio de la Plata (Stanford University Press, 2003) won two book prizes: a 2003 Choice Award for Outstanding Academic Title and the 2005 Murdo MacLeod Book Award from the Latin American and Caribbean Section of the Southern Historical Association for the best book in the field of Latin American and Caribbean History, Spanish borderlands, and the Atlantic world, published during the previous two years. She is an Area Editor for the journal, The Americas. She has served as president of two historical organizations: the Southwestern Historical Association and the Latin American and Caribbean History Section of the Southern Historical Association. She is the Director of Latin American and Caribbean Studies at FAU. She specializes in two fields of study: Latin American history and aviation history.
Her manuscript, Texas Takes Wing: A Century of Flight in the Lone Star State was published in January 2014 by the University of Texas Press. Her latest book manuscript "Lady Daredevils: American Women and Early Flight" is under advanced contract with University of Illinois Press. In the Spring 2017, she was a research fellow at the Institute of Advanced Jesuit Studies at Boston College. Her third book, "The Spiritual Conquest: Early Years of the Jesuit Missions in Paraguay," will be published by the Institute of Jesuit Sources at Boston College in 2017. It is the first bilingual edition of Antonio Ruiz de Montoya's Conquista espiritual (1639). The English translation, introduction, and epilogue were completed by Barbara Ganson, while the modern Spanish translation was done by Professor Clinia M. Saffi, a Paraguayan linguist and Professor of Modern Languages at Presbyterian College.
She is also trustee at the International Women's Air and Space Museum in Cleveland, Ohio.
Courses
Undergraduate Courses
Latin American History
Aviation History
U.S. History
Ethnohistory
Transnational History
Graduate Courses
Explorations in Ethnohistory: The Indian in the Americas
Comparative Frontiers and Spanish Borderlands
Curriculum Vitae (Available upon request)