Dr. Sarah H. Brown
PhD, Georgia State University
Associate Professor
Areas of Expertise
20th Century U.S.
The American South
Civil Rights
Florida
Email: sbrown@fau.edu
Office Phone: 561-297-3840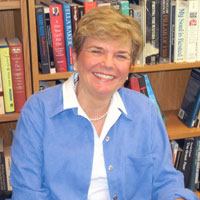 Dr. Brown specializes in twentieth century America with an emphasis on the American South; her research interests include civil rights, legal, and state history.
She is the author of Standing Against Dragons, Three Southern Lawyers in an Era of Fear-1945-1965 (Louisiana State University Press, 1999). She has written several journal articles and two of her essays were published in 2004 as chapters in books from the University Press of Florida and the University of Alabama Press. She presents scholarly papers at regional and national conferences and writes book reviews for history journals.
In 2000, she participated in the National Endowment for the Humanities Summer Institute for University Faculty at Harvard University and she has been awarded a fellowship by the Gerder Lehrman Institute for American History in New York for 2006.  In March, 2006, she presented a paper on her most recent research, about organized southern resistance to the Civil Rights Acts of the 1960s, at the Oxford Education Round Table in England.
Courses
Undergraduate courses
U.S. Since 1877
The American South
20th Century American Social History
History of Florida
The U.S. Since 1945
Class, Race, and Gender in 20th Century America
The Civil Rights Movement
Introduction to Historical Study
Senior Seminar
Graduate Courses
Reading in other courses
Curriculum Vitae (Available upon request)