Department of History
The Department of History includes highly recognized authors of scholarly books, essays and articles in American, European, Asian and Latin American history. Several faculty members have received teaching awards, and maintain a record of admirable service to the community and the profession. The remarkable generosity of department donors has led to the establishment of annual department symposia , which has brought top historians and history-making individuals to campus, including Daniel Ellsberg and Madeleine Albright, David McCullough, Bob Woodward, Carl Bernstein and Michael Beschloss. The Department offers programs leading to Bachelor of Arts and Master of Arts degrees, along with the history minor, and concentrations in Religious and British Studies. Its Combined B.A./M.A.  program enables outstanding students to graduate with both a Bachelor of Arts in History (B.A.) and a Master of Arts in History (M.A.) in as little as five years. The Department also offers an internship program , which provides undergraduate and graduate students with opportunities to learn about careers in museums and historical societies.
For up to date information about the history faculty, students and alumni and department symposia, please see our Annual Newsletter
The BA program is designed to prepare history majors at FAU to think critically, evaluate evidence and write with clarity and strength.  They are also required to study the past in several different geographical areas so that they can make sense of a complicated world.  Equipped with strong writing skills and with insights into past human experiences all over the world, they pursue successful careers in a wide variety of fields, including law, teaching, public history, business, communication and public service.  Professions and professional schools in today's world look for applicants who possess skills of history majors, as they wish to employ those who have broad interests and backgrounds and analytical and verbal skills--rather than narrow field specialization.
The MA program in History is designed to prepare graduates for doctoral work in history or law school but other areas as well.  MA recipients have gained employment in museums, historical societies, education, government, and industry.  Many have also gone on to become instructors in history in state and community colleges, or have used their degrees to enhance their teaching in secondary school social studies courses.  For a brief overview of the program, please see the following short video:
Students in history courses acquire critical thinking skills that help lead to success not only in teaching and
historical research, but also in a wide variety of careers, including law, medicine, business, and public service.


Majors and non-majors are eligible for membership in FAU's award-winning Xi Omega chapter of the National History Honor Society, Phi Alpha Theta, provided that they  meet the following criteria: a minimum GPA of 3.1 in 12 semester hours (4 history courses) and an overall GPA of 3.0 or better.
For more information, direct your inquiries to 561.297.3840, click on our links, or send an email to:

Douglas Kanter, Chair
Adrian Finucane, Director, Graduate Programs
Eric Hanne, Director, Undergraduate Programs
Jason Sharples, Interim Director, History Department Symposia 
STATEMENT OF CONDEMNATION AGAINST RACIST SPEECH (JANUARY 2021)
Foundation Award Applications 2023-24
Provides a meritorious incoming graduate student who also serves as a Graduate Teaching Assistant  with a stipend enhancement of $1000 per year for up to two academic years.


HISTORY ALUMNI AND STUDENT SPOTLIGHTS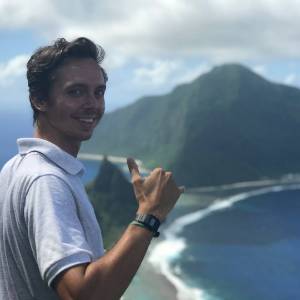 GARRETT HILLYER '12 ALUMNUS
Colton Babbitt '19 Alumnus
History Faculty Spotlight