Desktop Recommendations & Support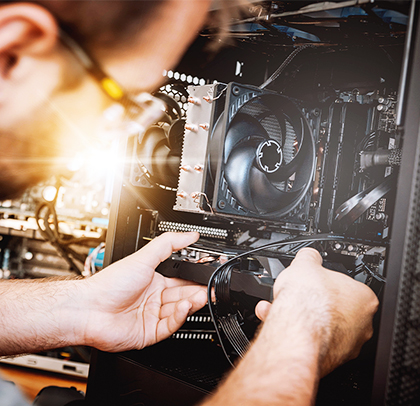 Software manufacturers define the system requirements for their software, which usually include minimum processor (CPU), minimum memory (RAM), and minimum hard disk drive space (HDD). The more powerful the system, usually, the better the performance of the computer and the software.
When the Office of Information Technology (OIT) posts desktop recommendations, careful consideration is given to user needs for basic functionality, anti-virus, security, multitasking, software used for support, networking, etc. If a computer does not meet the minimum standards, OIT can determine whether a hardware upgrade is possible. If such computers cannot be upgraded, OIT recommends that they be replaced with systems that do meet the minimum standards.
Computers that do not meet the minimum standards can encounter problems, and OIT's ability to support such computers can be hampered. Hence, these computers may not be fully supported, if at all, by OIT when problems arise.
The following recommendations are minimum guidelines for providing the best possible support while maintaining acceptable levels of performance with clients' computers throughout the University. Computer recommendations are updated as needed on a regular basis.
WINDOWS 10 or 11
Processor: AMD Ryzen 3000 series or newer, or Intel i3/i5/i7/i9 10000 series or newer.
RAM: 8 GB minimum and 16 GB or higher recommended.
Hard Disk: 256 GB SSD minimum, 1 TB NVMe SSD recommended. No Non-SSD or Hybrid drives are recommended.
Graphics card: DirectX 9 or later with WDDM 1.0 driver.
Display: 24" or larger. Minimum: 1920x1080. Recommended: 2560x1440 or higher.
MAC OSX ver. 11
Processor: M1 chip or better recommended.
RAM: 4 GB minimum and 8 GB or higher recommended.
Hard Disk: Minimum 256 GB of space or more.
For networking Open Transport (TCP/IP control panel. Wireless 802.11 a/g/n (WPA2 compatible).
Note: MAC OSX 10.12 was only supported until June 2019. For full details on how to upgrade, visit: http://www.apple.com/osx/how-to-upgrade/
Support Services Provided
---
OIT provides different support to Colleges and University units across all the FAU campuses. Available support includes:
Set up, configure, and connect computers with related peripheral equipment
Install standard operating system and related FAU-supported software, including antivirus software
Set up computers with network access
Configure cell phones, transfer data and contacts
Provide troubleshooting for software and hardware-related issues
Provide limited hardware part replacement for Dell-warranted computers
It is important to know that OIT staff do not move equipment, but will assist with disconnecting and reconnecting equipment, as well as ensuring all data ports are active prior to any move. OIT staff is available to advise areas, in advance of moves, regarding computers or other IT equipment.