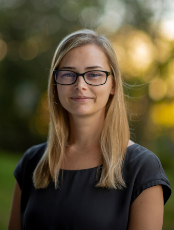 Kaila Witkowski, Ph.D.
Assistant Professor
School of Public Administration

Dorothy F. Schmidt College of Arts and Letters
Florida Atlantic University
Social Sciences Building, Room 278
777 Glades Road
Boca Raton, FL 33431-0991

Email:  kwitkowski@fau.edu
Kaila Witkowski received a PhD and MPA from Florida International University and a MSW from the University of Maryland. Her research focuses on the intersection of public health, public administration and emergency management. Specifically, her research focuses on using mixed-method techniques like network analysis, content analysis, PhotoVoice and community-
based participatory research, to improve government action and policy outcomes responding to emergency health events.

Examples of her past work include assessing the impact of COVID-19 on first-responders, evaluating government responses to the opioid epidemic in Florida, analyzing nonprofit resilience in the aftermath of crises events, and exploring the impact of emergencies on vulnerable populations such as aging adults, those living with HIV, homeless/transient populations, and those using opioids.

Her research has been published in journals in both the field of public administration and in public health, including the Journal of Public Administration Research & Theory, Arts & Health, and the Internal Journal of Public Administration. She has also worked with national and local funders including the Drug Enforcement and Policy Center to conduct applied and engaged research. Prior to gaining her PhD, she worked as a nonprofit manager for the ALS Association Florida
Chapter where she secured over $1 million in philanthropic and corporate support and organized
statewide efforts to pass legislation.

The overarching theme of my research centers around understanding the impact of government responses to public health crises including the opioid epidemic, COVID-19 and HIV and assessing the impact of national and local emergencies on vulnerable populations. Methodologically, my research uses quantitative and qualitative techniques including network analysis, content analysis, and participatory visual methods. Building off my research agenda, my teaching interests include
emergency management, public policy, health policy, nonprofit management, capstone seminars and quantitative and qualitative research methods.