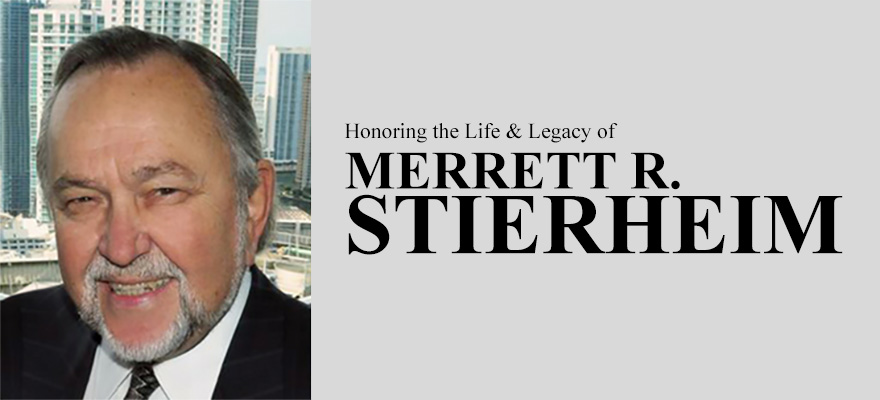 FAU's LeRoy Collins Public Ethics Academy is privileged to host the following video archives featuring Merrett R. Stierheim, now in his sixth decade of public service with such former roles as City of Miami Manager, Miami-Dade County Manager, Miami-Dade Schools Superintendent, Manager of Miami-Lakes and Doral, President and CEO of the Greater Miami Convention & Visitors Bureau, CEO of the Women's Tennis Association, and many more.
"For the countless people who know him, Merrett R. Stierheim epitomizes trustworthiness, personal ethics, and professional excellence… What you are about to read is an accurate testament to Merrett R. Stierheim's highly successful lifetime management philosophy. Be assured, however, that the foundation of that philosophy is firmly predicated on an unwavering commitment to the highest standards of ethical conduct."

–Excerpt from Bill Talbert's foreword for Merrett R. Stierheim's Speech on November 3, 2017 at the Ethics Conference
---
Video Gallery
Video 1: Merrett R. Stierheim delivered the keynote address at the 11th Annual Ethics Seminar on November 3, 2017.
Video 2: Watch this short documentary on Stierheim's life, produced by Mayco Villafana.
Video 3: View this digital photo album of milestone moments from Mr. Stierheim's storied life and career in public service.
---
To learn more about the LeRoy Collins Public Ethics Academy, please contact Academy Director Peter Cruise at (561) 297-4049 or by email at ethics@fau.edu.