About LeRoy Collins
The LeRoy Collins Public Ethics Academy is privileged to bear the name of LeRoy Collins, one of Florida's greatest governors who led from 1955 to 1960 and was the first leader of a Southern state to voice support for de-segregation and civil rights. The naming is a result of the $500,000 endowment from the former Collins Center for Public Policy in Miami. In addition to naming the Public Ethics Academy, which lives within the Dorothy F. Schmidt College of Arts and Letters under the School of Public Administration, the annual interest from the endowment corpus is used to fund student scholarships, awarded as a result of essay submissions that cover the life and leadership of Governor Collins.
"It was my grandfather's steadfast conviction with respect for others and a moral courage guided by the truth and by his conscience that helped define his leadership," said LeRoy Collins III, Governor Collins's grandson and Collins Center board member.
"He once said, 'Government cannot live by taxes alone, or by jobs alone, or even by roads alone… Government must have qualities of the spirit. Without these qualities, there is no worthwhile leadership, and we grapple and grope in a moral wilderness.' That is never more appropriate than today, and can only be accomplished by supporting, inspiring, and training our youth. FAU is a worthy partner for that endeavor, and I'm excited for all they will accomplish," Collins said.
DONATE TO THE ACADEMY
Select Public Ethics Academy Fund
---
Read the full speech written and delivered by LeRoy Collins III at the Academy's August 22, 2018 dedication reception.
---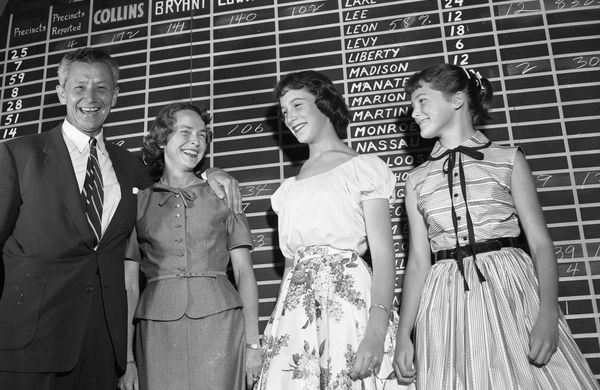 Learn more about the life and legacy of LeRoy Collins
Berman, Eliza. "How a Little-Known Government Agency Kept the Peace in Selma." Time. 25 Mar. 2015.
Brand, David. "Remembering Tallahassee: Gov. LeRoy Collins was fearless in so many ways." Tallahassee Democrat. 28 Jan. 2018.
Fillmore San Francisco. "LeRoy Collins: Outfoxing the Racists." YouTube, 16 Mar. 2015, https://www.youtube.com/watch?v=wzq010Wbfxs.
Florida Memory. "Governor LeRoy Collins in Civil Rights (1980) – Full-length." YouTube, 30 May 2014, https://www.youtube.com/watch?v=YfBGuUiF6WQ.
"Governor Thomas LeRoy Collins." LeRoy Collins Leon County Public Library. 19 June 2018 Accessed.
"Governor Thomas LeRoy Collins." National Governors Association. 19 June 2018 Accessed.
Kathryn. "When LeRoy Collins Went to Selma." Florida Memory – State Library & Archives of Florida. 20 Mar. 2017
"LeRoy Collins." Wikipedia.org. 19 June 2018 Accessed.
"LeRoy and Mary Call Collins." The Grove Tallahassee. 19 June 2018 Accessed.
Menton, Jane Darby. "Column: Floridians, remember the words of my great-grandfather, Gov. LeRoy Collins." Tampa Bay Times. 10 Nov. 2016.
"Thomas LeRoy Collins." Florida Department of State. 19 June 2018 Accessed.
---
Interposition Resolution in Response to Brown v. Board of Education, 1957 – Full PDF version (Courtesy of the State Archives of Florida)