Upper Division Bachelor of Architecture Program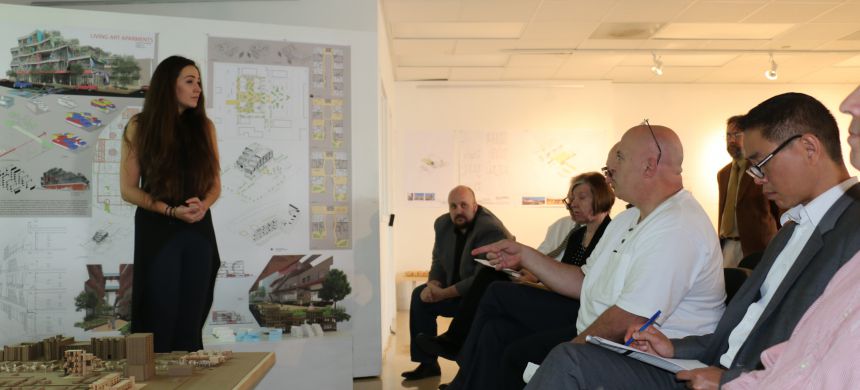 Students applying to the upper division must meet all requirements including the portfolio submission requirements. For more information, please review the Applications section of our site.
Applicants to the professional degree program with an approved A.A. preprofessional degree in Architecture or transfer students from an accredited program in architecture must submit evidence of having completed the necessary prerequisite courses or course equivalents. Course equivalents for in-state colleges are determined by state guidelines. Course equivalence from other accredited programs is verified by faculty review of the corresponding published course descriptions and syllabi. Only grades of "C" or better are accepted for all required courses. Courses for which grades of "C-" or lower are indicated in official transcripts shall not be accepted for credit. The minimum 159-credit requirement must be met by all students seeking the first professional B.Arch. degree.
Admission to upper division is fall entry only.  All students admitted to the B.Arch. program are expected to enter the professional course sequence with the ability to prepare graphic presentations utilizing normative, descriptive, architectural drawing techniques.  For more information on admission requirements please see the catalog.
Year 3 (Junior Level)

ARC 3133
Architectural Representation
2
ARC 3320
Architectural Design 5
4
ARC 3463
Materials and Methods of Construction
3
ARC 3710
Pre-Modern Architecture History and Theory
3
ARC 3374
Site Planning and Engineering
3
ARC 3321
ARC 4322
Architectural Design 6 or
Vertical Studio
4
ARC 3503
Architectural Structures 2
3
ARC 3610
Environmental Technology 1
3
ARC 3185C
Introduction to Digital Modeling and Documentation
3
ARC 3091
Architectural Research Methods and Analysis
3
Year 4 (Senior Level)

ARC 4219
Architectural Theory
3
ARC 4326
ARC 4322
Architectural Design 7 or
Vertical Studio
4
ARC 4712
Modern Architecture History and Theory
3
ARC 4327
ARC 4322
Architectural Design 8 or
Vertical Studio
4
ARC 4620
Environmental Technology 2
3
ARC 4504
Architectural Structures 3
3
 
Digital Elective
3
 
Electives
9
Note: Students may enroll once in ARC 4322, Vertical Studio, as a substitute for one of the following: ARC 3321, ARC 4326 or ARC 4327. Prerequisites and corequisites for each of the above courses must be passed with a grade of "C" or better. (See Course Descriptions section for ARC 3321, ARC 4326 and ARC 4327 for further information.)
Year 5 (Thesis Level)

ARC 5328
Advanced Architectural Design 1
6
ARC 5271
Professional Practice A
3
ARC 5352
Comprehensive Design Project
6
ARC 5272
Professional Practice B
3
ARC 6305
Introduction to Urban Design
3
 
Electives (3000, 4000, 5000 level)
15
For Further clarification of coursework or if you have any questions as a current or incoming Architecture student, please contact the Academic Advisor at aladvising@fau.edu.
For more information please review the Frequently Asked Questions.