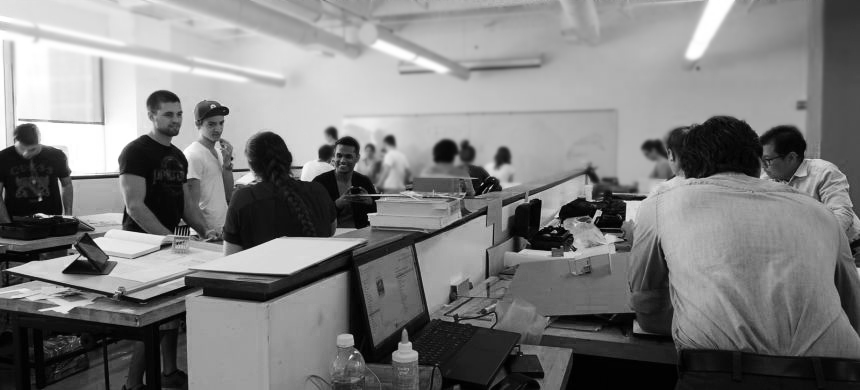 The School of Architecture is an institution of shared learning, an operative organization within the "laboratory" of the City of Fort Lauderdale, South Florida, and the Florida-Caribbean and Latin American regions. Through projects and programs that are interdisciplinary and internationally relevant, students and faculty have the opportunity to work cooperatively with communities, allied professionals, artists, builders, developers, manufacturers, and governmental agencies. This participation extends into the pedagogical objectives of the College of Arts and Letters to which the School of Architecture belongs, and the University itself which emphasizes the concept of "learning by doing."
The Upper Division Bachelor of Architecture program of the FAU School of Architecture is located in downtown Fort Lauderdale on the 6th, 7th and 8th floors of the Higher Education Complex. The School has a state of the art facility, meeting international standards for a school of architecture. You, the student are the primary beneficiary of this investment in your education. Therefore, you have a responsibility to assume a leadership role and set the best example for the care and maintenance of the facility, equipment and furnishings entrusted to you.
The Lower Division Pre-Architecture program is situated in the historic T6 building on the Boca Raton Campus.  Students enrolled in the Lower Division have the opportunity to engage in traditional campus life activities while completing their Intellectual Foundations courses and pre-requisites for the upper division Bachelor of Architecture program. 
Equipment and Furnishings
The studios are large open areas. Each assigned student space includes approximately 25 square feet of private work area and an adjacent shared area for desk crits and breakout sessions with other members of the studio and faculty. We consider the studio to be a place of shared inquiry and study, respecting each others' need for privacy as well as the exchange of ideas. As with everything in architecture, these issues involve common sense. To foster an atmosphere of a professional studio, no lecture classes are scheduled within the studio space.
The following protocols are established to ensure safety and to protect the property of the school. Materials indicated are recommended for use by each student and are available at local drafting and artist supply merchants.
Each student enrolled in an upper division design studio shall be assigned a numbered desk, stool and storage unit on the 6th, 7th or 8th floors of the Higher Education Complex (HEC) for use during the term. The student may take possession of their assigned space at the commencement of the term and must leave the space clear, free of debris, clean and undamaged on the date the term ends, as indicated in the Academic Calendar