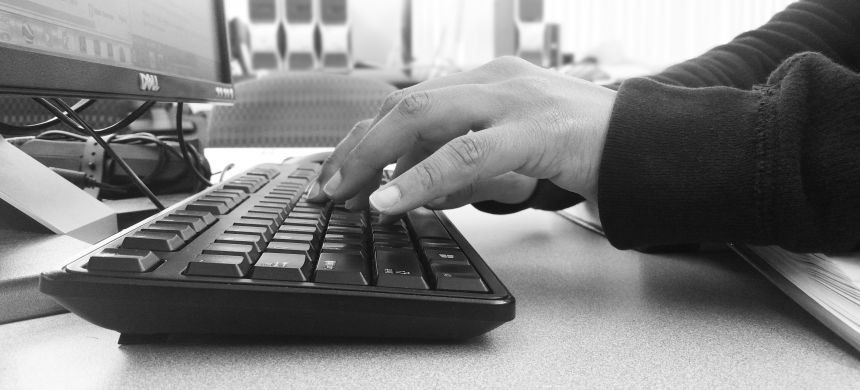 The School has a full-time Coordinator of Computer Applications to manage and support both the students, staff and the faculty. The technician is responsible for maintaining the School's computers, servers and printers. Students can also find help with configuring their own systems for connection to the FAU network and printing. Help can be found by stopping by during posted hours to room HEC 607A at the FAU Fort Lauderdale campus.
Studio Computers
The School of Architecture operates multiple studio spaces at the FAU Fort Lauderdale Campus. These are geared towards the program's upper division studio courses and are located on the 6th ,7th and 8th floors of the FAU Higher Education Complex. Beginning in the Fall 2013 semester, all SoA computers are located in HEC610 (Student Activity Center). SoA computers are connected to the HP LaserJet printer and HP Design Jet plotter in HEC610. In addition, the open computer lab located in HEC 611 is available for all FAU students during posted hours,. The lab provides printing services for all students and special printing and plotting for those students in the Architecture studio courses. SoA operates a studio space for the lower division at the FAU Boca Raton Campus. Each semester the studio computers undergo a maintenance cycle in which they are erased and restored with updated software.
Computer Hardware
All labs are equipped with the latest Dell precision desktop computers designed specifically for running architectural software and design packages.
Computer Software
 Adobe Creative Cloud - Acrobat DC, Photoshop, Illustrator, InDesign
AutoDesk - AutoCad, Revit
McNeel- Rhino
MecSoft - RhinoCam
Trimble - SketchUp
Office365 - Word, Excel, PowerPoint
Printing and Plotting
Students have access to two state of the art large format plotters and inkjet printers.
File Services
All FAU Students have access to Google Drive to store and share files.
Computing Recommendations
Hardware Recommendations
Intel Core i5 or higher (recommended) with Windows 7 Professional 64 bit installed
 
Intel Core i5 or higher Apple Computer with OS 10.8 or higher
 
6 GB+ RAM minimum
 
500 GB+ hard drive, 1 TB preferred. S.S.D or SATA
 
8x double-layer (DVD ± R DL / DVD ± RW / CD-RW)
 
256MB+ of video RAM (a separate graphics card not shared memory)
 
USB ports (3.0 version)
 
Minimum 100MB Ethernet port, 1GB Ethernet port recommended
 
Monitor - 21" or larger (necessary for desktop, optional for laptop)
 
802.11G,N,AC Wifi for laptops
 
Hardware warranty minimum two years
 
500 Gb or 1 Terabyte Hard drive for backup
 
32 or 64 Mb flash drive for data transfers
Software recommendations
Microsoft Office 2013 or later
 
Adobe Acrobat Pro or Free PDF Creation software
 
Adobe Creative Cloud
 
Antivirus - Microsoft Security Essentials, Avast, McAfee
 
AutoDesk Educational Products Free Download http://www.autodesk.com/education/free-software
 
SketchUp 2013
 
Google Earth
 
File transfer software- Dropbox, Box, Google Drive (FAU Student Account)