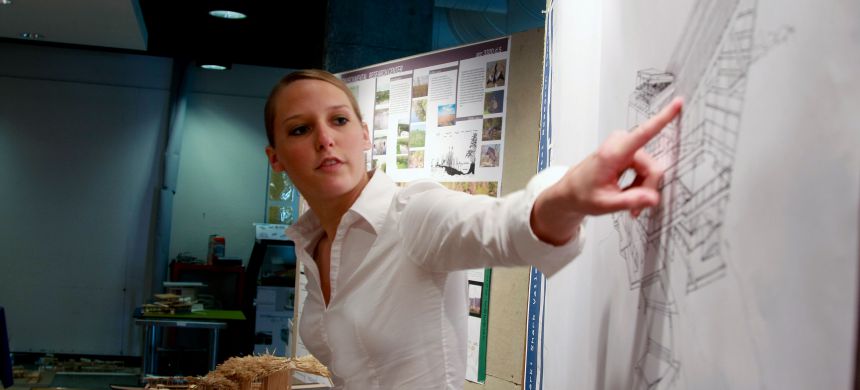 School of Architecture Mission
The mission of the School of Architecture is to advance education, research, and design solutions that enhance the quality of built environments. The program is situated within South Florida's dynamic coastal and urban environment providing  a laboratory for investigating new tools and methods of design in an era of disruption. The School of Architecture fosters integrative and innovative design in preparation for architectural practice. Students develop critical thinking skills and knowledge through exposure to historical and theoretical foundations, emerging technologies, interdisciplinary research, community engagement, and ethical responsibilities of design.
Learning Culture
The School's location in the Dorothy F. Schmidt College of Arts and Letters puts us in a collegial relationship with a wide range of disciplines . While the SoA faculty meet on a bi-weekly basis, the faculty in the College meets together at least once each semester to review the direction of the College and its integration with the University as a whole whose stated mission is to "foster excellence and innovation in teaching, outstanding research and creative activities" .  The University, College and School all subscribe to the values of mutual respect, sharing, engagement, encouragement and support between and among all the members of our community.
Studio Culture Policy
The studio culture policy was written by students giving them an opportunity to work in a unique and collaborative way with faculty and staff to better the educational experience for everyone. At Florida Atlantic University, we believe that studio learning should be the fundamental principle of encouraging the students to evolve in both their academic and professional careers. The studio offers an environment where students can collaborate to better their designs, ask questions, initiate discussions, and make proposals, which are developed and discussed among the students, faculty and staff. The process of design inquiry and design action engages us as we explore the ritualized domains of human habitat, its cultures, programs, sites, and technologies, through history, theory, and practice. In pursuit of this aim, the School of Architecture has intellectual, ethical, and professional intentions.
The intellectual intention empowers students as they prepare for a life of learning and practice. In architecture, practice must be accompanied by an ability to think in order to justify action. To this end, the choices made in the design process are based on the integration of rational and intuitive principles, which determine judgment.
The ethical intention instills individual and public values through academic achievement and community involvement. Students, faculty, and the profession strive to reach the highest standards in the creation of architecture, and in the conservation of cultural heritage.
The professional intention upholds the unity of design, and the shared responsibility of the allied professions and society at large in the commitment to responsible citizenship and improved quality of the built environment.