2022 News
| 2022 | 2021 | 2020 | 2019 | 2018 | 2017 | 2016 |
FMRI Students visit the Boca Raton Traffic Management Center
November 30, 2022, Boca Raton, FL
FMRI students from FAU were given the opportunity to tour the Boca Raton Traffic Management Center. Students were directed around the center and the signal shop while learning about real-time traffic management and signal timing controls.
ITE FAU Second General Body Meeting Fall 2022
November 2022, Boca Raton, FL
The ITE FAU Student Chapter hosted Saul Bilancieri and Ralph Messeroux from Coke Consulting. Presenters shared professional insights about the path on obtaining different licensures related to Transportation Engineering. They also presented about the Glades Road Diverging Diamond Interchange: Smart Work Zone Activities.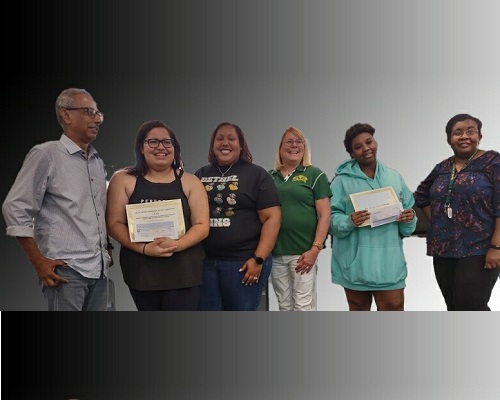 FMRI sponsored competition at Bethel High School
November 2022, Hampton, VA
As part of the FMRI/STEM education initiative, the center conducted transportation education camp for K-12 students in collaboration with Hampton University. Hampton University sponsored a "Drinking and Driving" social media campaign competition through their university Media Arts and Design Academy (Bethel High School, Hampton VA). Two students were awarded prizes and certificates. In addition, the FMRI sponsored the business logistics plan competition in the Bethel High School, Hampton, VA. Five high school teams participated in the plans. In addition, the center is working on the Transportation Education and Workforce Development Project which aims at strengthening the intermodal transportation skills of faculty and students while helping to meet the need for professionals, particularly minorities and women, qualified and interested in transportation careers.
FMRI Students attend the FLPRITE Annual Meeting
October 16-18, 2022, St. Augustine, FL
Two FMRI Research Assistants from FAU, graduate and undergraduate, had the chance to learn from and network with professionals in the transportation industry through various sessions. This Annual Meeting themed "Fortifying Olde Cities to SMART New Cities" had topics such as SMART Cities, Sustainability, Resiliency, Pedestrian and Bike Safety Innovations, and Transportation Equity. This event was also a great networking opportunity with students from different universities.
FMRI at the 101st Annual Meeting of the Transportation Research Board
January 9–13, 2022, Washington, DC
FMRI is participating at the 101st Annual TRB Meeting on various committee meetings, poster, and lectern sessions, and other activities by faculty, students, and staff, will plan to participate in the 2022 TRB virtual conference. Read more about the FMRI's poster and lecter sessions below.
READ MORE
| 2022 | 2021 | 2020 | 2019 | 2018 | 2017 | 2016 |