About the FMRI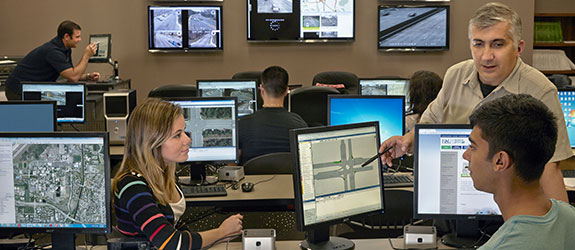 The Freight Mobility Research Institute (FMRI), housed in the Department of Civil, Environmental and Geomatics Engineering within FAU's College of Engineering and Computer Science consists of a consortium of experts from universities across the nation with expertise in freight transportation, network modeling, sustainability, and intelligent transportation systems. The Institute's contribution focuses on promoting smart cities, improving multimodal connections, system integrations and security, data modeling, and analytical tools. The ultimate goal of the FMRI is to optimize freight movements for improving the overall freight transportation efficiency.

As the nation continues to grow, so will the demand for freight transportation. Latest estimations showed this mode of transportation tends to reach 25 billion tons/$37 trillion (from 18.1 billion tons/$19.2 trillion in 2015) by 2045. Coastal areas include 14 of the 20 largest Metropolitan Statistical Areas in the United States. For goods, valued in excess of 2.25 trillion USD, trucks are the most common mode used to move between these international gateways and island locations. This trend is expected to continue with tonnages of international trade forecast to grow at a rate of 3.4 percent per year between 2007 and 2040. Unfortunately, this increase is mirrored with an increase in truck and rail crashes as well as congestion since state DOTs are increasingly shifting from capacity increases to road maintenance.

The FMRI's mission is to address critical issues affecting planning, design, operation, and safety of the nation's intermodal freight transportation systems, in order to strengthen nation's economic competitiveness. Efficient and safe freight movement is inextricably linked to the economic vitality of a local area, state, region and beyond. In consultation with stakeholders, as well as the USDOT's strategic priorities, as expressed in "FAST Act Improving Mobility of People and Goods" priority and the known exclusive topic areas established by the Secretary of Transportation, the FMRI members will focus their research on improving freight mobility through information technology, freight network modelling and operations, intermodal logistics, as well as freight and supply chain sustainability. The researcher's efforts will (i) support maintaining and developing mobility in the face of growing traffic and shrinking resources; (ii) develop methodologies for improving the performance of the U.S. freight transportation system; (iii) increase border-crossing efficiency while maintaining security and resilience: and (iv) improve air quality for improving public health, reducing energy consumption, and congestion.

The FMRI assembled top experts on freight transportation, network modeling, sustainability, and ITS, representing leading universities across the nation with deep connections to local, state, and regional communities. Each university has an established transportation research center/lab where leading-edge research can be conducted. All the FMRI partners are motivated to embrace innovative research projects, train current and future transportation leaders and workforce, and engage with the industry to enhance collaborations between agencies by improving efficiency and safety, sustainability, reduced traffic congestion, and develop standards to ensure interoperability today and in the future. At the same time, the center will have a significant educational impact. The consortium members have a successful history of enhancing interdisciplinary learning opportunities and engaging underrepresented groups. In the proposed center, this commitment will be continued and improved via integrated education and outreach components that leverage ongoing activities.