Workforce Development
The FMRI's primary goal is to develop a multidisciplinary program of coursework and experiential learning that develops a highly skilled workforce to support the freight transportation industry and to provide high-quality engineering programs for a broad audience. The center's education program will expand and enhance the existing transportation education offerings at the departments of the consortium institutions. The FMRI's efforts will support the development of a critical transportation knowledge base and a transportation workforce that is prepared to design, plan, operate, and maintain the complex transportation systems of the future. In addition, the Center aims to create joint educational freight programs between two or more institutions, and with other key regional partners, covering engineering, logistics, planning, and public policy.
Activities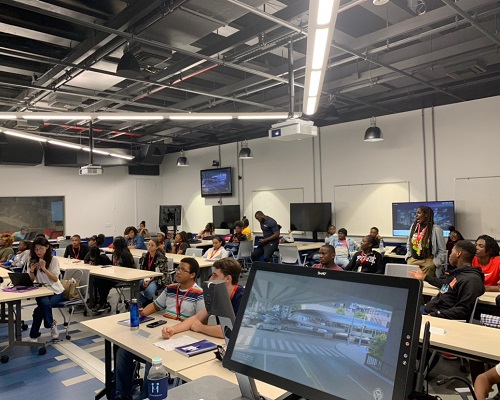 Upward Bound Summer Workshop
July 17, 2019
Florida Atlantic University, Boca Raton, FL
The FMRI at Florida Atlantic University covered a workshop under the program of Upward Bound to provide high school students, from low-income families and from families in which neither the parents hold a bachelor's degree, with the knowledge necessary in the area of Transportation Planning and Traffic Engineering. Dr. Dan Liu, Postdoctoral Researcher, and Ms. Taraneh Ardalan, Graduate Research Assistant, gave a two-hour presentation about the fundamentals of transportation and the key role of transportation engineers in Transportation Engineering and Freight Movement.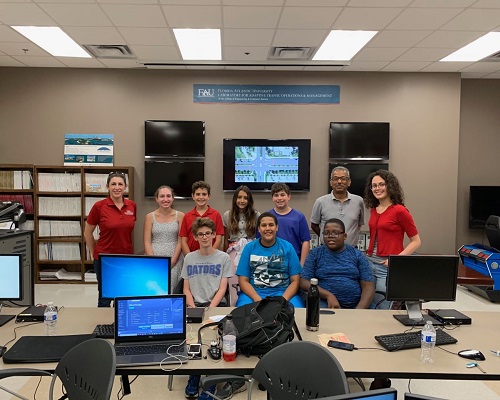 2019 FMRI Summer Transportation Camp
June 17 - 28, 2019
Florida Atlantic University, Boca Raton, FL
The FMRI at Florida Atlantic University held a two-week Summer Transportation Camp for middle school students across Palm Beach County. On the first week, Dr. Ramesh Teegavarapu, FAU Professor in the Civil, Environmental, and Geomatics Engineering Department, Ms. Taraneh Ardalan and Ms. Panagiota Goulianou, GRAs, exposed children to ArcGIS spatial analysis and VISSUM based intersectional simulations. For the second week, Dr. Sharad Maheshwari, FMRI Executive Director of Education and Professor in the Department of Business Administration at Hampton University, traveled to FAU as a special guest. Dr. Maheshwari spoke to students about the importance of raw materials and gave an interactive lesson on bridge structures. Dr. Dan Liu, FAU Post-Doc, and the Graduate Research Assistants, covered SPSS based data analysis and intelligent transportation systems on the second week. Both weeks covered origin destination calculation, traffic count observations, freight operations and logistics, CAVs, and basic transportation engineering items.
Seminar: Autonomous Delivery Robots and Their Potential Impacts on Freight Efficiency and Travel
May 15, 2019
University of Memphis, Memphis, TN
E-Commerce and package deliveries are growing at a fast pace and there is an increased demand for same-day deliveries. Established delivery companies and new startups are investing in technologies that reduce delivery times and/or increase delivery drivers' productivity. In this context, the adoption of Automated (or Autonomous) Delivery Robots (ADRs) has a growing appeal. Since ADRs can travel on the road (and some on sidewalks) they have been the subject of increasing regulation by local agencies in the US. The three research questions that guide this research effort are: (a) What are the limitations imposed by existing regulations in the US, (b) What are the technical capabilities of existing ADRs, and (c) Given the existing capabilities and regulations, what are the time/cost savings and efficiencies that SADRs can bring about? Presented by Dr. Miguel Figliozzi from Portland State University
Seminar: Scenarios for Adoption of Autonomous Vehicle Technologies in Freight
November 16, 2018
Portland State University, Portland, OR
Innovation adoption research has largely ignored organizational adoption, and little work has been done to understand or predict the adoption of innovations by freight organizations. Among the existing innovation adoption theoretical and methodological approaches this seminar will explore which are most appropriate methods for freight organizational adoption. The seminar will present a disaggregate market penetration model for freight transportation organizations adopting connected autonomous vehicle (CAV) technology and demonstrate an application using a case study area in Memphis, TN. The seminar will highlight ongoing and future organizational adoption research for CAVs, and other innovations. Presented by Dr. Sabyasachee Mishra from the University of Memphis
FAU Summer Engineering Technology Camp - Transportation
June 25-29, 2018
Florida Atlantic University, Boca Raton, FL
Local students attended the ransportation summer camp for high-achieving students entering grades 7 to 9 in Fall 2018. Dr. Ramesh Teegavarapu, Professor from the Department of Civil, Environemental and Geomatics Engineering of Florida Atlantic University, with the help of FAU teaching assistants Stavroula Manta, Anusha Chowdhury, and Anastasios Charisis taught the students transportation topics that included ArcGIS based spatial analysis, VISSIM based intersection simulations, basics of transportation engineering, freight operations, logistics, connected and automated vehicles, and traffic count observations.
Heritage High School Essay Competition
April 16, 2018
Hampton University, Hampton, VA
Hampton University and FMRI sponsored essay competition for 9, 10, and 11th grade students from Heritage High School. The essays focused on issues dealing with land, air, and water transportation modes related to freight logistics. The purpose of the essay competition was to encourage high school students to research important issues related to freight transportation.The essays were evaluated for relevancy, relationship to topic, amount of research, and writing quality.
The Freight Transportation Education Program under the FMRI has a goal to promote freight logistics/transportation education at all levels. Specific goals include building a bridge between America's youth and the transportation community; to support the development of improved educational technology that provides better ways for people to acquire new skills; and to ensure that America's transportation workforce for the 21st century is technologically literate and internationally competitive.
Photo (l-r): Winners Kayla Murphy, Kaija Bratcher, Markell Simmons, and Duvaun Higgins.
Lecture Series: Reverse Logistics in Johnson & Johnson Procurement and Logistics
April 6, 2018
Hampton University, Hampton, VA
Richard Morris, Director, Procurement and Logistics Support Division, and Carl Jacobs, Director Materials at Canon, Inc. presented a lecture on the overview of the Canon Supply Chain. The lecture was attended by faculty members and students from the School of Business at Hampton University. The lecture covered the global supply chain and the role of the Canon Virginia facility in the supply chain, Canon's production, warehousing, materials management, inventory reduction, and the environmental aspects of the business.
Transportation & Logistics for High School Workshop
December 9, 2017
Hampton University, Hampton, VA
A half day high school STEM teacher workshop was developed and delivered by Dr. Sharad Maheshwari and Dr. Kelwyn D'Souza for seven STEM teachers at Heritage High School in Newport News, VA. The objective was to encourage high school teachers to include elements of logistics and transportation in their lessons in order to expose students to the field of transportation.
Lecture Series | Reverse Logistics in Johnson & Johnson Inventory Analysis
September 11, 2017
Hampton University, Hampton, VA
Joseph M. Thomas, Sr. Specialty 3PL & Inventory Analyst at Johnson & Johnson Consumer Inc., delivered a lecture on Reverse Logistics at JnJ. The lecture was attended by faculty members and students from School of Business at Hampton University. The lecture focused on three distinct areas:1) what is reverse logistics; 2) how it affects operations, and 3) what is his role in it as an analyst. He spoke about how reverse logistics impacts revenue, and explained his role as a coordinator to improve transactional efficiency and process improvements in the supply chain.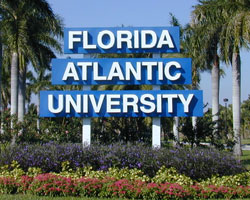 CGN 5935: Advance Transportation Operations & Logistics Management
Summer, 2017
Florida Atlantic University, Boca Raton, FL
New graduate course in the Department of Civil Environmental and Geomatics Engineering at FAU that aligns transportation management with a comprehensive overview of intermodal transportation logistics management. The course covers recent trends in the field and its import and stakeholders, business logistics/supply chain was viewed from managerial perspectives impacting physical distribution, materials management, transportation management, and logistics and supply chain management. The course also covered the planning, organizing, and controlling of these activities including some activities such as transportation basics, inventory and location strategies. The goal of the course is to establish an online transportation program and certificate in the field of freight transportation and logistics. 35 students attended the summer semester.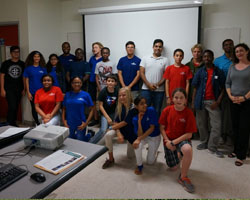 FAU Summer Engineering Technology Camp - Freight Transportation for Smart Cities
Summer, 2017
Florida Atlantic University, Boca Raton, FL
Local students attended the transportation summer camp for high-achieving students entering grades 7 to 9 in Fall 2017. The course covered ArcGIS based spatial analysis of truck traffic in Florida, Port Resilience, Automated and Connected Vehicles, and Public Transportation in Smart Cities. They also visited with the FAU Society of Automotive Engineers Racing Team, assembled a basic soldering kit, and attended a drone flying demonstration. Sixteen students attended from Crystal Lake Middle School, Carver Middle School, Margate Middle School, and AD Henderson University School.