Message from the Director
It is my pleasure and honor to direct the Freight Mobility Research Institute (FMRI), a Tier 1 University Transportation Center housed in the  Department of Civil, Environmental and Geomatics Engineering  within FAU's  College of Engineering and Computer Science . Our Institute was one of only 20 institutes selected for funding from the  United States Department of Transportation (USDOT)  in 2016.

The FMRI partners consist of a collaboration of faculty, researchers, and students, coming from  Florida Atlantic University  (lead),  Hampton University ,  Portland State University ,  Texas A&M University (College Station) ,  University of Florida ,  University of Memphis , and the  University of Minnesota (Minneapolis) .

Our highly skilled group of individuals have the expertise and experience required to address the critical issues affecting planning, design, operation, and safety of the nation's intermodal freight transportation systems. The FMRI's research goals are to improve freight mobility through information technology, freight network modeling, and operations, intermodal logistics, as well as freight and supply chain sustainability. This collaborative research aims to promote smart cities, improve multi-modal connections, system integration and security, data modeling, and analytical tools for optimizing freight movements. The institute also will have a significant educational impact through integrated education and outreach components.

The FMRI's mission is to strengthen our nation's economic competitiveness by embracing innovative research projects in order to create efficient and safe freight systems, train current and future transportation leaders and workforce, and to engage with industry to enhance collaboration between agencies.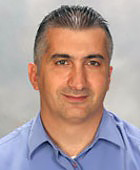 Evangelos I. Kaisar, Ph.D.
Director, FMRI