Message from the Dean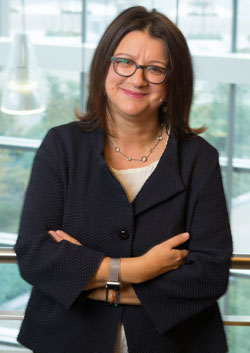 Welcome to FAU College of Engineering and Computer Science!
The strength of our College is our people. I am delighted and humbled to be working with our truly outstanding faculty, students, alumni, staff and Advisory Board to make our College and institution a success. In the past year, our people have defined FAU's ethos of "unbridled ambition." From driving discoveries to treat malaria in developing babies - in the womb! – to innovating bioinspired materials that mimic mangroves to guard coastlines, to leading interdisciplinary teams that develop a first-of-its-kind bioengineered robotic hand, the College is pioneering big ideas that impact the global good.
At FAU College of Engineering and Computer Science we educate the next generation of engineering and computer science workforce in the following disciplines: Computer Science, Computer Engineering, Electrical Engineering, Bioengineering, Civil Engineering, Environmental Engineering, Geomatics Engineering, Mechanical Engineering, Ocean Engineering (the first and one of the biggest programs in US, housed in our unique facilities in Dania Beach). We offer traditional degrees with a modern twist that bear specializations in areas of national priority such as cybersecurity, Internet of Things, transportation and supply chain management, and data science.
Cutting edge research conducted by our faculty and their research teams, expose our students to technology innovations that push the current state of the art of the disciplines to new heights. As we are moving steadfastly towards the 4th Industrial revolution of artificial intelligence and autonomous systems that is expected to have tremendous economic impact and improve the human condition in ways that we cannot even predict, the College of Engineering and Computer Science is poised to become a leader statewide, nationally, and internationally in education and R&D in artificially intelligent connected secure autonomy in air, ground, undersea or inside the human body. This is taking place through new investments that build on ongoing innovations and technology advancements by our faculty in the area of autonomous systems over the past many years.
Our research efforts are supported by the National Science Foundation (NSF), the National Institutes of Health (NIH), the Department of Defense (DOD), the Department of Transportation (DOT), the Department of Education (DOEd), the State of Florida, and Industry. Examples of sponsored research initiated just this past year include: a $500,000 NSF grant to design, deploy and evaluate novel software-defined testbeds for real-time undersea wireless communications of connected autonomous vehicles; a $150,000 contract from GE Aviation to provide autonomous interference avoiding connectivity among drones; a $650,000 NSF grant for deep-learning computing instrumentation at FAU; a $500,000 NSF grant to advance entrepreneurship and innovation in South Florida; a $1.3 million NIH grant to create a robotic hand to sense touch, a discovery that could be a game-changer for amputees; a $500,000 NSF CAREER award to study the seamless motion of fish in the ocean's depths and develop bio-inspired flexible structures that increase maneuverability and enhance the motion of underwater vehicles and robotic systems; a $1.25 million ONR grant support research on autonomous unmanned marine vehicle platforms for coastal surveillance, coastal surveys, target tracking and protection of at-sea assets; and $600,000 NSF grant to develop data mining software technology to improve the way health care providers capture, tap into, and integrate vital information streams for patient-centered care. Our work on quantum computing, post-quantum cryptography and cybersecurity is sponsored by multiple funding agencies, including NIST that recently awarded us a $500,000 grant to develop technology to mitigate attacks by quantum computers. Our Freight Mobility Research Institute (FMRI), a $10.5M Transportation Center supported by the US DOT and the State of Florida continues its successes and together with our Laboratory for Adaptive Traffic Operations and Management formed our newly established Research and Education Transportation Hub housed in our Davie Campus.
Our point of pride is our student successes. Their level of preparedness and the value they bring to our regional and national economic competitiveness make employers to consistently, come back, year after year, to recruit from our classes. Just this summer, our Human-Powered Submarine (HPS) team advised by faculty and professional engineers of the College, placed third overall at the fourth biennial European International Submarine Race at Haslar in Gosport, England. Our HPS team is part of a tradition of excellence in all of our student club activities that positions the College as a powerhouse on the international stage. Our Women in Engineering and Computer Science mentoring program, sponsored by Motorola Solutions Foundation, and Lockheed Martin provides our female students mentoring and guidance by professional engineers and computer scientists and helps them secure prestigious internships and full time placement in prominent companies. At the same time our community engagement continues to be impactful and sincere. Notable examples this past year include several undergraduate senior design projects on mixed use/affordable housing buildings in west Grove, Miami, affordable housing in Fort Lauderdale, concepts for redevelopment in at risk neighborhoods in Pompano Beach and as far away as Tallahassee. Our pre-collegiate outreach has been recognized nationally and statewide. A $4.5M federal grant and a $3.5M state grant prepares students from predominantly Hispanic high schools and two-year colleges in out region for careers in Computer Science, Computer Engineering and Electrical Engineering. Summer camps challenge and excite our younger minds who join us every July for hands on experience in engineering, computer science, and for having…fun.
These are just a few examples of the opportunities our students have in the FAU College of Engineering and Computer Science. They are trained by internationally recognized faculty and assisted by dedicated advisors who help them secure internships to gain real work experience and prepare for successful job placements.
As we completed an outstanding hiring season attracting world class faculty, we only expect that the excitement and successes of our people will be only amplified in the years ahead.
I would like to wholeheartedly extend an invitation to visit us in person and learn more about us.
All the best,
Stella Batalama, Ph.D.
Dean