FMRI Sponsored Conferences/Workshops
| Events |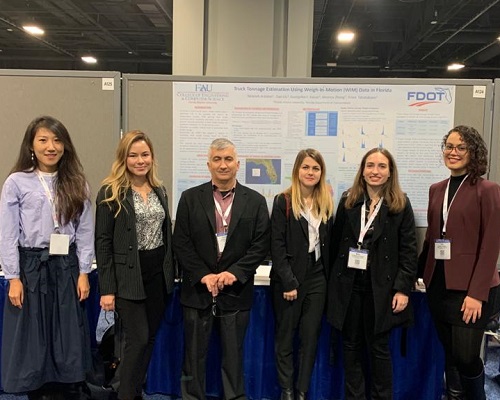 FMRI at the 99th Annual Meeting of the Transportation Research Board - TRB 2020
January 12–16, 2020, Washington, DC
At the Transportation Research Board (TRB) 99th Annual Meeting, FMRI executive commitee, staff directory, and researchers had the chance to attend more than 5,000 presentations in nearly 800 sessions and workshops. Every year, the information-packed program addresses relevant transportation topic to policy makers, administrators, practitioners, researchers, and representatives of government, industry, and academic institutions. Find below the FMRI agenda of activities at the TRB 2020.
FMRI at TRB Agenda
FMRI at the IEEE Intelligent Transportation Systems Conference - ITSC 2019
October 27, 2019, Auckland, New Zealand
The FMRI sponsored a workshop on Smart Initiatives and Intelligent Freight Transportation at the IEEE Intelligent Transportation Systems Conference 2019, Auckland, New Zealand. This workshop addressed critical issues affecting planning, design, operation, and safety of the nation's intermodal freight transportation systems, to strengthen nation's economic competitiveness through efficient freight mobility. The Director of FMRI and Dr. Petros Ioannou, from the University of Southern California, were the organizers of the workshop. Dr. Kaisar presented about Improving Freight Operations on Urban Multi-modal Corridors through Freight Signal Priorities. In the same workshop, the FMRI's Associate Director of Research, Dr. Hourdos, presented about Optimization of Winter Maintenance Station Location for Safe and Efficient Freight Transportation.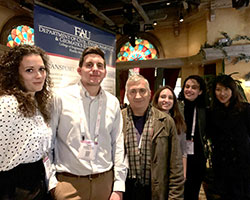 FMRI at the 99th Annual Meeting of the Transportation Research Board - TRB 2019
January 13 - 17, 2019, Washington, DC
The FMRI team participated in the 99th Annual Meeting of the Transportation Research Board as both audience and presenters in workshops, paper presentation, poster presentation, and many other activities. The FMRI hosted the workshop "Smart Initiatives and Intelligent Transportation Systems Applications for Efficient and Sustainable Freight Mobility". Presentations explored emerging logistics and supply chain initiatives, methods for last-mile deliveries, multimodal freight mobility, port resiliency and logistics terminals operations. Members of the FMRI team presented the research titled "Modeling Adoption of Autonomous Vehicle Technologies by Freight Organizations".
FMRI at the IEEE Intelligent Transportation Systems Conference - ITSC 2018
November 4 - 7, 2018, Maui, HI
FMRI faculty and graduate researchers participated in the 21st IEEE Intelligent Transportation Systems Conference in Maui, Hawaii. The international conference welcomed papers and presentations, including new developments in theory, analysis, simulation and modeling, experimentation, demonstrations, case studies, field operational tests, and deployments. The FMRI members and their students presented their research work related to the center's projects and attended numerous sessions within the conference. In addition, the members attended meetings regarding their future work and possible collaborations with representatives from academia, the community, and industry. The center co-sponsored the workshop titled, "Smart Freight Mobility, Current Applications, and Guidelines for Future Development". The presentations covered a wide range of freight transportation topics for current and future conditions and proposed significant innovations and solutions. The focus was on the use of drones, last mile solutions, marine operations, and freight congestion. Representatives from around the world participated in the workshop and FMRI graduate student, Stavroula Manta, presented her research work on freight and transit signal priority strategies.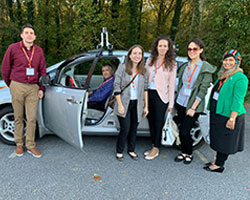 FMRI Cosponsors the 6th Annual UTC Conference for the Southeastern Region
October 24 - 25, 2018, Clemson, SC
The FMRI cosponsored the 6th Annual UTC Conference for the Southeastern Region, hosted by the Center for Connected Multimodal Mobility at Clemson University. The goal of the conference is to disseminate information about UTC research and encourage collaboration on future projects. The FAU FMRI research team participated in the poster showcase with four posters, titled "Vessel Scheduling Considering Multiple Time Windows and Berth Constrained Split Deliveries", "Implementation of Freight Signal Priority Strategies for Improving Freight Operations", "An Optimization Model for Evaluating the Economic Competitiveness of Short Sea Shipping", and "Disaggregate Market Penetration Model for Freight Transportation Organizations Adopted Connecting Autonomous Vehicle Technology". The FMRI Research Associate, Anastasios Charisis presented the topic "Multi-objective Optimization Model for Locating Logistics Delivery Facilities in Urban Areas".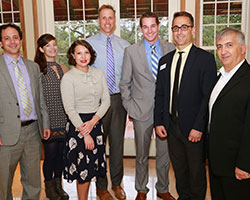 FMRI Workshop Evacuation and Resillience at CUES summit about Hurricane Irma
November 28, 2017, Fort Lauderdale, FL
Following the Hurricane Irma, the Center for Urban & Environmental Solutions (CUES) at Florida Atlantic University convened a summit titled "Lessons from Hurricane Irma for Increasing Resilience: From Practice to Revising Plans and Policy". The FMRI Director, Dr. Evangelos Kaisar, presented on "Lessons Learned from Hurricanes: Evacuation and Resilience". Other FMRI team attendees were research associates MD Sultan Ali and Bratislav Ostojic. You may find the presentation slides below.
Presentation slides
FMRI Cosponsors the 5th Annual UTC Conference for the Southeastern Region
November 15 - 17, 2017, Gainesville, FL
The event brought together faculty, students, staff, practitioners, and public officials from the Southeastern US to disseminate information about ongoing activities and to foster collaboration within the academic community and the private and public sector agencies in the region. The FAU FMRI research team participated in the poster showcase with two posters, titled "Port Recovery in the Aftermath of Oil Spill Incident," and "Evaluation of Bus Routes Efficiency Using Data Envelopment Analysis (DEA) and Free Disposal Hull (FDH) Approaches." The FMRI Research Associate, MD Sultan Ali presented on "Guidance for Identifying Corridor Conditions that Warrant Deploying Transit Signal Priority." Dr. Kaisar attended meetings with Dr. Golias, FMRI Associate Director, and Dr. Mishra, FMRI partner, from the University of Memphis regarding current and future projects of the Institute.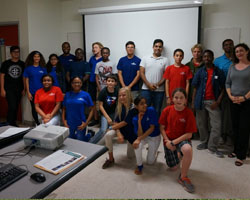 Summer Engineering Technology (SET) Program
July, 2017, FAU, Boca Raton, FL
Summer camps for high-achieving students entering grades 7 to 9 in fall 2019. Students learn how to think critically in a fun and academically stimulating environment. FMRI sponsored a Freight Transportation for Smart Cities camp for 16 students from Crystal Lake Middle School, Carver Middle School, Margate Middle School, and AD Henderson University School. The course covered ArcGIS based spatial analysis of truck traffic in Florida, port resilience, automated and connected vehicles, and public transportation in smart cities. Students also visited with the FAU Society of Automotive Engineers (SAE) racing team, assembled a basic soldering kit, and attended a drone flying demonstration.
| Events |