Digital Media Initiatives
Digital Media Initiatives at SCMS form a broad collection of forums investigating the current state of digital media culture, design, and production:
XR Courses & Research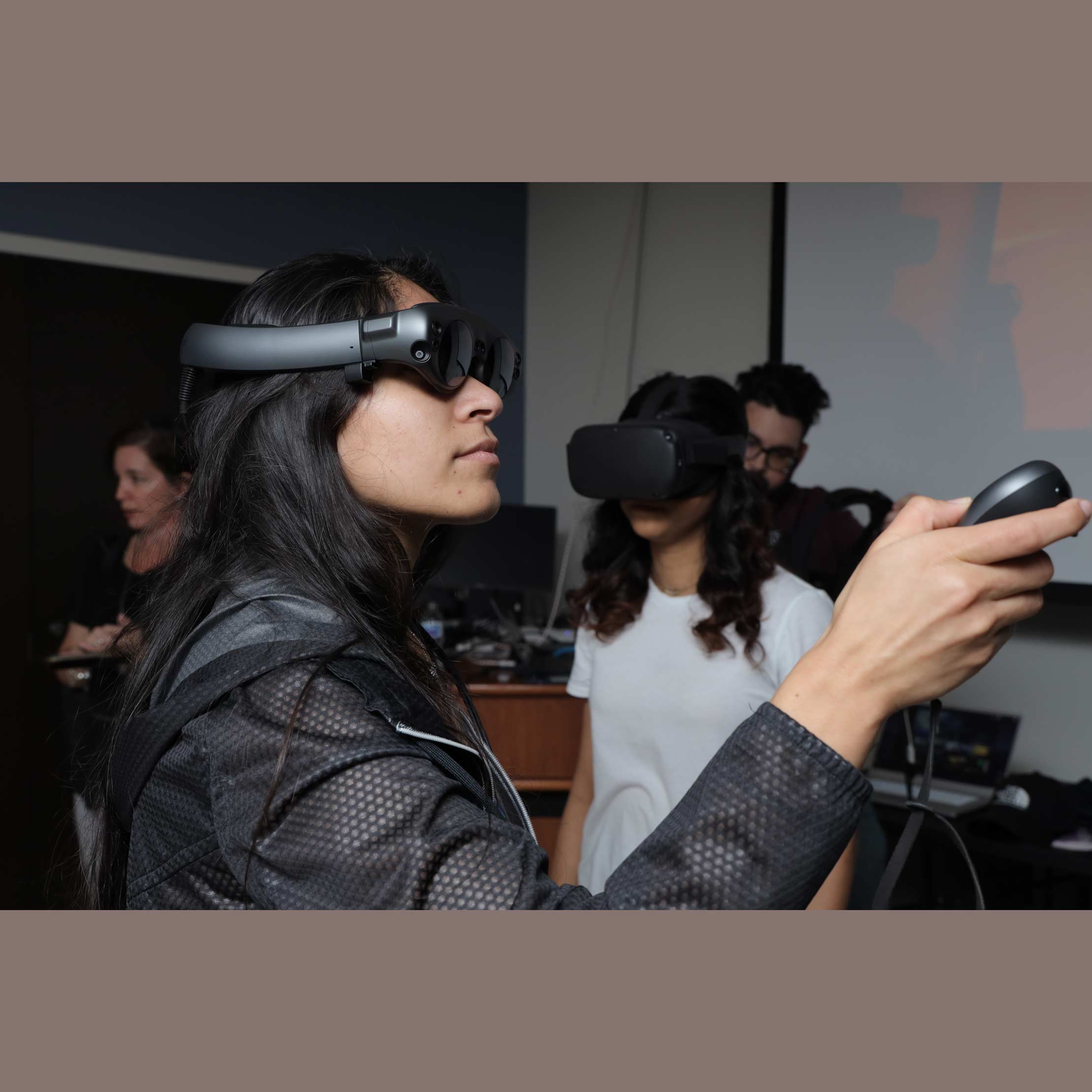 Extended Reality Courses & Research
Extended Reality (XR) undergraduate courses and MTEn MFA XR research projects focus on the design and development of games, 360 interactive video, virtual reality (VR), and augmented reality (AR) applications for entertainment, education, and research. Advanced topics include AI, mixed reality (MR) and spatial computing with the Magic Leap headset, and virtual cinematic production using motion capture and game engine trackers.
FVNM undergraduate and MTEn MFA courses that relate to our XR initiative:
Visual Design for Film, Animation and Games (DIG 4122C) 4 credits
Prerequisite: DIG 3305C, DIG 3110 or RTV 3531 with minimum grade of "C;" admission to Film, Video and New Media concentration
Students learn to apply visual design principles and techniques to create concept art, storyboards, character design and animated prototypes to visualize a narrative concept for production.
3D Video Game Design (DIG 3725C) 4 credits
Prerequisite: DIG 3110 or DIG 3305C with minimum grade of "C"
Comprehensive introduction to working in a 3D game engine to design an engaging interactive experience. Production techniques include 3D terrain building, media asset creation, graphical user interface design and coding dynamic events.
Immersive Media for Games and Virtual Reality (DIG 3773C) 4 credits
Prerequisite: DIG 3725C with minimum grade of "C"
Explores the use of a 3D game engine to design immersive experiences for virtual reality, augmented reality and mixed reality devices. Project work includes 360 cinematic environments, educational games and spatial computing.
Immersive XR Design (DIG 6605) 4 credits
Creative exploration of immersive design frameworks in a game engine for extended reality (XR) and interfaces such as the latest mobile devices and headsets. Projects bridge the gap between design, technology, engineering and art.
Classical Music Radio from FAU
Wavelengths is the audio component of the SCMS Multimedia Studies program at FAU. This webcast consists of streaming classical music and spoken-word programming. Listen to Wavelengths on iTunes. [NOTE: This service is intended for streaming on Winamp, iTunes, or VLC media players. Performance on other software is not guaranteed or recommended.]
Audio Journal of Local and Regional News
South Florida Journal is a weekly review of South Florida news in podcast form produced by Dr. Kevin Petrich's RTV 4301 Broadcast Journalism and RTV 4304 Advanced Broadcast Journalism students. Listen to the most recent edition. 
Award-Winning Experimental Media Ensemble
meme™ ( MTEn-MFA Experimental Media Ensemble™) is a live performance group comprised of students from graduate courses taught by Joey Bargsten, meme™ explores new and emerging expressive forms created by combining sound, image, and narrative elements through contemporary digital technology and a variety of performance techniques.
Flamingo Film Festival
International Festival of Student Films
The Flamingo Film Festival is dedicated to exhibiting the international short films and videos produced by student filmmakers. The 2013 event held in South Florida honored outstanding narrative, documentary, experimental, and animated projects created by students while enrolled in a college, university or other post-secondary institution. View the 2012 FFF blog.

A Festival Celebrating Super-8 Film
Established in 2006 by Shane Eason, the 1:1 Super 8 Cinema Soirée is an annual South Florida event celebrating the use of super 8 film, but with a twist: none of the films are viewed by the filmmakers before the screening. Participants are not allowed to preview or edit their films. No matter what imperfections, happy accidents, or planned technical attributes occur. What's shot in-camera is what's shown. There is no opportunity to make changes. Each participant gets one chance, one reel, and one take, premiering the films at a one night collective screening. More on Facebook.
SIGGRAPH Community Events
Presentations by Digital Media Industry Leaders
South Florida is a hub of activity in the world of computer animation, visualization, and new technologies. Attend lectures and demonstrations by the leaders in these industries and be part of the SIGGRAPH Community. Events in this series are currently being organized.