Honors Program
The Honors Program in Communication is open to qualified students who wish to pursue a course of study organized around a specific topic, area of interest, or creative project. It is open to all students regardless if their orientation is creative, scholarly or practical communications. Students take a special sequence of courses both inside and outside the School and in their last semester complete a Senior Honors Thesis or a Senior Honors Project under the direction of a faculty advisor.
Requirements
The new requirements for honors are as follows:
Fulfill all University, College and School Requirements for a degree
Maintain an overall university GPA of 3.25 and a school GPA of 3.6
Work with the director of the SCMS honors program to develop a program of Honors courses around an area of interest
Earn 9 semester hours of hornors credit, of which 6 come from coursework and 3 come from an honors thesis/creative project (see below)
Earn 6 semester hours of credit from designated coursework in SCMS

Designated honors sections of SCMS courses (e.g. Public Speaking, Film Appreciation)
Graduate level coursework in SCMS
Any SCMS course with a signed Honors Compact

Earn 3 semestyer hours by completing a Senior Honors Thesis or Creative Project, under the dirction of the SCMS honors coordinator and in cooperation with a faculty advisor in the student's area of interest.
Honors courses consist of:
Graduate level courses in the School of Communication & Multimedia Studies and approved Graduate courses in other departments
Directed Independent Honors Study
Approved upper division courses in other departments
Special Honors seminars
Senior Honors Thesis or Creative Project
For More Information:
For further details and more information contact School Honors Coordinator Marek Muller at mullers@fau.edu or call 561-297-0042.
Current Honors Students News
Michelle Trujillo returned to FAU to participate in the Undergraduate Research Symposium. Her Honors Thesis project, the found footage video collage, See Her (completed last fall), earned First Place in the Poster Presentation section. See Her is a political critique of female representation in contemporary cinema, structured and informed by key works from the feminist film theory canon… Not to be outdone, spring 2015 graduate Jennifer St. Sume (thesis supervisors Becky Mulvaney and David Williams) took home First Place in the Oral Presentation section. Congratulations, Michelle and Jennifer!
Past Honors Students Success
Michelle Trujillo represented the School at the 2014 Telluride Film Festival Student Symposium. Michelle, a senior Multimedia Studies major and a member of the SCMS honors program at the time, was one of only 50 undergraduate and graduate student applicants who are accepted each year. She follows Olympia Kiriakou (FAU/SCMS hons '12) who participated in the Symposium in 2011.
Recent Honors Graduates
Michelle Trujillo
B.A. Multimedia Studies
Thesis title: "See Her" (2014, 17 mins, digital video)
Committee: Christine Scodari and Lisa Danker.
Michelle graduated magna cum laude and defended her honors thesis project in December 2014. After a stint with HBO Latin America Group, Michelle decided to return to school for an MFA degree. She will commence her first semester with the Graduate Program in Film, Video, Animation, and New Genres at the University of Wisconsin-Milwaukee in Fall 2016.
Jennifer St. Sume
B.A. Communication Studies
Thesis title: "'L' is for Liscentious: A Rhetorical Investigation of the Relationship between Gender, Identity and the LGBT Counterpublic.""
Committee: Becky Mulvaney and David Williams.
Jennifer graduated magna cum laude and defended her honors thesis in May 2015. She accepted a tuition scholarship offer from the Department of Communication at Wake Forest University, and began its M.A. program in Winston Salem, NC last fall.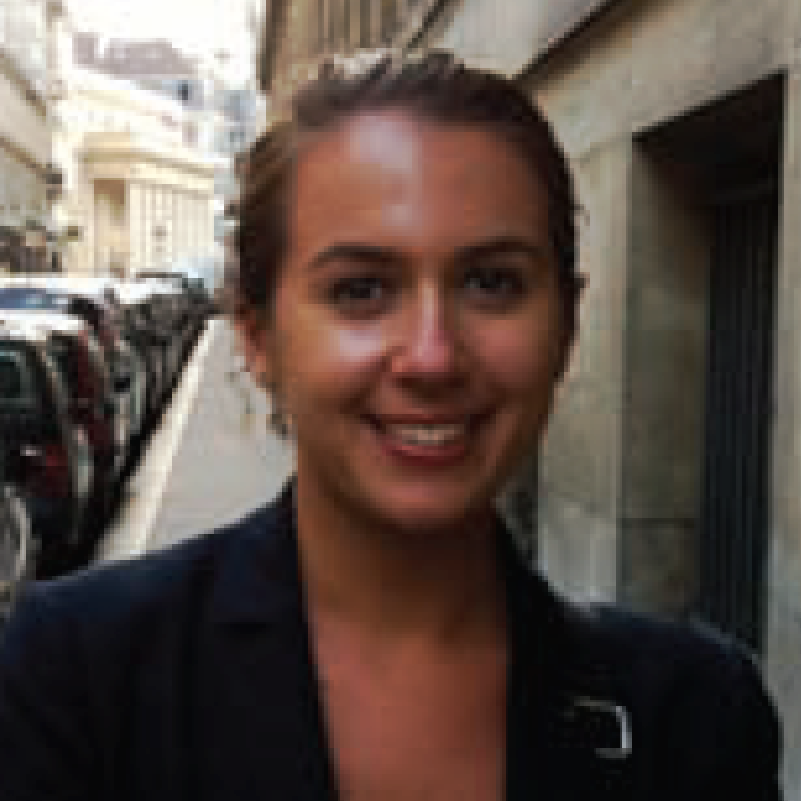 Olympia Kiriakou
B.A. Multimedia Studies
Thesis title: "'Marvelous Girl. Crazy as a Bedbug!' Carole Lombard as a Feminist Comic."
Committee: Gerald Sim and Chris Scodari.
Olympia graduated summa cum laude and defended her honors thesis in May 2012. She was awarded an Undergraduate Research Grant in 2011, and presented her work at the Visions Film Festival and Conference at the University of North Carolina-Wilmington. Part of her honors thesis was published in the journal Film Matters . Olympia went on to earn an M.A. at the University of Toronto and is currently a Ph.D. candidate at Kings College of London.
Danielle Trembley B.A. Communication Studies
Thesis title: "The Rhetoric of Self-Help."
Committee: Melanie Loehwing and Marylou Naumoff.
Danielle graduated summa cum laude and defended her honors thesis in December 2013.She accepted a position as Client Relations Representative with American Pathology Partners, and is considering graduate school in the future.