Joey Bargsten
About
PhD, University of Iowa
Email: jbargste@fau.edu
Areas of Expertise: Interactive and Performative Multimedia, Immersive and Interactive Music and Audio, Critical New Media Studies
Joey Bargsten teaches courses in interactive multimedia. His current research interests include combining intermedia and audiovisual software with live performance, ranging from multimedia opera to dance with motion-reactive visuals. He founded and directs FAU's MTEn ( Media, Technology, and Entertainment) Experimental Media Ensemble ( meme™). His soundtracks created for intermedia artist Leon Johnson have been performed at Whitney Art Works (Portland, ME), and Issue Project Room (Brooklyn, NY). His digital film Sticky Notes™ was included in the Zero Film Festival (Los Angeles, New York, London) in 2008.
His interactive art website BAD MIND TIME™ has received awards and recognition from Broadcast Design Association, Fluxus International Film Festival, Print Magazine, and Stuttgart Filmwinter Festival for Expanded Media. In 1998, BAD MIND TIME™ was first featured as a winner of an InVision award by New Media Magazine, with the cover announcing "The 9 Best New Media Projects on the Planet".
Bargsten won one of the 2013 Miami Knight Art Challenge Awards for the presentation in 2015 of his transmedia opera MelanchoLalaland™. He was one of five video artists invited to create motion visuals to accompany members of the New World Symphony in a concert recognizing the 100th Anniversary of the graphic arts association AIGA.
Video Features
Recent Publications
Narrative and Spatial Design through Immersive Music and Audio . The IEEE Conference on Virtual Reality and 3D User Interfaces, 5th Annual Workshop on Sonic Interactions in Virtual Environments (2020).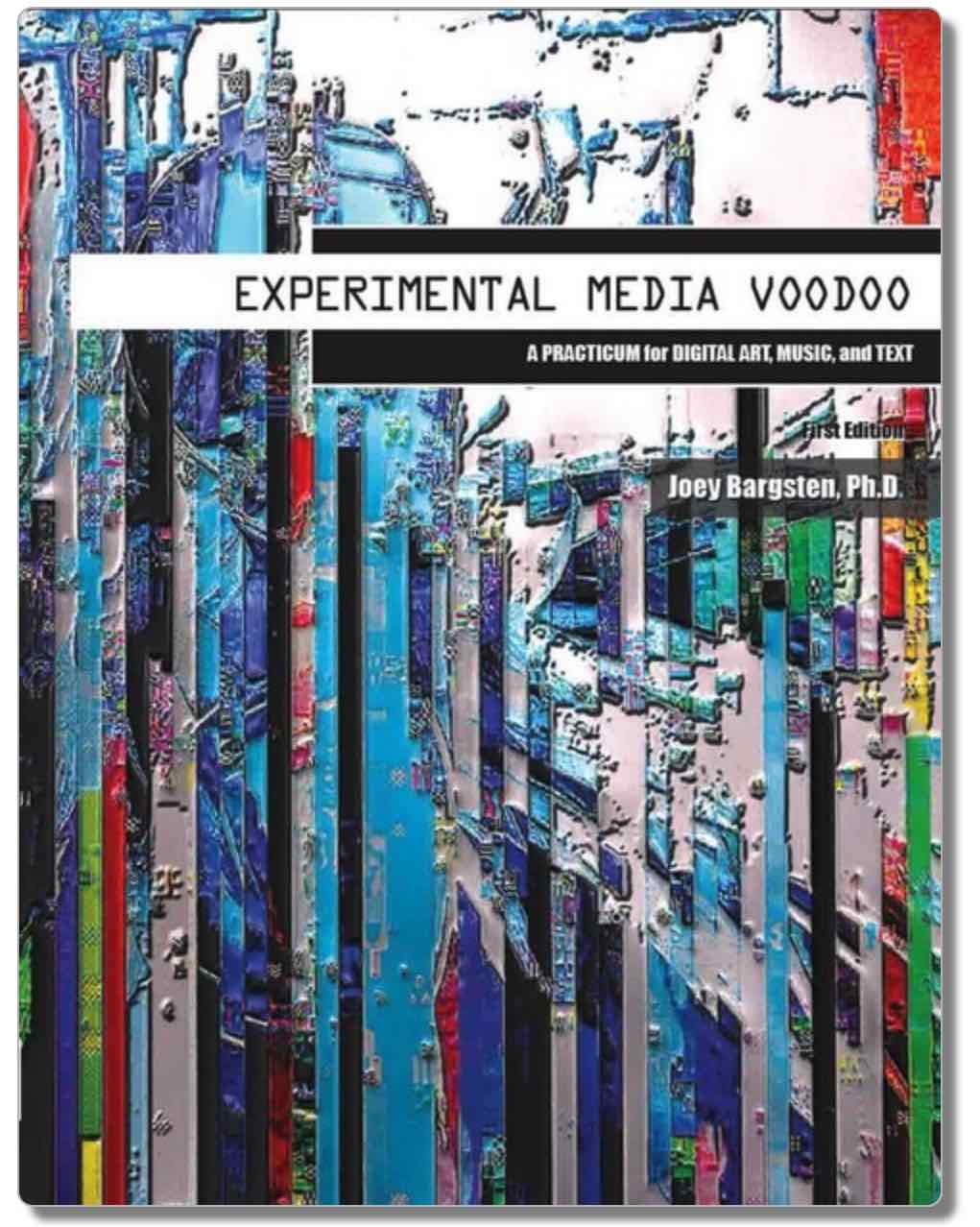 Experimental Media Voodoo: A Practicum for Digital Art, Music, and Text. Sentia Publishing LLC (2018).  
"Re-Imagining Microtonalities: Prototyping a Bohlen-Pierce Synthesizer in PureData" (2016)
"Gesture and Performance with Kinect, Quartz Composer, and PureData" (2014)
Hybrid Forms and Syncretic Horizons
. Lambert Academic Press: Saarbrücken (2011).
Free download
.
DVDs of Two Digital Films
Available on Amazon.
Recent Exhibitions and Performances
Polysemic , multimedia performance exhibition featuring Kyle Motl, Matt Baltrucki, Carlos Dominguez, and Joey Bargsten. Ritter Gallery, FAU (November 2019)
Animated Music Notation—Group Exhibit, Monash University, in conjunction with the International Conference on Technologies for Music Notation & Representation (TENOR) and the Australasian Computer Music Conference (ACMC). Melbourne, Australia, (July 2019). Work exhibited: mNotation.
MelanchoLalaland™ , Multimedia Opera, performed at Miami Beach Cinematheque (September 2015). Scenes from the opera performed at FilmGate Interactive Conference, Miami (February 2015)
How One Gets There, Staff Pick on Vimeo (January 2014)
New World Symphony, Miami Beach (January 2014)
FAU Faculty Biennial (September 2013; see video above)
Museum of Art, Fort Lauderdale (November 2012)
Inkub-8 Performance Space, Miami (April 2012)
Courses
DIG 3110: Fundamentals of Multimedia ( Student examples)
MMC3711: Interactive Multimedia  (Student examples)
VIC4943: Multimedia Practicum
MMC6701: Creating Interactive Culture (Graduate)
MMC6715: Studies in New Media (Graduate)
MMC4930/6930: Creating Interactive Soundtracks (Undergraduate & Graduate)
Stay Connected