Recent Highlights
4/30/15
MFA graduates: Risa Shiman, Monique McIntosh and Donovan Ortega, being honored at a College ceremony.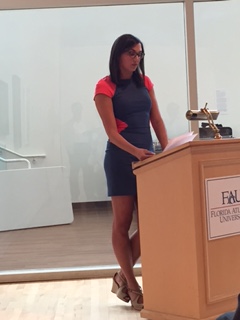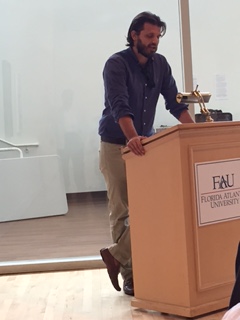 4/15/15
Congratulations to Professor Rafe Dalleo for being awarded the University's Scholar of the Year!
2/27/15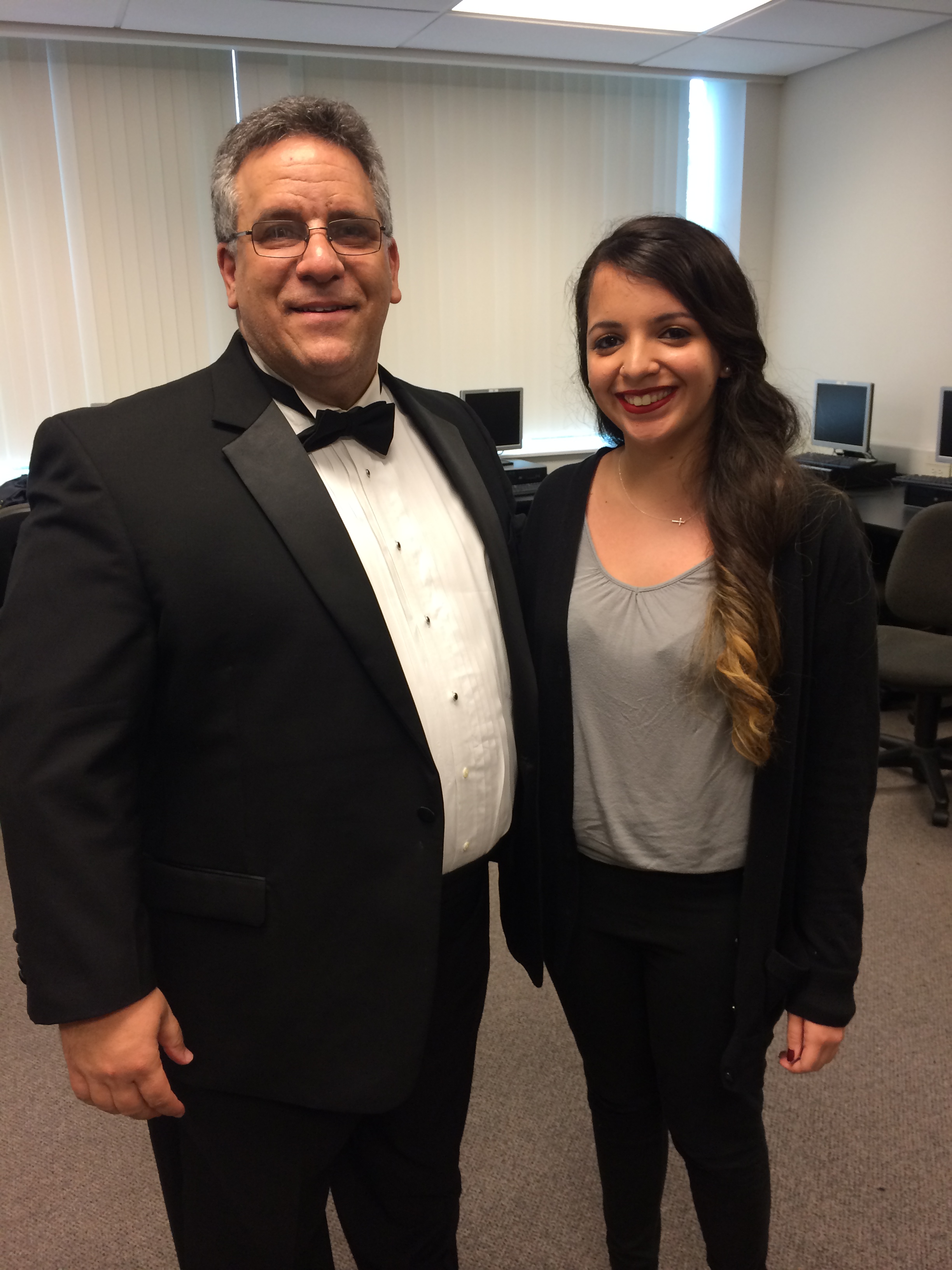 On February 27, James Gavrilos, Executive Director at Boca Helping Hands, visited Prof. Wendy Hinshaw's Writing for Nonprofits class. Boca Helping Hands is an organization that provides services and assistance to help individuals "break the cycle of dependence". BHH started as a Food Center, serving hot meals three times a week. The demand for help increased and now BHH has expanded, offering over 10 different programs such as a Job Mentoring, ESOL class, Pantry Bags, etc. to help individuals meet basic needs and become self-sufficient. James talked about the importance of BHH and the impact it has had on the community. He also discussed the role of writing in the nonprofit world and encouraged students to use their talent and skills to make a difference in the world. James is working with Mayra Girasol this semester. She has been working on newsletter articles and volunteer interviews for BHH.
2/23/15 
On Monday, February 23, 2015, Susy Diaz visited the ENC 4354: Writing for Nonprofits class as a guest speaker. Susy is the Executive Director of the Middle School of the Arts Foundation (MSOA). Her job is to raise funds so that Bak students can continue their excellence in the arts with concentrations in Band, Communications, Dance, Keyboarding, Strings, Theatre, Visual Arts, and Vocal Music. MSOA Foundation also provides volunteer support, promotes diversity, and helps sustain Bak's academic excellence. Susy says, "She has 1,350 babies to support, striving to ensure that they can continue studying the arts."
Off the Page: Phil Klay
2/18/15
Phil Klay is a graduate of Dartmouth College and a veteran of the U.S. Marine Corps. He served in Iraq's Anbar Province from January 2007 to February 2008 as a Public Affairs Officer. After being discharged he went to Hunter College and received an MFA. His story "Redeployment" was originally published in Granta and is included in Fire and Forget: Short Stories from the Long War. His writing has also appeared in the New York Times, Newsweek, The Daily Beast, the New York Daily News, Tin House, and The Best American Nonrequired Reading 2012.
Writing for Nonprofits
2/11/15
On Wednesday February 11, the ENC 4354: Writing for Nonprofits class hosted Gregg Francis, the CFO and COO of Gift of Life Bone Marrow Foundation, as a guest speaker. Gift of Life is an organization that works to save lives by connecting patients of leukemia, lymphoma, and other blood cancer diseases to donors who are their genetic match. The goal of Gift of Life is to raise awareness about the potential each person has to save a life by joining the registry. They wish to represent all ethnicities in order to be able to find a match for anyone, anywhere. Gregg talked about his role within the organization and what it means for him to be part of such a heartfelt movement. He also introduced the class to the number of opportunities that are out there for English majors. Meghan Darcy and Peterson Lafortune will be working with Gregg as part of their course curriculum. They will be working on newsletter articles and grant writing while also interviewing patients and donors about their journeys.
2/4/15
On Wednesday February 4, Wendy Friswell, Executive Director of the Spirit of Giving Network, presented for students in ENC 4354: Writing for Nonprofits. The Spirit of Giving Network is a collaborative nonprofit organization that brings other nonprofits and their communities together to share resources and knowledge. SoGN aims to improve the lives of local children, families and individuals. After introducing the students to SoGN, she talked about the various programs she organizes and went through her history with the students. They learned about the ins and outs of both the organization and the person behind it. In closing, she stressed that the students (a majority of whom are English majors) should use their placements in nonprofits to develop strong writing skills and to collaborate among themselves. Amir Khan is working with Wendy this semester, primarily on a short story project that will not only demonstrate the impact of nonprofits but hopefully leave an impact on the reader, as well.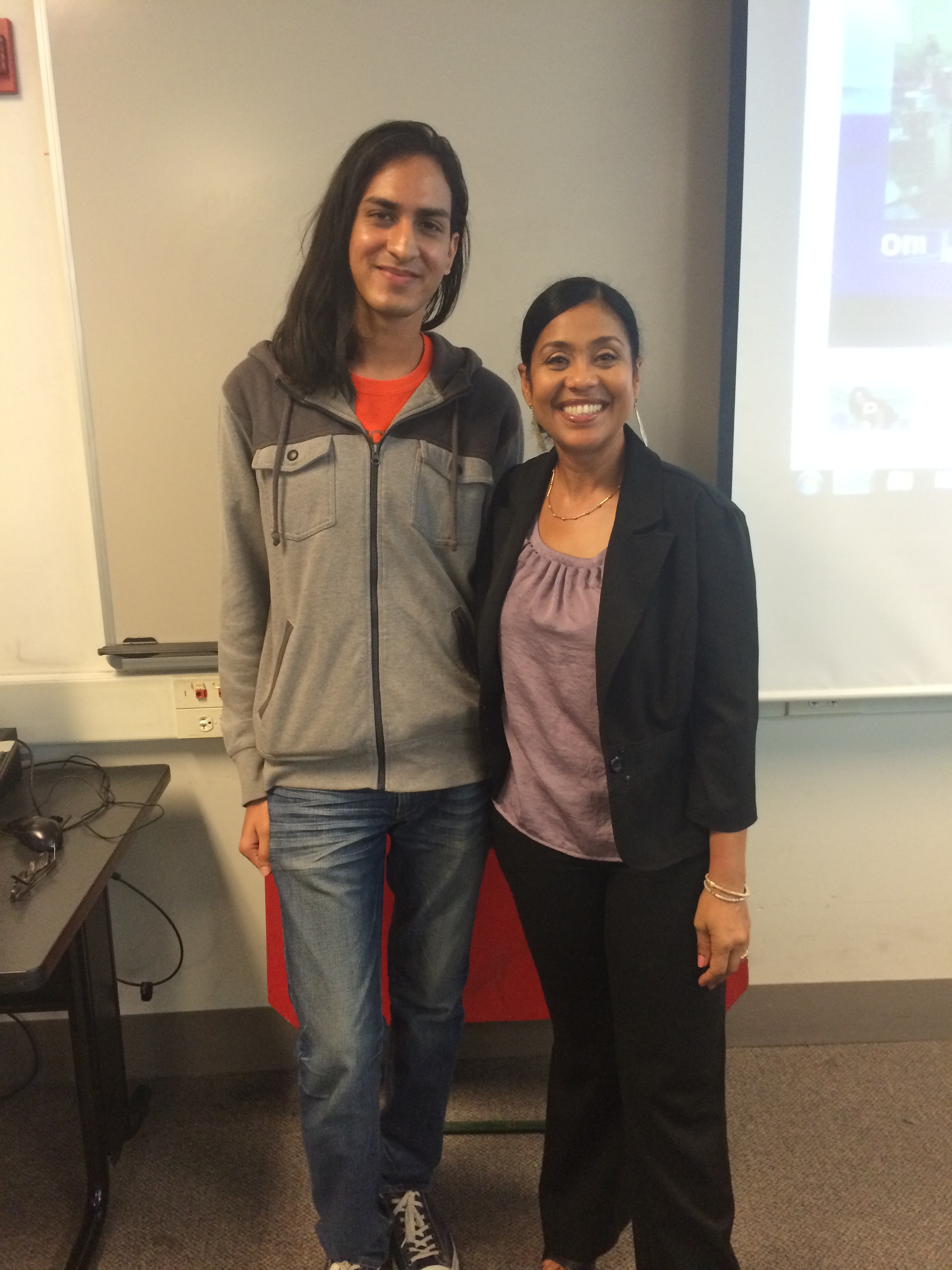 Lawrence A. Sanders Recipients
12/2/14
MFA students: Kim Grabenhorst, Kathryn McLaughlin, Monique McIntosh, Ian Rice, Jamie White, and Peter Zappardo.
Writing Program Awards
4/1/14
Congratulations to our GTA's and undergraduate students for their victories in the Writing Program Awards as voted upon by the Writing Committee and their outgoing leader Barclay Barrios.
Gyasi Byng, Outstanding GTA
Mary Bogue, Most Promising GTA
Ashis Mohanty, "Lost in Translation," Best Essay in LIT 20XX — Julianne Curran, Instructor
Christopher Minasi, "Human and Nonhuman," Best Essay in ENC 110X, Fall 13 — Marianna Gleyzer, Instructor
Becca Wexelman, "Eating Ethics," Best Essay in ENC 110X, Spring 14 — Kathleen Moorehead, Instructor
Congrats to all!  And thanks to the Writing Committee for making some difficult decisions.
Lawrence A. Sanders Fellows in Creative Writing
3/24/14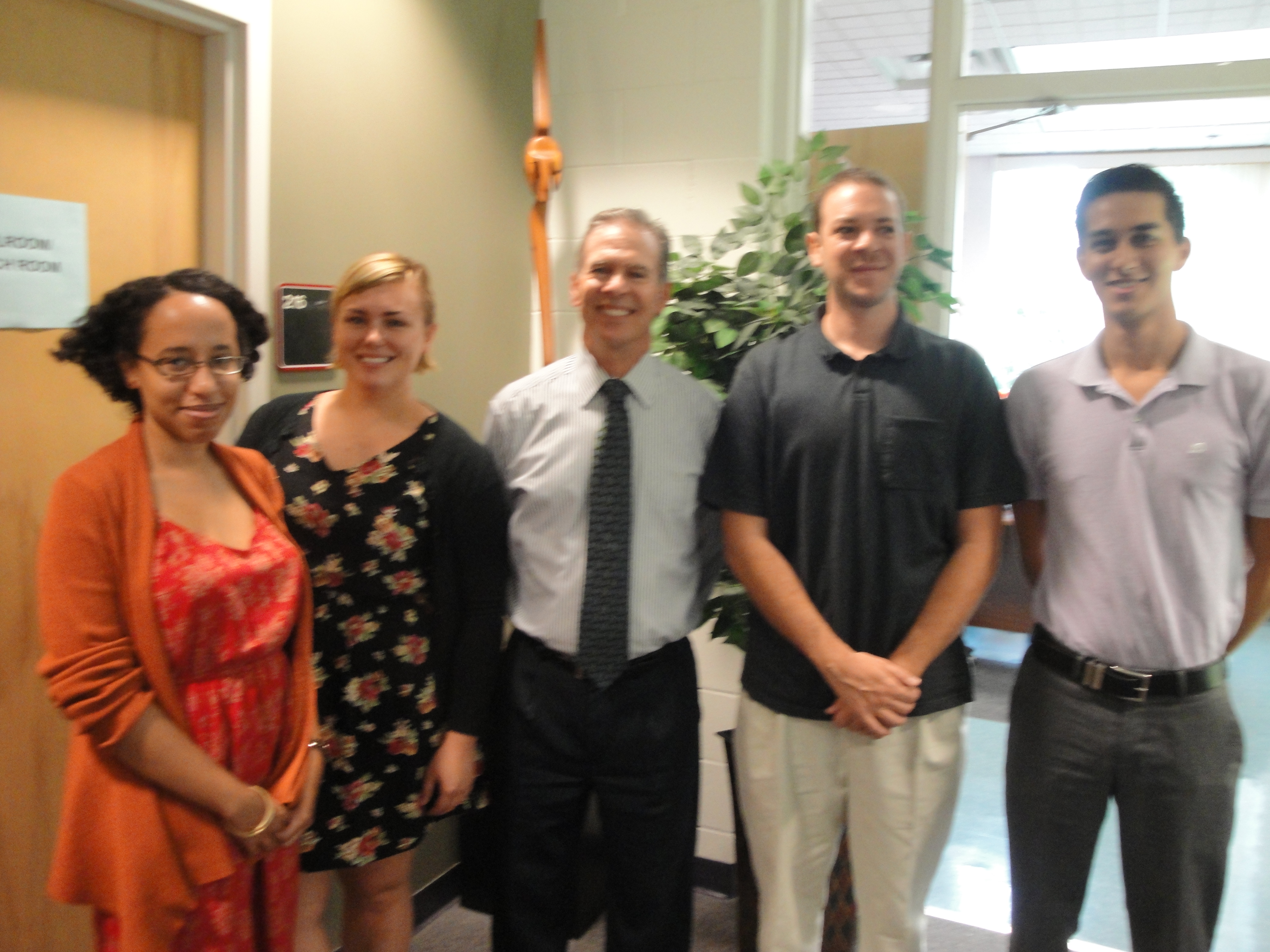 (Left to Right) Monique McIntosh, Kim Grabenhorst, Dan Brede (trustee, Lawrence A. Sanders Foundation), Ian Rice, Jamie White
The Lawrence A. Sanders Fellows in Creative Writing is very competitive. Each year, second and first year MFA student fiction and poetry writers are selected.
Lawrence A. Sanders Writer-In-Residence: Tayari Jones
3/20/14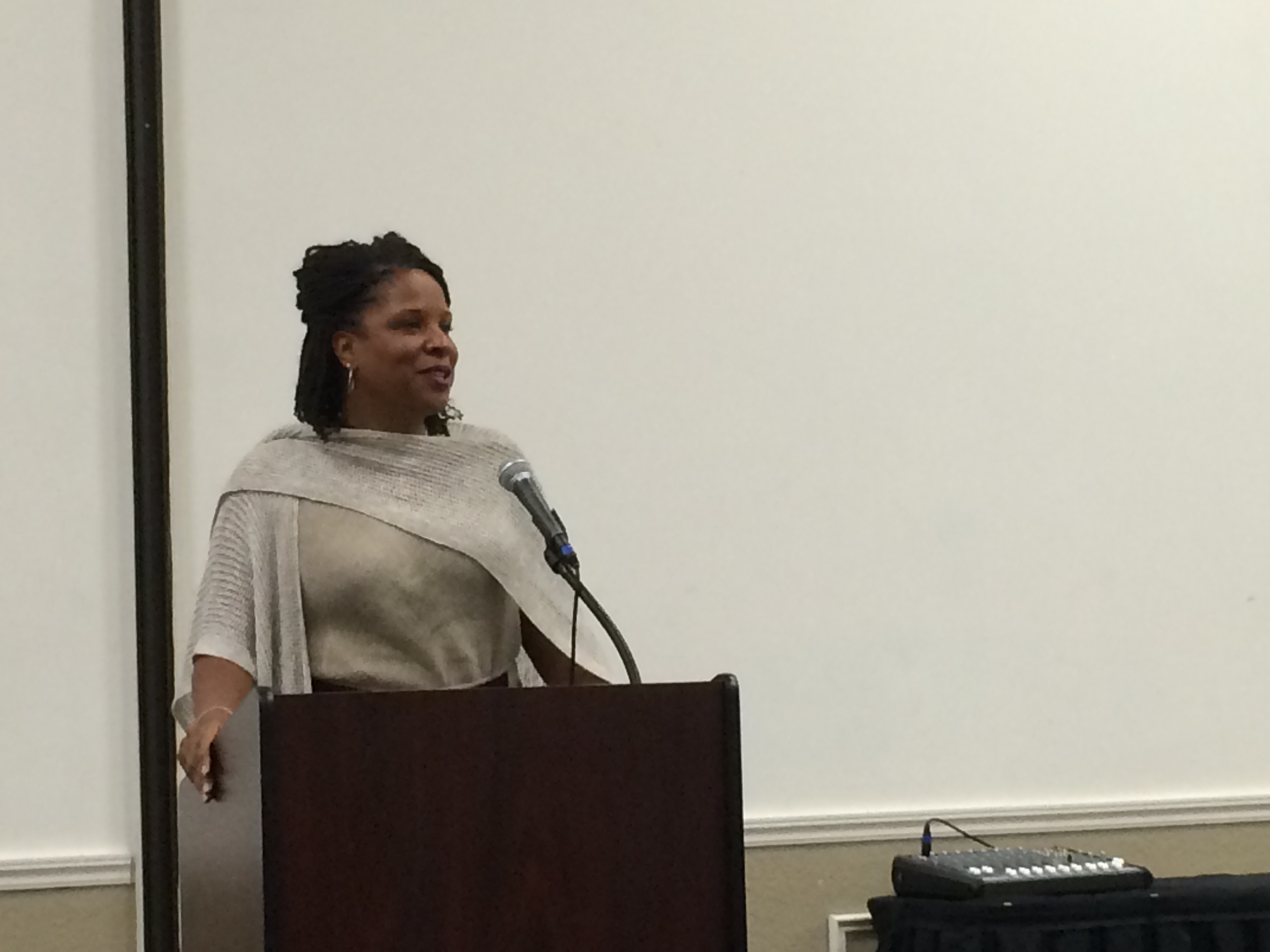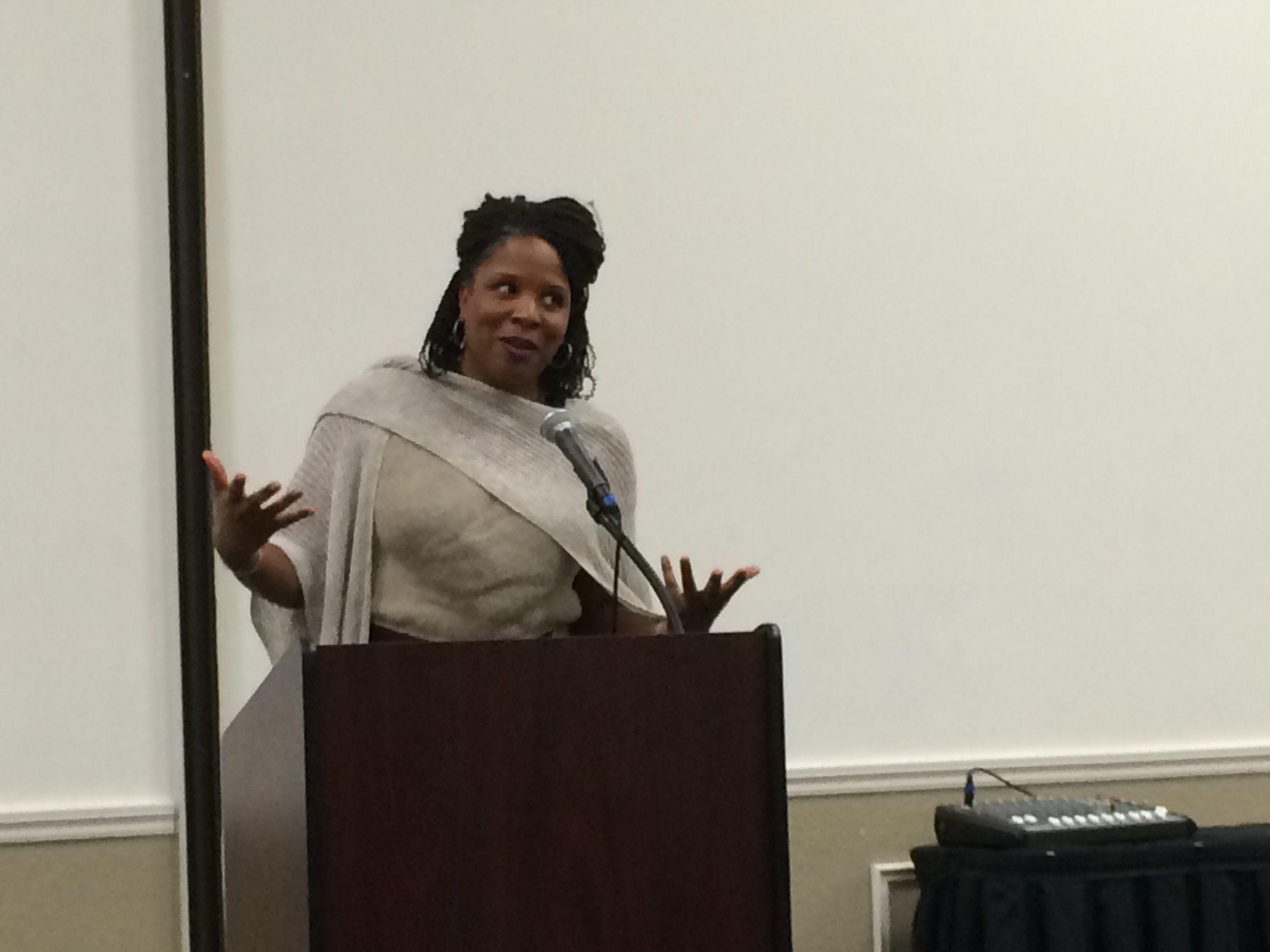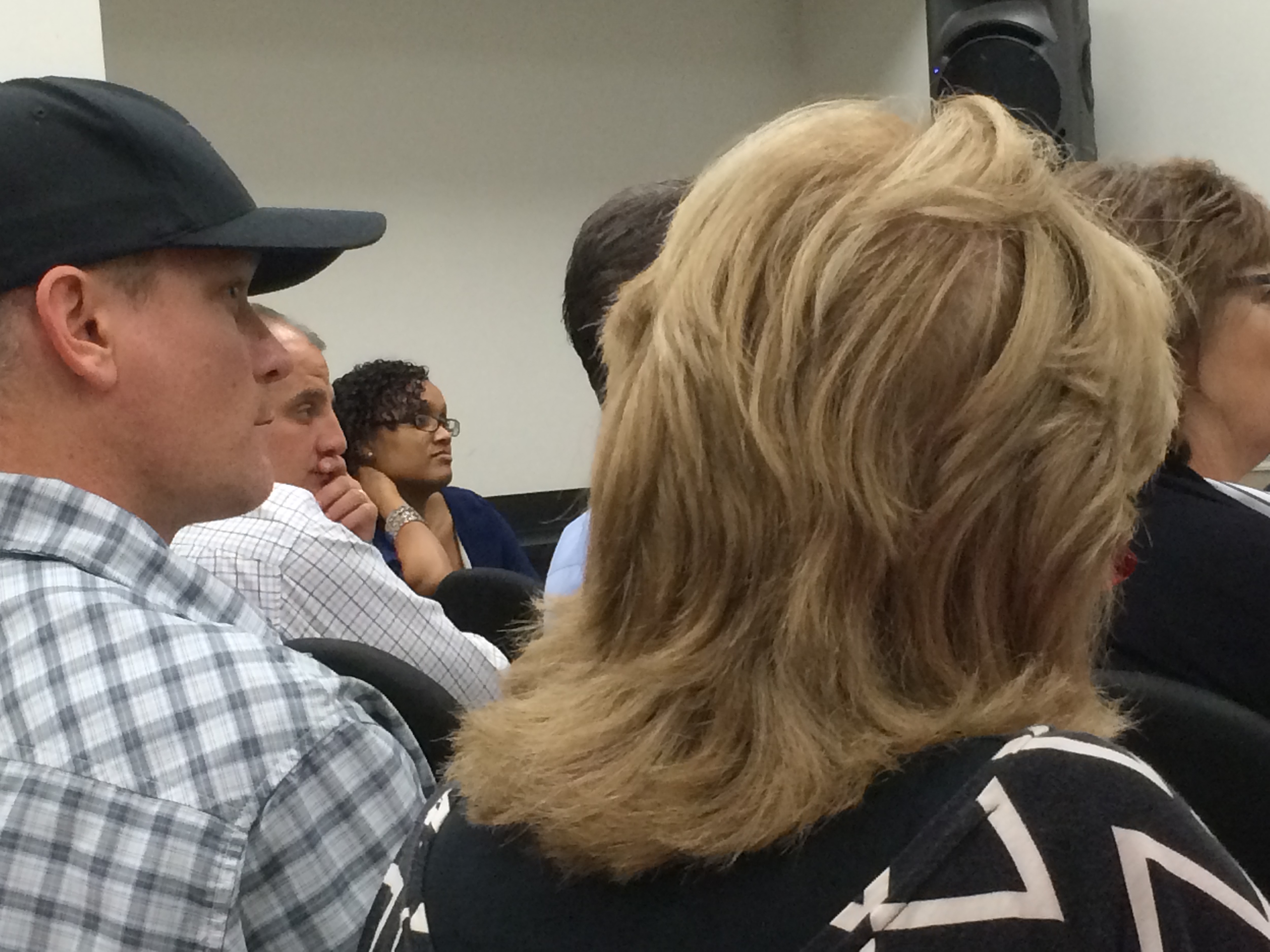 Spelling Bee: English Faculty vs. English Students
3/14/14
The English Club would like to congratulate Professor Becka McKay for winning the Spelling Bee! It was a fierce competition and the winning word was Thalassophobia.

Professsor Mckay and English Club President Danielle Fontana

There was a full house at the Spelling Bee!

Student competitor, Cameron McCaffrey, made it to the challenge round.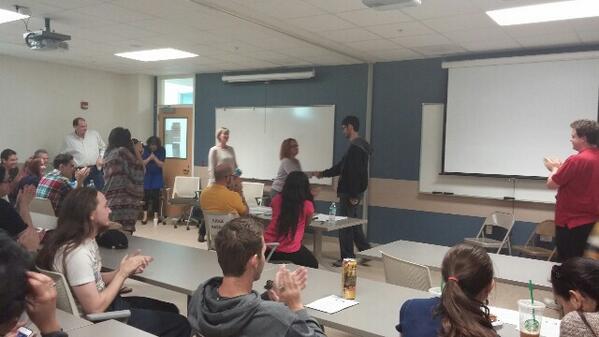 Professor McKay congratulates Terry White for coming in 2nd place.
1/16/14
Timothy Donnelly (2014 Bingham Visiting Writer)
11/12/13
Sigma Tau Delta Night of Creative Reading
Donovan Ortega, Host/President

Risa Shiman reading A Bridezilla of a Different Color
Jamie White reading poems, How to Talk with More than Words, and When She First Spoke

Monique McIntosh reading Bank of Paradise

10/9/2013
Professor Taylor Hagood selected to serve as German Research Ambassador
Professor Taylor Hagood has been selected to serve as a research ambassador for the German Academic Exchange Service (DAAD) for 2013-14. DAAD is the German national agency for the support of international academic cooperation. To read the entire press release, please visit this link, http://www.fau.edu/mediarelations/releases1013/101312.php
For more information contact the Department of English administrative office at 297-3830 or at english@fau.edu.