Computer Center Open Computer Lab | CM-142
Boca Raton Campus
The Computer Center Open Computer Lab is located on the first floor of the Computer Center building, room 142. This computer lab contains 12 Windows computers, as well as a pay-per-print system. All the computers are connected to the campus network and have full access to the Internet.
This open lab is available to all FAU students, and allows them to complete class assignments, conduct research, and perform any other FAU-related academic work.
HOURS OF OPERATIONS
DAY

TIME

Monday-Sunday

8:00 a.m. - 10 p.m.

After hours access with your Owl Card.
For more information about any of these Open Computer Labs, please contact Glen Campbell, Associate Director of Instructional Technologies, at 561-236-1101.
Hardware Available & Lab Layout
---
The Computer Center Open Computer Lab contains one (1) color multifunction laser printer machine.
| QTY. | PC TYPE | OS | MEMORY |
| --- | --- | --- | --- |
| 12 | Dell 5250 | Windows 10 | 8 GB |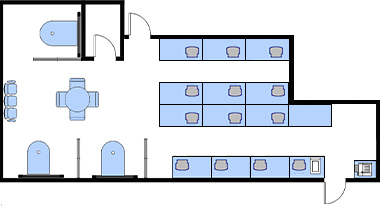 Software Available
---
Microsoft Office 2019
Access 2019
Excel 2019
InfoPath 2019
Word 2019
Publisher 2019
PowerPoint 2019
OneNote 2019
Business Software
Education Software
Math Software
Programming Software
Statistics Software
Miscellaneous Software
Citrix Workspace
Alertus
Audacity
Google Chrome
Microsoft Edge
Microsoft Internet Explorer
Mozilla Firefox
Filezilla FTP Client
SSH Secure FTP Client
VLC Media Player
Adobe Acrobat Reader
Java
Respondus LockDown Browser
PuTTY
Printing in the Computer Center Open Computer Lab
---
The Computer Center Open Computer Lab is equipped with a pay-for-print system. This printing solution allows students to print from anywhere, and from almost any device. Students can add funds to their Owl Card Printing Account and use these funds on all copiers and printers. The printing system protects confidential documents and slashes the volume of unclaimed printouts. Users queue print jobs to a virtual queue, and then release them for printing on any campus printer.
| TYPE OF PRINTING | COST |
| --- | --- |
| 8.5" x 11" - Black & White | $0.08 |
| 8.5" x 11" - Color Laser | $0.30 |
The "release stations" require user authentication, by swiping an Owl Card or entering a FAU NET ID to release and collect sensitive documents. The printing system allow students to print wireless from laptops, netbooks, iOS, and Android devices with no driver installation or server authentication. Your print jobs will be held until they are released by the student directly from the most convenient printer. For more information, click here.