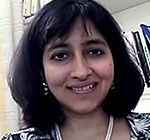 Alka Sapat, Ph.D.
Professor and Director
School of Public Administration
Florida Atlantic University
111 East Las Olas Boulevard, SO 301B
Fort Lauderdale, FL 33301
(561) 297-0443
Alka Sapat is the Director at the School of Public Administration  at Florida Atlantic University.   Her expertise encompasses disaster management, public policy processes, vulnerability and resilience assessment, and methodology.  She was a research fellow with the National Science Foundation's "Next Generation of Hazards Researchers" program and has been involved in a number of initiatives including NSF and DHS funded projects on  building code regulations, disaster-induced population displacement, post-disaster housing, the role of the Haitian diaspora and NGOs in disaster recovery, port recovery, and critical infrastructure resilience.   Her work has been published in the Natural Hazards Review, Public Administration Review, the American Review of Public Administration, Risk Analysis, Natural Hazards, the International Journal of Mass Emergencies and Disasters, and other scholarly venues. Her teaching interests include disaster management and homeland security, disaster planning and public policy, research methods, and statistical analysis. She serves on the Florida State Disaster Housing Task Force and the Governor's Hurricane Conference committee, along with serving on local committees on post-disaster housing initiatives. She is the coauthor of the 2014 book Displaced by Disasters: Recovery and Resilience in a Globalizing World, and co-editor of the 2017 book Coming Home after Disaster: Multiple Dimensions of Housing Recovery.
Current Funded Research Projects:
1. RAPID: Health, Housing, and Hazards: COVID-19, Subjective Resilience, Vulnerabilities, and Policy Evolution in Hurricane Prone Counties (National Science Foundation)
2. Disaster Readiness and Resilience of Older Adults in Southeast Florida (Abacoa Foundation)
Recent Publications:
Mitsova, D., Sapat, A., Esnard, A-M, Lamadrid, A. 2020. Evaluating the Impact of Infrastructure Interdependencies on the Emergency Services Sector and Critical Support Functions Using an Expert Opinion Survey, Journal of Infrastructure Systems, 26(2): 04020015, doi: https://ascelibrary.org/doi/10.1061/(ASCE)IS.1943-555X.0000548.
Mitsova, D., Esnard A-M, Sapat, A., Lamadrid, A., Escaleras, M., Velarde-Perez, C., (Forthcoming 2020). Effects of Infrastructure Service Disruptions Following Hurricane Irma: A Multi-Level Analysis of Post-Disaster Recovery Outcomes.
 Sapat, A., Esnard, A.-M., & Kolpakov, A. (2019). Understanding Collaboration in Disaster Assistance Networks: Organizational Homophily or Resource Dependency? The American Review of Public Administration, 49(8), 957–972. https://doi.org/10.1177/0275074019861347
 Mitsova, D., Escaleras, M., Sapat, A., Esnard, A. M., & Lamadrid, A. J. (2019). The Effects of Infrastructure Service Disruptions and Socio-Economic Vulnerability on Hurricane Recovery. Sustainability, 11(2), 516.
 Sewordor, E., Esnard, A. M., Sapat, A., & *Schwartz, L. (2019). Challenges to mobilising resources for disaster recovery and reconstruction: perspectives of the Haitian diaspora. Disasters, 43(2), 336-354.
 Sapat, A. (2018). Lost in Translation? Integrating Interdisciplinary Disaster Research with Policy Praxis. Risk Analysis. (Early View) DOI: 10.1111/risa.13198
 Mitsova, D., Esnard, A-M., Sapat, A. & Lai, B.S. (2018). Socioeconomic vulnerability and electric power restoration timelines in Florida: the case of Hurricane Irma. Natural Hazards, 1-21.  https://doi.org/10.1007/s11069-018-3413-x
 Sapat, A.  (2018). "Transboundary Disasters and Nongovernmental Organizations." Natural Hazard Science article. Oxford Research Encyclopedia, Dec 2018.