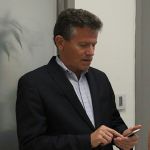 Hugh T. Miller, Ph.D.
Professor
School of Public Administration
Florida Atlantic University
Social Sciences Building, Room SO 202
777 Glades Road
Boca Raton, FL 33431-0991
(561) 297-4149
Professor Hugh T. Miller – My recent scholarship takes a narrative approach to studying public policy and administration. This Narrative Politics model is developed in my 2020 book Narrative Politics in Public Policy: Legalizing Cannabis and in my 2012 book Governing Narratives: Symbolic Politics and Policy Change (Tuscaloosa: University of Alabama Press) and also in a 2020 article published in Critical Policy Studies titled "Policy Narratives: The Perlocutionary Agents of Political Discourse" and in a 2018 article also published in Critical Policy Studies titled "Narrative Subscription in Public Policy Discourse." I am the author, with the late Charles J. Fox, of Postmodern Public Administration (Thousand Oaks, California: Sage, 1995). This book has been translated into Chinese and is now in its second Chinese printing.  A  revised edition of the book (Armonk, N.Y.: M.E. Sharpe) was published in 2007. Other books include Tampering with Tradition: The Unrealized Authority of Democratic Agency (Lanham, MD: Lexington Books, 2004), with Peter Bogason and Sandra Kensen, These Things Happen: Stories from the Public Sector (Burke, Virginia: Chatelaine Press, 1998) with Mohamad Alkadry, Postmodernism, "Reality," and Public Administration (Burke, Virginia: Chatelaine Press, 1997) with Charles J. Fox, and finally, Postmodern Public Policy (Albany, NY; State University of New York Press, 2002).
Contact Information: hmiller@fau.edu