Student Spotlight
SCMS Student Awards '22
The following students of the School of Communication and Multimedia Studies were recently honored with accolades and scholarships at the School's annual Honors Day on May 5, 2022: In the photo, from left, Aaliyah Fisher, Palm Beach Post Scholarship Gillian Manning, Outstanding Student (Undergraduate) in Multimedia Studies Journalism Talia Kibsey, Outstanding Student (Graduate) Master of Arts Program Nadia Gordon - Palm Beach Post Scholarship Not in photo: Jolie Tanner - Inez Persson Bailyn Scholarship in Journalism Francesca Dousdebes, Outstanding Student (Undergraduate) in Film, Video & New Media Mica Spanos, Outstanding Student (Undergraduate) in Communication Studies
Austin Havass
Florida native Austin Havass is a first-year graduate student in Communication Studies at FAU. Havass started the graduate program after finishing his bachelor studies in Multimedia Studies, with a minor in Spanish, from SCMS in Spring of 2021. His interests include aspects of pedagogy, cultural communication, and educational leadership. As an undergraduate, Havass was a member of the Sigma Delta Pi Honors Society. He is also among the co-founders of the Latinx Student Union, founded in Spring of 2021. He recently spoke at the 20th Annual Tri-University Student Conference on Latin America and the Caribbean, where he presented an analysis on how "the Latinx community defied U.S.-based odds and combatted negative tropes embedded inside cultural constructs." As a graduate teaching assistant, Havass currently teaches public speaking courses and plans to further his studies in the field of education.
Student Filmmakers Celebrate Herzog
"The Sounds of Herzog," a videographic essay produced by FAU Students/Alumni Kat Davis, Enzo Figueroa, and Zacary Adelson, celebrates the unique use of sound in Herzog's classic film, "Aguirre, Wrath of God," in anticipation of the 50th anniversary screening of the film with Werner Herzog in attendance. The film can be viewed at https://vimeo.com/672357342. Dr. Stephen Charbonneau mentored the filmmakers in this project.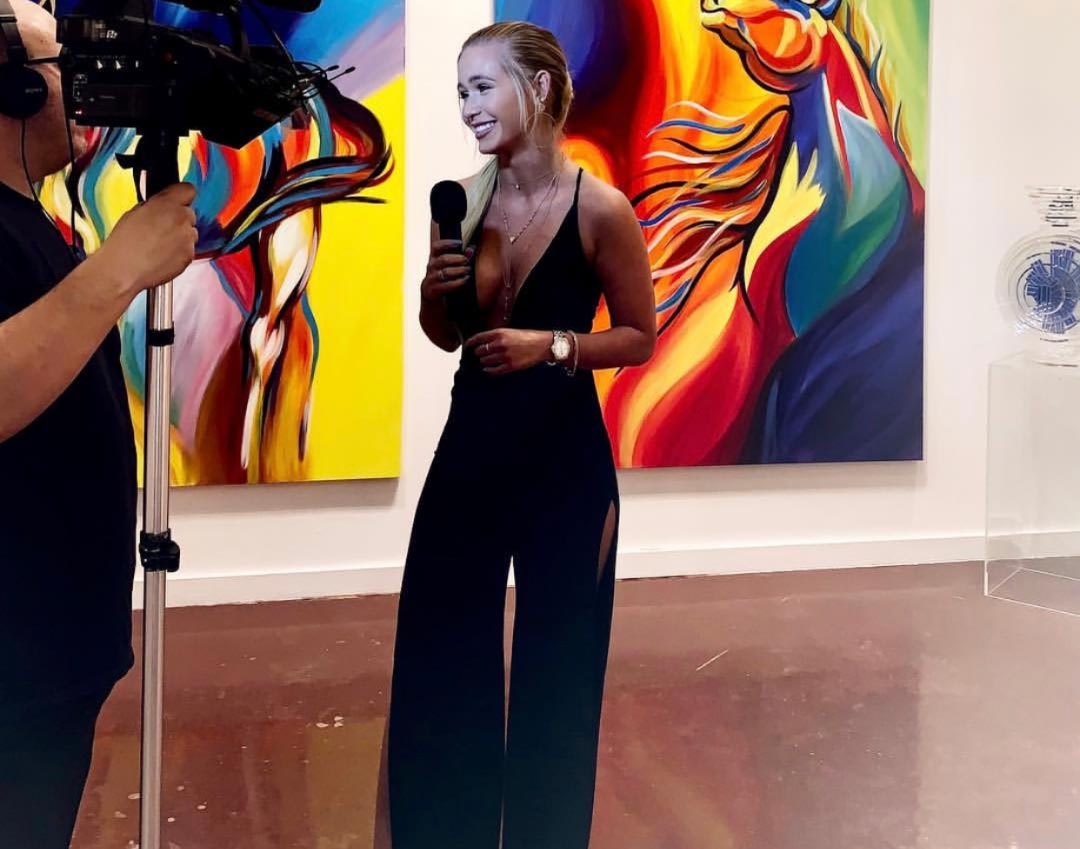 Veronica Stewart
Veronica Stewart earned a dual undergraduate degree in Studio Art and Media & Communication Studies from Florida State University in 2018, as well as her M.S. in MCS in 2019. She is currently a Ph.D. student in the Comparative Studies Program in the Culture, Society, & Politics track. Her research interests include interpersonal communication, romantic relationships, and online sexual harassment.
Kennedy McKinney
Sophomore, Multimedia Journalism
Kennedy McKinney is a sophomore at FAU with a major in multimedia journalism. The Jacksonville native has been involved in journalism since middle school. During her first year at FAU, McKinney and her peers felt the need for a publication that would represent the Black community, address issues pertaining to the community, and share their accomplishments. The first Black newspaper of FAU, The Paradigm Press, was founded a few months later in March 2020. As a founder and editor-in-chief of the newspaper, McKinney believes the publication is growing and serving its purpose every day. She says that although the newspaper takes a lot of time and effort, the process has been rewarding. McKinney plans on attending law school after graduation and aspires to be a social injustice correspondent. Her advice to other students is to find something that you like and get involved with the student organizations, and also make sure to manage your time properly.
Jessie Askinazi
Hosted by writer and photographer Jessie Askinazi, The Crimson Coyote podcast explores how personal and cultural wounds are mended through creative practices. Each episode features a distinct creative personality and focuses on a central theme. Guests vary in background and medium. The Crimson Coyote's first few episodes cover issues such as: Black resistance, LGBTQ+ discrimination, immigration detention, post 9/11 Afghanistan, masculinity, Black joy, child abuse, disability, and more.  At a time when modern society feels more unsteady than ever, The Crimson Coyote offers community to individuals who alchemize their histories and turn to creation over destruction. The Crimson Coyote is available on Spotify: https://open.spotify.com/show/10L6RgVvUq2xUQh9UcTvl9?si=GiUnih3RQqu8WXo686Xrsw