ALUMNI Spotlight
Tabitha Karol
Tabitha Karol was recently hired at TikTok as a Strategic Sales Specialist. In her current position, she helps businesses and brands of all sizes unleash their creative side, connect with their audience, or get discovered. Tabitha and her team design scaled sales and service delivery programs to ensure the customers have the best-in-class tools and products. She helps businesses achieve their marketing goals on TikTok no matter how big or small. Her previous job experience includes companies like IHeartMedia and Yelp. She graduated from FAU in 2019 with a bachelor's degree in Communication/Multimedia Studies.
Three Recent MFAs
From left, Alberto Alvaraz-Arias, Ledis Molina, and Brandon Martinez, all graduates of the MFA in Media, Technology, and Entertainment program in SCMS. They all graduated since 2020, and all three are currently employed at Miami tech startup Noitom International (Alberto is also an adjunct faculty at FAU, teaching the history or animation). Noitom is one of the leading motion-capture technology companies in the world. If that's not enough, they recently collaborated on "Pacha Mama," a short animated film that was recently listed among the finalists for the prestigious Producer's Guild of America (PGA) Innovation Award (see News, above).
Jillian Melero
Jillian Melero is a multimedia journalist and the associate digital editor/producer for WTTW News, including "Chicago Tonight." She's worked as a science communicator and energy reporter for Climate Central, an independent science and news organization. Her work has also been featured by the Bulletin of the Atomic Scientists. Getting her start in South Florida as a student journalist and print editor, Jillian has reported on the environment, infrastructure, climate change, energy technology, and policy in the U.S. and abroad since 2016. She earned her master's degree in Journalism, specializing in health, environment, and science reporting, from Northwestern University in 2019. She's also a mentor with the Latinas in Journalism Mentorship Program, which launched in October 2020.
Pat Archer
Pat was recognized in 2010 for his efforts and selected by former Governor Charlie Crist as a Gubernatorial Appointee to the Florida Developmental Disability Council (FDDC). While serving as an FDDC council member, he helped create public policy changes for Floridians with developmental disabilities.
Wilkine Brutus
BA in Multimedia Studies, 2008
Since graduating in 2008 with multimedia studies from FAU, Wilkine Brutus has made a name for himself as a storyteller on multiple platforms.  
Millions of people have watched Brutus' Youtube videos of his journey in South Korea where he taught English for almost five years and also worked as a freelance writer for a local newspaper in Busan. 
Brutus left for South Korea soon after graduating from college to broaden his understanding of the world around him. 
"I felt like it was really important for me to go abroad and challenge my system of reality, to escape the American bubble," says Brutus. 
Among his many achievements, Brutus has spoken at the Twitter Headquarters for Scripps Howard School's symposium on digital media. He was also among one of the 30 journalists who were selected for the 2019 Leadership Academy for Diversity in Digital Media by Poynter and the Washington Post. 
He worked as a digital reporter for the Palm Beach Post before joining WLRN, South Florida's NPR station as a multimedia journalist. Now, as he continues his work as a storyteller and a journalist, Brutus plans on pursuing his passion for filmmaking. 
Sharing a piece of advice for the students, Brustus asks them to remember the four P's: purpose, planning, persistence, and patience. 
"Have purpose, plan your goals, be persistent, and be patient." 
Patrick Martin
Multimedia Journalism (2016)
Patrick Martin is in his second career after serving in the Army's 82nd  Airborne. He was awarded the Purple Heart after sustaining injuries in his last deployment to Afghanistan.  Patrick  decided to pursue a career in journalism after encountering numerous journalists on his deployments, which  lead him to study at FAU.
He was encouraged to write for the University Press, and quickly rose through the ranks to become news editor. The UP taught him how to work in a newsroom, and understand the workflow of bringing a story from concept to published piece. It also provided him with a portfolio of work that he could show local news outlets.
Patrick   graduated from FAU in May 2016. He then attended Columbia University Journalism school as the 2017 Chancellor Scholar, where he received his Masters of Science in Journalism. After grad school,   Patrick   went on to work at Bloomberg News covering the energy market. 
Currently,   Patrick   works for NBC Nightly News with Lester Holt producing investigative, enterprise and breaking news stories.
"If you're interested in the industry, you owe it to yourself to get involved in student media. Nothing can compare to working alongside peers to produce content you can be proud of."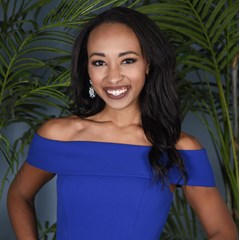 MARILUZ COOK
Mariluz Cook is the Director of Broadcast and Digital Media for the Big Sky Network. Mariluz was a sports reporter for OWL TV and earned her BA in Communication Studies in Spring 2019. Cook was most named the 2019 Owl Reporter of the Year, bringing experience in sports reporting, feature content interviews, profiles, and gameday promotions.