Department of Theatre & Dance
Department of Theatre & Dance
"One of the best universities nationwide for helping students of all economic backgrounds find success in college and beyond"
—College Gazette, The 10 Best Hidden Gem Public Universities In the US.

---
FAU THEATRE & DANCE SUMMER REP IS BACK!!!

FAU Summer Repertory Theatre will look a bit different this summer.  With COVID subsiding, we want to invite our friends to come back to a summer of socially distanced live theatre readings.   This summer, we are partnering with Theatre LAB to bring six exciting shows for the public to come back to campus and attend live theatre.  Our theme this year is Award winning and original work in the performing arts.  The department will present four productions that are Pulitzer or Steinberg/ACTA nominated, and Theatre LAB will present two new works from The Fair Play Initiative, a commission & development program for new plays about LGBTQ+ stories & experiences 
Every Sunday (except the 4th of July) will feature a new production from the Department in the newly renovated 485 seat University Theatre.  Shows are at 3PM except as noted below. 
Tickets will be limited to 70 per performance, and a maximum of four per group to ensure safety of our patrons and the students on campus.  We are pleased to offer our productions as a free experience for everyone as a way come back to campus and start enjoying live theatre again. 
Ticket reservations and safety protocols are available on the FAU theatre and dance website: http://www.fau.edu/theatre. Please note that the box office will not be selling tickets for this production.  Please complete the ticket request form on the website and the department will confirm your reservation. 
Our summer Festival includes: 
June 13 3PM: Everybody by Branden Jacobs-Jenkins: A 2017 Pulitzer Prize finalist is A freely adapted version of the 15th century morality play.  When Somebody faces imminent death, the choice between Friendship, Love, Kinship, Cousinship, and Stuff is complicated.  The cast is chosen by actors through a lottery at each performance as he or she travels down a road toward life's greatest mystery.  Directed by Elizabeth Price. Click here for ticket reservations and safety protocols.
June 20 3 PM: Sweat by Lynn Nottage: The 2018 Pulitzer Prize winning play examines the collision of race, class, family, friendship at a pivotal moment in America.  A group of friends in Reading, Pennsylvania have spent their lives sharing secrets and laughs on the factory floor.  When layoffs begin to chip away at their trust, they are pitted against each other in the hard fight to stay afloat.  Directed by Karen Stephens. Click here for ticket reservations and safety protocols.
June 27 2 PM: Blood Sisters by Andie Arthur: A new Audio Play presentation revolving around Cindy who is barely out of the closet ‐‐ even to herself. She tells herself that maybe, just maybe, if she tries hard enough, she will be able to find a man she can love. Jaq is a "self‐proclaimed man‐hating dyke." She swore off dealing with men years ago. Even gay men are beneficiaries of the patriarchy and act like it. 
It's 1981. An unexpected epidemic is hitting the gay community and while fear abounds, the government is doing nothing to help. Fear abounds, doctors are refusing to see patients, and there are major blood shortages ‐‐ can Cindy and Jaq overcome their antipathy to work together to help those in need and through helping those in need help themselves?  Directed by Matt Stabile. Click here for ticket reservations and safety protocols.
June 27 4:30 PM: Versace Era by Juan C. Sanchez: A new Audio play presentation about Gay life in the 1990s in South Beach was a golden time: extravagant parties, glamour, and celebrities. It became known as the Versace Era, from when the famous and beloved designer took residence at Casa Casuarina in 1992. His death symbolized the end of those golden days -- and the end of refuge -- for many South Beach residents. 
Set in 1997 in a fictional cafe on Ocean Drive, the play follows the lives of several restaurant employees and guests as they come together to mourn the designer's tragic end and confront what it means to them and their community. As they work, eat, drink and mourn, their personal stories, interactions and conversations reveal a picture of resilience, celebration, pride, communion and unity. Directed by Matt Stabile. Click here for ticket reservations and safety protocols.
July 11 3 PM: The Wolves By Sarah DeLappe: A 2017 Pulitzer Prize finalist is a portrait of life, liberty, and the pursuit of happiness for nine American girls who want to score on the soccer field.  Over the course of a season's triumphs and defeats, the team takes to the field in this comic and bracing portrait of young women coming of age in contemporary America. Directed by Margert M. Ledford. Click here for ticket reservations and safety protocols.
July 18 3 PM: The Book of Will By Lauren Gunderson:  Winner of the 2018 Steinberg/ATCA New Play award.  Just three years after William Shakespeare's death, botched and pirated versions of his plays are appearing all over London. His friends and company members can see just one solution: printing an official version of all his plays in a single folio edition in order to preserve them and ensure their future. They may not have any money or clear-cut rights to his work, but they're armed with wit, humor, a deep camaraderie and a passion to preserve the plays that shaped their lives. With the help of their wives and colleagues, two actors set out not only to print a collection, but to uphold a legacy for the world.  Directed by Matt Stabile. Click here for ticket reservations and safety protocols.
---
WHAT'S NEW?
Enrollment is now OPEN for Continuing Education Students 
"Jazz Dance" – Every WEDNESDAY from 7-8:15pm from Feb 3rd – April 7th
For those dance enthusiasts who miss moving this class is for you! We'll move to all styles of music, which will include but not be limited to Musical Theatre, Contemporary and Lyrical. Must have some prior experience in ballet, modern or jazz. Come click your heels and dance the night away! Instructor: Danielle Dale-Hancock
WHERE? THEATRE LAB PATIO
$27.50/class x 10 classes = $275.00
To sign up, go online and enter the following web address: FAU.EDU/MARKETPLACE
Choose the Theatre and Dance button and follow the user friendly instructions to pay using a VISA, MASTERCARD, AMEX or DISCOVER CARD
---
FAU DEPARTMENT OF THEATRE & DANCE
We are a community of artists and scholars who believe in the collaborative exploration of the human spirit through the study, practice, and celebration of theatre and dance. We strive for excellence and expect excellence of our students as they train, study, and practice to become skilled and inspired artists. We are also firmly committed to encouraging and celebrating diversity in our community.
Theatre has been an integral part of the FAU experience since its founding in 1964 and that tradition continues today. We are proud to offer an MFA with a specialization in either Theatre Performance or Design and Technology, a BFA in Theatre Performance, a BA in Design and Technology, a BA in general theatre studies, and minors in both Theatre and Dance.
We endeavor to look at our students as individuals. As such, we will consider your individual aspirations and goals as we help you become the best artist you can be. We believe in a holistic approach to training that, regardless of specialty, requires some practical study in all of the areas of theatre and dance production and our students are encouraged to become involved in the creation of theatre and dance from their first day on campus.
The Department of Theatre and Dance produces an extensive season of entertaining and thought-provoking work. Exploring a wide variety of material, we produce four main stage productions and three dance concerts during the regular academic year. Then, in the summer, we stay busy producing our Festival Repertory season that has our students earn points toward their membership in Actor's Equity while working side-by-side with professional actors as mentors.
In 2015, we established Theatre Lab, a resident professional company, which brings professional theatre to campus along with lots of opportunities for our students to continue to gain professional experience. Dedicated to the development of new plays in American theatre, Theatre Lab has already brought to campus many of America's best playwrights including Marsha Norman, Israel Horovitz, Steven Dietz, John Guare, Michael Hollinger, Deborah Zoe Laufer, and Carter Lewis to name just a few.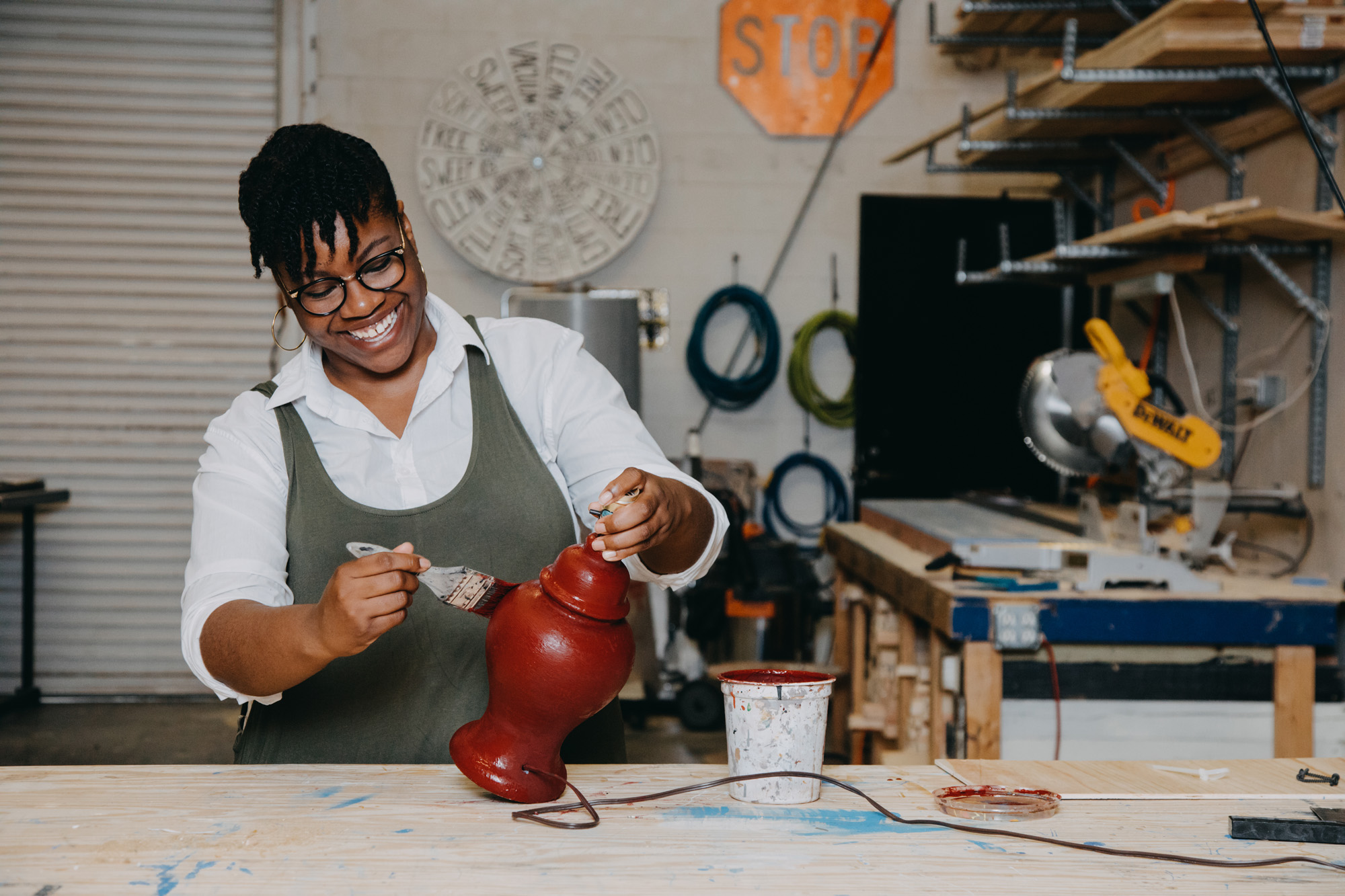 We view our respective art forms as creative, research disciplines that require dedication and commitment. If you're a student looking for a rich environment in which to hone your skills and talent and a supportive environment that will challenge you to become the best you can be, then FAU is for you.
We look forward to welcoming you to your new artistic home!
---
JOIN US!
CLICK HERE FOR DRIVING DIRECTIONS TO OUR THEATRE EVENTS AND OTHER IMPORTANT INFORMATION!
Unless otherwise specified, tickets are available by calling 561-297-6124 or by visiting  fauevents.universitytickets.com.
Please notify the Department of Theatre and Dance at (561) 297-3810, five working days in advance of event, if special accommodation for a disability is needed.
All shows, artists, dates and times are subject to change. Please note there are no refunds or exchanges.
---
MAKE A GIFT TO
THE DEPARMENT OF THEATRE & DANCE

Click here to support the FAU's Department of Theatre and Dance within the Dorothy F. Schmidt College of Arts and Letters.