FALL 2023 SEASON
---
UPCOMING EVENTS
We wanted to take a moment to thank you all for your continued support of our artistic endeavors and hope to invite you all into our theatres again. All performances currently mounted are focused on providing opportunities to our student performers, technicians and audience members. FAU's Department of Theater and Dance is committed to fostering students' creative outlets in a safe and Covid-conscious environment, adhering to all university and state guidelines.
To purchase tickets, please visit https://fauevents.universitytickets.com/
The Lady From The Sea by Henrik Ibsen
STUDIO I Theatre
Directed by: Desmond Gallant
Ellida, the lighthouse keeper's daughter in the small town of Skjoldviken, meets an American sailor with whom she shares her first romantic experience. When this stranger is accused of murder, he must flee, but makes a pact with Ellida to come back and whisk her away. He is gone for years, and during that time, she finds herself married to Wangel, the local doctor. The two girls from his first marriage never take kindly to Ellida, and in a haze of post-partum depression, she begins to long, once again, for her youth.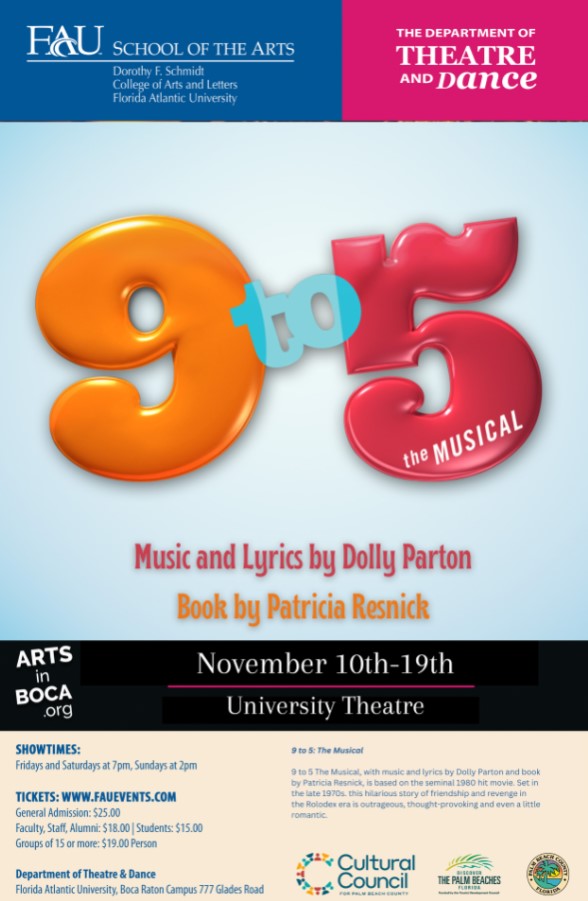 9 to 5 The Musical by Patricia Resnick and Dolly Parton
University Theatre
Directed by: Ted deChatelet
9 to 5 The Musical tells the story of three women pushed to boiling point by their sexist and egotistical boss. Concocting a plan to kidnap and turn the tables on their despicable supervisor, will the ladies manage to reform their office – or will events unravel when the CEO pays an unexpected visit?