Online Appointments
Online appointments give you the flexibility of working with consultants at any of our writing centers from your home or office. These appointments are conducted within the WCONLINE system.
To select an online appointment, click the button shown below when selecting an appointment time (During Covid 19 safety measures, all appointments will be online until further notice):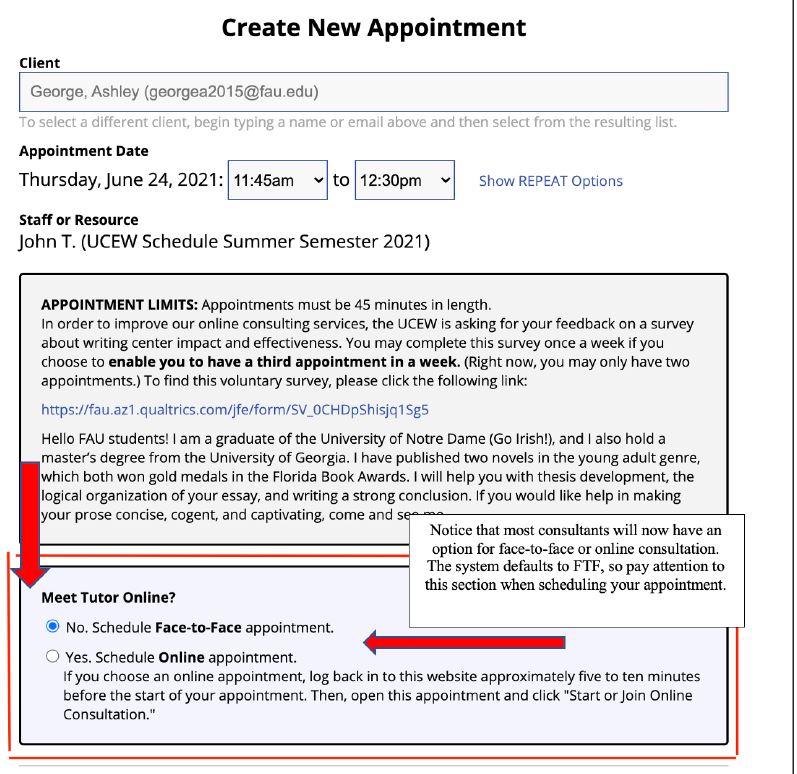 When booking an online appointment, WCONLINE will provide a link to join the session that can be accessed from the appointment details at the time of your appointment, or you can go into the schedule and select the yellow block for your appointment:
Then click to join your online session:

Clicking this link will bring you into your session by accessing your computer's camera, speakers, and microphone to allow for an audiovisual connection with your consultant. In addition to the audiovisual connection, the system will also offer a space to share documents, called the Whiteboard. Consultants and clients can both access the text in the Whiteboard and see changes being made in real-time.
You can copy and paste your text into the Whiteboard once you enter your session, or you can use the "Import" feature to upload Microsoft Word (.docx) files directly into the space. You can use the same tool to "Export" your revised document from the Whiteboard to your computer, but you will always have access to the Whiteboard—even after your session has ended—by clicking the link again from your appointment details.

Tips for Online Appointments:
Plug any headphones, external webcam, or microphone into your computer prior to starting your session.
Make sure to have a digital copy of your paper and assignments ready to upload to the Whiteboard. Further instructions will be provided by the consultant at the time of the upload, or follow the instructions on the page above.
Remember that there is only one schedule for all online appointments for all campuses and centers, UCEW Schedule. 
Locate the prompt or directions for the assignment you are working on prior to the session and be prepared to share it.
Call the center if you are experiencing technical difficulties and not able to join your session. The phone numbers are listed here.
You should consider uploading your paper when you make the appointment or upload it just before you start by editing your appointment.  You can also copy and paste it or upload it when you get in to your session.
Plan on arriving a few minutes early to be prepared. 
After your appointment is over, please make sure to check your email to find the link for your evaluation of the session. We rely on your input about the sessions to provide students with the best possible services.  Please don't forget this important step.
We hope that our online appointment services give you greater access to our writing services. We look forward to assisting you with all your writing needs!