MINOR IN SOCIAL WORK
Thank you for your interest in pursuing a minor in Social Work at the FAU Sandler School, home of the largest BSW in the state of Florida and a "Top 100" MSW degree program, as ranked by U.S. News & World Report. Download our program flyer below to learn more about the program and see the broad list of majors that pair well with a Social Work minor.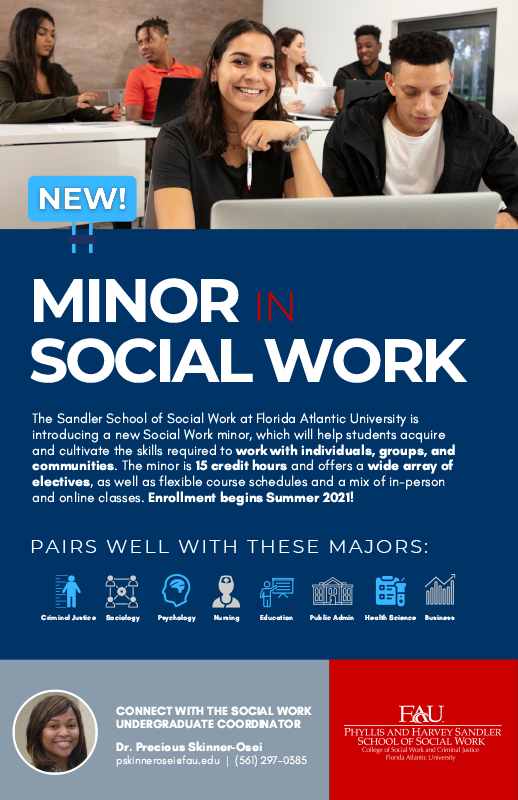 Courses
The Social Work Minor includes completion of five courses (15 credits), each with a grade of "C" or better and an overall minimum 2.5 GPA. At least 12 of the minor credit hours must be taken in residence at FAU, as well as any missing core courses required for completion.
SOW3232 – Social Welfare Policy and Provisions
12 credits of approved Social Work Elective courses
Note: SOW 1005, a Foundations in Global Citizenship course, may be taken as an elective.
Sample Electives - Select four courses
COURSE TITLECOURSES #CREDITS
| | | |
| --- | --- | --- |
| Global Perspectives of Social Services | SOW 1005 | 3 |
| Family Violence | SOW 4141 | 3 |
| Issues in Counseling Women | SOW 4357 | 3 |
| Evidence-Based Diversity Practice in Social Work | SOW 4620 | 3 |
| Social Work with Aging Populations | SOW 4643 | 3 |
| Child Welfare | SOW 4650 | 3 |
| Social Work Practice with Vulnerable Children and Families | SOW 4654 | 3 |
| Social Work and Emergency Relief | SOW 4679 | 3 |
| Social Work with Substance Abusers | SOW 4700 | 3 |
| Introduction to Human Trafficking in Social Work Practice | SOW 4783 | 3 |
| Social Work and Positive Well-Being | SOW 4802 | 3 |
| Special Topics in Social Welfare | SOW 4930 | 3 |
Contacts
Undergraduate Program Coordinator: Dr. Precious Skinner-Osei
pskinnerosei@fau.edu
Advising Services
swcjadvising@fau.edu
---
Please Note
People who graduate with a "minor in social work" should be aware of Florida's title protection laws regarding use of the term "social worker." Under Florida Statutes 491.016, it is a misdemeanor offence for people to represent themselves as social workers unless they possess "at least a bachelor's or master's degree in social work from a social work program accredited by or from an institution that is an active candidate for accreditation as a social work program by the Council on Social Work Education." A bachelor's degree with a minor in social work is not considered to be an accredited bachelor's in social work degree. People with a minor in social work should not represent themselves as social workers unless and until they also complete a BSW or MSW degree. View Florida Statute 491.016
---