Director's Welcome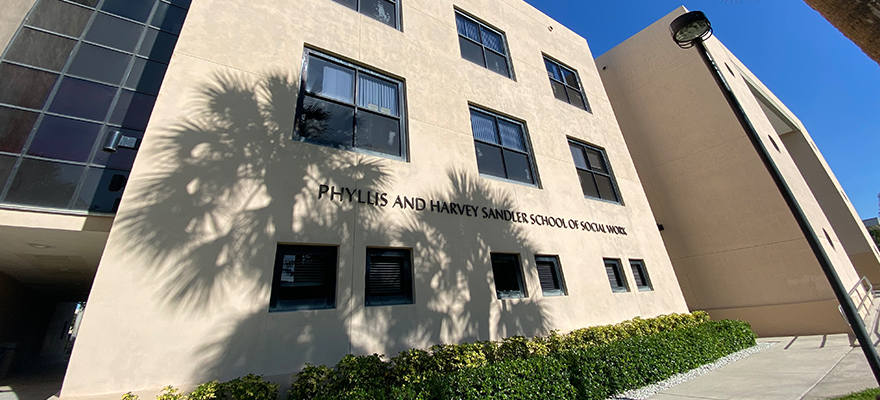 Welcome to the Phyllis and Harvey Sandler School of Social Work at Florida Atlantic University!
Since 1970, the Sandler School of Social Work has provided well-regarded, highly sought academic degrees. Students are attracted to our programs because of the ethical, practice-relevant rigor with which our graduates are prepared for employment and our 98% job-placement rate within three months of graduation. With more than 600 declared Social Work majors annually, our Bachelor of Social Work (BSW) program is the largest in the state of Florida. The Master of Social Work (MSW) is ranked as a Top 80 program by U.S. News & World Report. Our graduates are widely-recognized for their depth of clinical expertise and are in great demand as senior practitioners and health, mental health and human service leaders.
In 2016, we launched our Doctorate of Social Work (DSW) program, the first in the state of Florida. We continue to graduate scholars that can speak to the various needs in our communities and be leaders in the field of clinical supervision, social work education and practice-oriented research. The school also offers specialization certificate programs in Addiction, Child Welfare and Healthy Aging, and gold-standard continuing education courses through our Office of Professional Development.
The Sandler School of Social Work employs nearly 60 faculty and community-based adjunct instructors.  We also work with more than 800 active field education instructors across more than 200 agency settings in six Florida counties. Across the board, we are deeply committed to graduating the high-quality professionals for which we have become nationally prominent. In addition, our research faculty produce cutting-edge scholarship and bring it back into the classroom, thereby  transforming professional practice and continuously moving our profession toward the most cost-effective, ethical and humane means of addressing some of the most significant challenges confronting our society.
Social work is a major component of America's health, mental health and social services. Social workers combat many of America's greatest social problems in addictions, child welfare, disaster relief, gerontology, health, labor readiness training, mental health, the military, prisons, schools, seniors' clinics, veterans' affairs and other areas of human distress. The country's more than 700,000 social workers are the mainstay of emergency, psychotherapeutic, and preventative services in public, private, and voluntary sector organizations.
In fact, there are more clinically trained social workers in our country than there are psychologists, psychiatrists, and psychiatric nurses, combined. The Department of Labor describes social work as one of the country's fastest-growing disciplines, with an anticipated 13% increase in personnel within the decade. Furthermore, the state of Florida has a significant need for social work graduates.
We would like YOU to be a part of our future. Please feel free to call, write or stop by for a visit. We look forward to your association with our School as a student, alumni, community partner – or all three.
---
Heather Thompson, Ph.D.
Director