M.S. in Biomedical Science Research Opportunities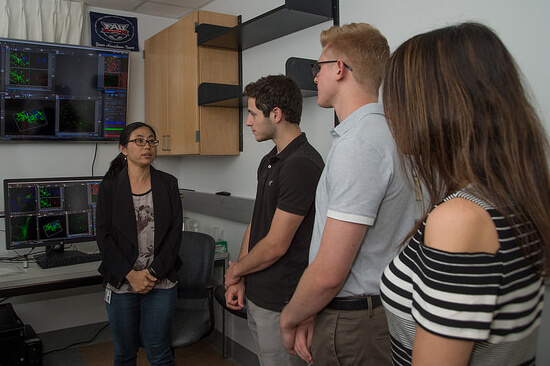 Thesis Track
Thesis graduate students works closely with a faculty member on an extensive research project that culminates in a scholarly paper. Only students with strong writing skills who are capable of doing a substantial independent research project should choose the thesis track. The thesis track gives graduate students the opportunity to gain knowledge and expertise in a particular field.
Non-Thesis Track
Non-thesis graduate students have the opportunity to take up to 6 credits of Direct Independent Study towards their elective requirements and will have the opportunity to work closely with faculty members conducting research.
Areas of Research and Faculty
Genetics, Genomics and Precision Medicine
Stem Cell Biology and Tissue Engineering
Cellular Reprogramming, Development and Aging
Immunity, Vaccine, Parasitology and Infectious Disease
Neuroscience and Neurological Disorders
Cardiovascular Biology
Cancer Biology and Targeted Therapy
Visual Biology and Diseases
Bioinformatics, Computational and Systems Biology
Bioengineering and High Throughput Approaches
Neuromodulation and Neural Engineering
Pain Management
Student/Volunteer Access and Training Form
The student/volunteer access and training form is required for every student or volunteer participating in research, whether in a research laboratory or laboratory classroom. The form is used to grant access to facilities, verify that trainings have been completed and register students if taking DIS/DIR. Volunteers will have additional paperwork.