Dr. Wu's Research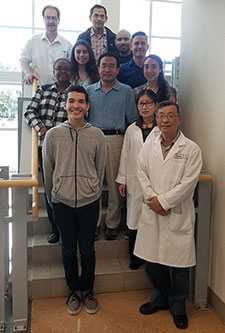 Dr. Wu pictured bottom right.
Dr. Jang-Yen Wu received his PhD degree in Biochemistry from the University of California Medical Center. His work has been funded throughout the years by various organizations including NIH, NSF and the American Heart Association (AHA). Dr. Wu's research focuses on the fundamental principle underlying the normal brain function as well as in brain disease. Dr. Wu's research group has focused on two of the most abundant neurotransmitters in human brain, namely glutamate and gamma-aminobutyric acid (GABA). Dr. Wu's group was the first one to isolate, purify and characterize the GABA synthesizing enzyme, L-glutamate decarboxylase, which laid the foundation for subsequent elucidation of neuronal circuitry using GABA as a neurotransmitter.
Because of this groundbreaking work, Dr. Wu was recognized as one of the most cited scientists according to Institute of Scientific Information in 2002. In addition to basic research, Dr. Wu has also been very active in translational research. Dr. Wu has used mechanism-based approach to develop therapeutic intervention for various brain diseases including stroke, Parkinson diseases, Alzheimer's disease and epilepsy. Some of Dr. Wu's discoveries were recognized and patents were issued by the U.S. Patent Office including treatment for Parkinson's disease, stroke and epilepsy. Dr. Wu's lab is currently focusing on the following two areas:
Continuing to develop mechanism-based therapeutic interventions for brain diseases including gene therapy and combination therapy
Continuing to investigate the fundamental mechanism involved in neurotransmission
View Dr. Wu's biography page and PubMed feed.