Joshua J. Solano, M.D.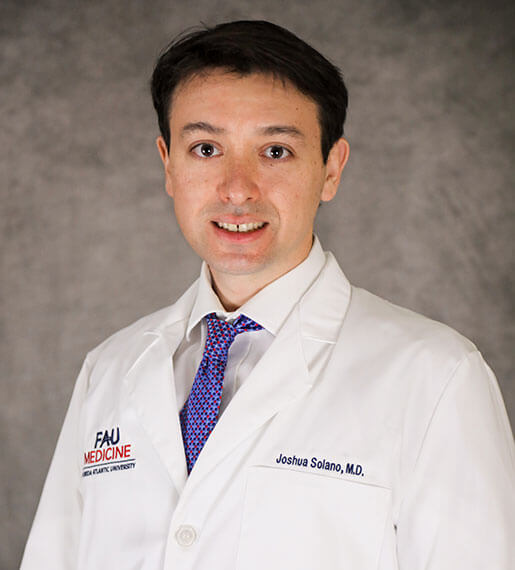 Associate Professor of Emergency Medicine | Clerkship Director
777 Glades Road
Boca Raton, FL 33431
BC 71, Room 213
p: 561-297-0022
Department: Emergency Medicine
Biography
Joshua J. Solano M.D., FAAEM is an Associate Professor of Emergency Medicine and Clerkship Director for the Emergency Medicine Residency program at the FAU Charles E. Schmidt College of Medicine. In this role he works alongside residents to promote best practices for the care of emergency department patients.
Dr. Solano is a native Floridian born and raised in Plantation, Florida in Broward County. He developed an interest in medicine while volunteering in the Plantation General Emergency Department. He then double majored in Biology and History at Duke University in Durham, North Carolina. Afterwards he completed his medical degree at the University of Florida. He completed his emergency medicine residency at Beth Israel Deaconess Medical Center in Boston, Massachusetts. He stayed on faculty at Harvard Medical School as an instructor and assistant program director for the emergency medicine residency. In his final year in Boston he completed the Rabkin Medical Education Fellowship.
Dr. Solano is board certified in emergency medicine. He is a member of the American College of Emergency Physicians, and the American Academy of Emergency Medicine.
Education
2008: 

BS, Biology and BA History, Duke University, Durham, NC

2012: MD, 

University of Florida, Gainesville, FL

2012-2015: Residency in Emergency Medicine, 

Beth Israel Deaconess Medical Center, Boston, MA
Board Certifications
Emergency Medicine, American Board of Emergency Medicine
Work History
Florida Atlantic University
2022-Present: Associate Professor of Emergency Medicine, Charles E. Schmidt College of Medicine, Florida Atlantic University, Boca Raton, FL
2017-2022: Assistant Professor of Integrated Medical Science, Charles E. Schmidt College of Medicine, Florida Atlantic University, Boca Raton, FL
Prior Employment
2015-2017: Instructor, Department of Emergency Medicine, Beth Israel Deaconess Medical Center, Harvard Medical School, Boston, MA
Selected Peer-Reviewed Publications
Solano JJ. Dubosh NM, Anderson P, Wolfe RE, Edlow J, Grossman SA. Hospital ward transfer to intensive care unit as a quality marker in emergency medicine. American Journal Emergency Medicine. 2017 May; 35 (5): 753-756. PMID: 28131603
Rappaport DE*, Solano JJ*, Edlow JA. Bilateral Pneumothoraces as a Complication of Endoscopic Retrograde Cholangiopancreatography. Journal of Emergency Medicine. 2017 Apr; 52 (4): 573-575. PMID: 28057370 *Co-1st Authors
Chiu DT*, Solano JJ*, Ullman E, Pope J, Tibbles C, Horng S, Nathanson LA, Fisher J, Rosen CL. The Integration of Electronic Medical Student Evaluations Into an Emergency Department Tracking System is Associated With Increased Quality and Quantity of Evaluations. J Emerg Med. 2016 Oct; 51 (4): 432-439. PMID 27372377*Co-1st Authors
Klasco RS, Wolfe RE, Lee T, Anderson P, Jacobson LS, Solano J, Edlow J, Grossman SA. Can medical record reviewers reliably identify errors and adverse events in the ED? Am J Emerg Med. 2016 Jun; 34 (6): 1043-8. PMID: 27055604
Honors and Awards
2017: Attending Role Model Award, 

Beth Israel Deaconess Medical Center 

2016-2017: Rabkin Medical Education Fellowship, Beth Israel Deaconess Medical Center
2011: Alpha Omega Alpha Medical Honor Society, University of Florida
2011: Chapman Humanism Society, University of Florida
2010: Equal Access Clinic Service Award, University of Florida
2010: Lawrence M. Goodman Award, Medical Student Research, University of Florida
2010: Community Service Award, University of Florida
Professional Affiliations
Medical Staff at Bethesda East Hospital
Medical Staff at Delray Medical Center
Fellow of American Academy of Emergency Medicine
Member of American College of Emergency Medicine