About The Schmidt College of Medicine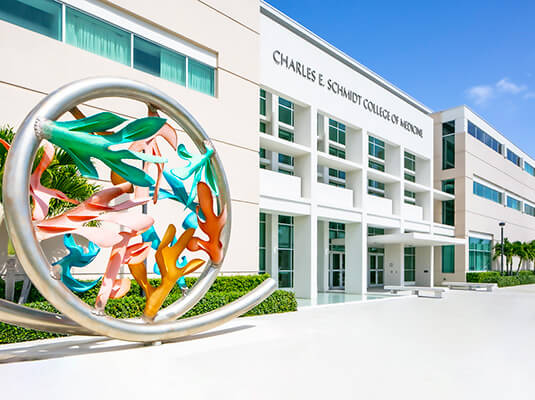 The Schmidt College of Medicine is one of the newest and rapidly rising medical schools in the United States, nationally recognized by the U.S. News and World Report for its mission to care for diverse patient populations. The college maintains partnerships with more than 300 community agencies from Miami-Dade to Vero Beach, Florida to serve the community. With an emphasis on teamwork and collaboration, the college is dedicated to addressing the needs of its community.
The college is fully accredited by the LCME (https://lcme.org/; lcme@aamc.org) to offer the M.D. degree including M.D./Ph.D., M.D./M.B.A., and M.D./M.H.A. dual degree programs. A Research Distinction Track offers a parallel curriculum for medical students. The college is accredited by SACSCOC to offer a M.S. degree in biomedical science and a Ph.D. in integrative biology in collaboration with FAU's Charles E. Schmidt College of Science, and the Max Planck Florida Institute for Neuroscience.
Additionally, a Genomics and Predictive Health Certificate prepares students for careers in personalized medicine, biotechnology and population health. Committed to interprofessional education and critical thinking, medical students and scientists are prepared to meet the challenges of healthcare delivery, as the college boldly advances the health and wellbeing of the community.
To address physician shortages, FAU's Consortium for Graduate Medical Education (GME) was formed in 2011 with five leading hospitals in Palm Beach County, Florida. The Accreditation Council for Graduate Medical Education (ACGME) has accredited FAU's GME residencies for internal medicine, surgery, emergency medicine, psychiatry, and neurology. The college also offers fellowship programs in cardiovascular disease, geriatric medicine, hospice and palliative care and vascular surgery.
Message from Dean
Joined by exceptional students, faculty and staff, we unite to advance healthcare and shape medicine's future.
Read Dean's Message
College Leadership
Meeting the challenges of healthcare delivery, as we boldly advance the health and wellbeing of our community.
View Leadership
Strategic Plan
We are a premier academic health system that strives to dynamically advance state of the art health care.
VIEW Strategic Plan