Simulation Center Staff
Sindiana Echeverri, RN, MPS

Director, Simulation and Technology
Ms. Echeverri RN, MPS brings years of experience in the Acute Care Emergency Department in Level 1 Cardiac Center and Comprehensive Stroke Center. She holds a Masters's in Professional Studies and is a Registered Nurse Emergency Room Nurse, as well as a paramedic for over 25 years. Ms. Echeverri is responsible for overseeing all of the simulation and clinical skills activities at the Clinical Skills Simulation Center.  Ms. Echeverri specializes in integrating and implementing innovative simulation technology into the College of Medicine for medical students.  She plays a pivotal role in the development and growth of the Simulation Center.  Ms. Echeverri is skilled in the art of medical moulage and in the creation of simulation scenarios and coding of high-fidelity manikins. She is certified as the Training Center Coordinator for the American Heart Association, and a Coordinator for the ATLS courses, she is also an instructor for ACLS, PALS, BLS, and stop the bleed.
Dr. Luck has been responsible for the medical cases that are implemented in the Simulation Centers. He has taken the lead to develop, implement, evaluate and revise scenarios and protocols for the simulation activities. He has served as a preceptor for the participants in training, and records and analyzes the feedback from the sessions. Dr. Luck brings extensive experience as an Anesthesiologist and Palliative Care physician to the Center. He is an Associate Professor of Anesthesiology at FAU College of Medicine.
Gloria Fuentes
Assistant Director, Clinical Skills Simulation Center, Operations
Mrs. Fuentes has been with the simulation center for over 10 years and brings over 20 years of business, administrative, and organizational experience to the CSSC. Mrs. Fuentes is responsible for operational, administrative and financial details, some of which include payroll, accounts payable, invoicing, and data analysis of expenses and revenues. She also is responsible for the training schedules for both centers, with thousands of hours of simulated patient training occurring each year.
Marina Sapp, RN, BSN

Program Manager, Clinical Skills Simulation Center
Mrs. Sapp RN, BSN brings years of experience as a Registered nurse in various areas, including medical-surgical, home health, and Labor & Delivery care. Mrs. Sapp first joined the simulation center as a facilitator and then came on full time as an Academic Specialist. Once completing her bachelor's in Nursing, Marina was promoted to Program Manager where she continues to play an essential role in the college. Mrs. Sapp is responsible for coordinating, preparing, and executing all Clinical Skills training sessions.  Mrs. Sapp also oversees the recruitment, scheduling, management and retention of hundreds of standardized patients. She works closely with the foundations of medicine director, adjunct & full-time faculty, and COM staff to provide excellent and innovative training sessions. Marina is a certified ACLS, BLS, and PALS instructor, and is certified in the Newborn Resuscitation Program (NRP) and advanced fetal monitoring certifications.
Mrs. Preethi Shibu

Administrative Assistant, Clinical Skills Simulation Center
Mrs. Shibu is responsible for hiring, Purchasing, and Payable support activities pertaining to all Simulation Center training. Prior to FAU, she worked in Bosch in their Business Service Process unit supporting Process Transitions & Mapping, Quality assurance, and Process compliance tools and audits in areas of purchasing, logistics, sales, and back-office functions.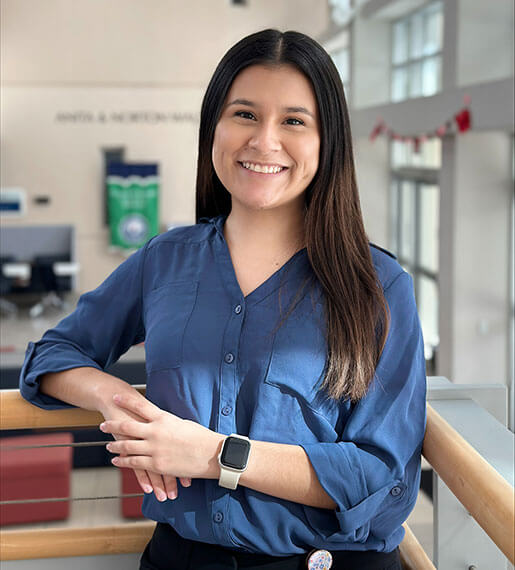 Ms. Megan Asto

Teaching Assistant, Clinical Skills Simulation Center
Ms. Asto recently graduated from Florida Atlantic University with a Bachelor of Science in Biological Sciences. She began working with the Simulation Center as a Standardized Patient, assisting the medical students with their training. Ms. Asto is currently a teaching assistant at the FAU Clinical Skills Simulation Center. In collaboration with the other staff and faculty members, she sets up and helps run the various simulation and clinical skills sessions that occur at the CSSC. Ms. Asto plans on attending medical school and becoming a physician.
Ms. Cristina De Paula

Teaching Assistant, Clinical Skills Simulation Center
Ms. Cristina De Paula recently graduated from FAU with a Bachelor of Science in Biology and is now a Teaching Assistant at the Clinical Skills Simulation Center. During her time at FAU, she has occupied various leadership roles including mentoring under FAU's New Student Transitions and Family Engagement (NSTFE). Ms. Depaula has participated in various multiple medical missions, recently to Puerto Rico and Honduras, to aid the medical teams there, while also assisting as a scribe. Cristina aspires to soon attend medical school and begin work as a pediatrician while empowering a new generation of doctors to break the glass ceiling. Ms. Depaula volunteered at the CSSC as a standardized patient and soon realized she would like to join the CSSC team as a TA.
Adjunct Instructors
The FAU Simulation Center employs numerous adjunct instructors that are experienced paramedics, nurses, and physicians to assist in the development and facilitation of the Simulation cases.