Playwright's Forum
& Masterclass Series
---
2021-22 SEASON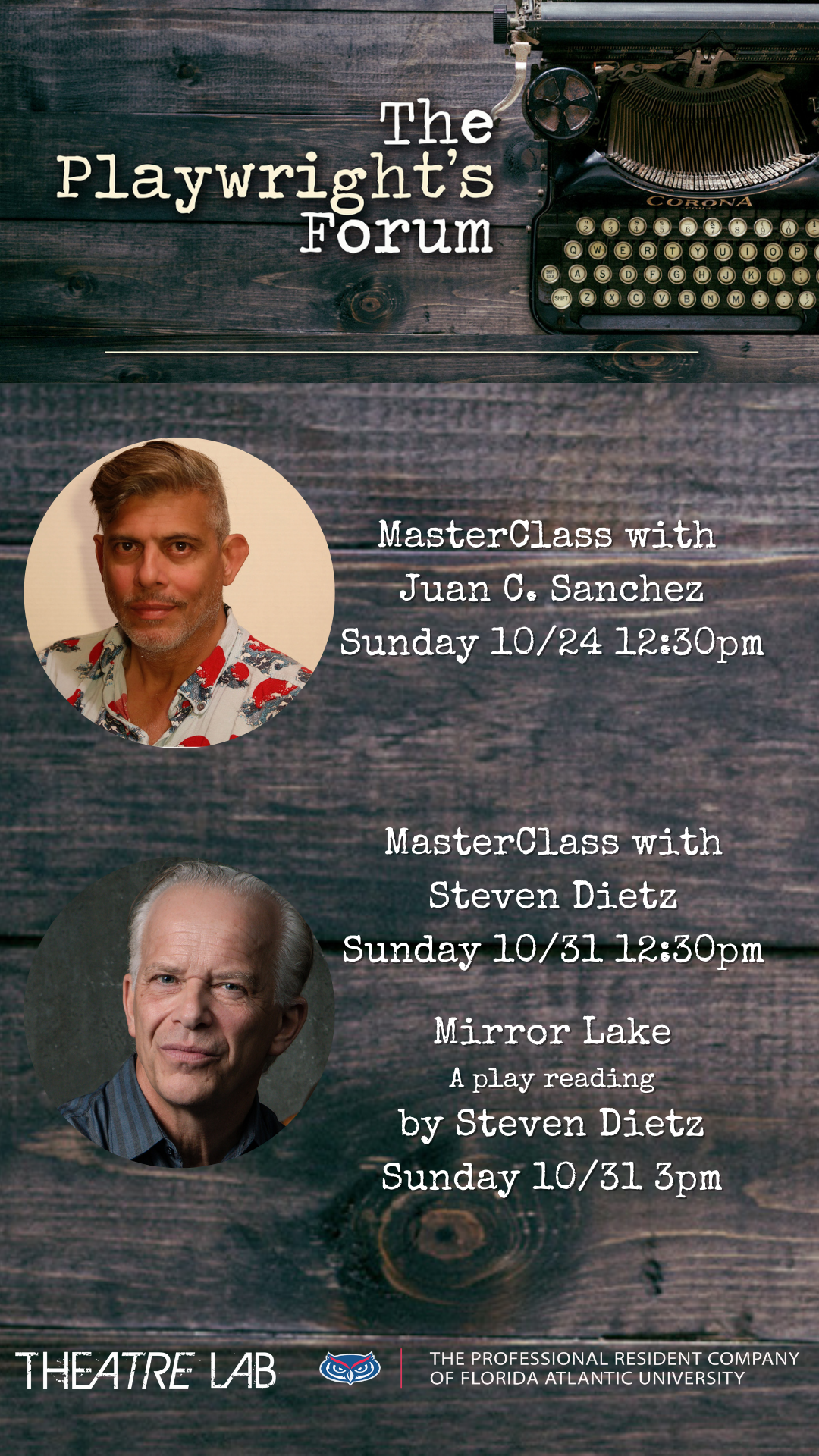 ---
PAST PRODUCTIONS
2020-21 SEASON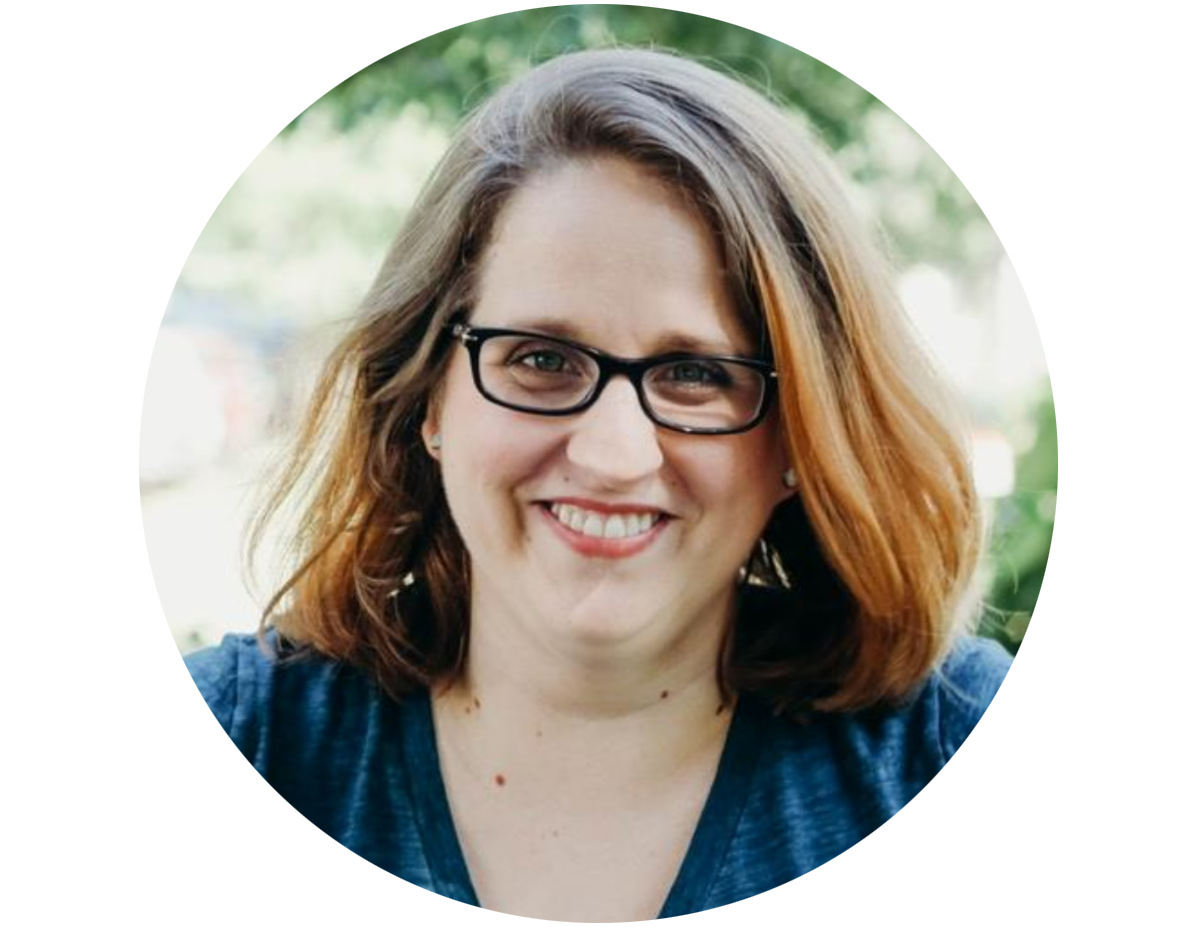 Rachel Teagle | October 4th
MasterClass 2-3:30pm
Reading and talkback 4-6pm

The Impracticality of Modern-Day Mastodons by Rachel Teagle
Suddenly all childhood dreams have come true, and the world is full of astronauts, ballerinas, cowboys, and princesses. It's a brave and glorious new world for everyone but Jess, who wanted to be a mastodon when she grew up. With the help of her friendly vocational adviser and her super-spy boyfriend, Jess embarks on a journey to find her place in the world, and discover why it seems to be unraveling. An offbeat comedy about ambition, vocation, and restlessness.
Get your sneak preview of this hilarious and imaginative play, which will receive a FULL production as part of our Heckscher Theatre for Families program in Sept 2021.
Rachel Teagle is a playwright, librettist, and comedian who grew up in the Silicon Valley, moved around the country, and settled in Minnesota. She helped found the Atlanta Fringe Festival and the Twin Cities Playwright Cabal. She was awarded the Leah Ryan's Fund for Emerging Women Writers prize for her play The Ever and After. She currently resides in St. Paul with her family. More at rachelteagle.com
Jeff Bower | October 11th
MasterClass 2-3:30pm
Reading and talkback 4-6pm
One Last Shot, a new audio play by Jeff Bower
When a struggling waitress, her creepy boss, a mismatched blind date, and a suicidal old widow are quarantined in an eclectic bar due to a freak military accident they're forced to confront their potential demise from toxic gas...and the truth about each other. 
A former teacher, professional mascot, and assembly line worker, Jeff Bower earned a Bachelor's in Mathematics from Binghamton University and an MFA in Theatre from Florida Atlantic University where he received death threats for performing the lead role in his thesis project, Corpus Christi. After moving to Los Angeles Jeff was accepted into the Advanced Studies improv program at the Upright Citizens Brigade and performed sketch and improv for over three years on the iO West mainstage, winning a Del Close Award along the way. He has acted and written for countless web series, short films, and TV pilots and yet mainly gets recognized for his five seconds of screen time in an episode of 1,000 Ways to Die. He has a play published by Samuel French, won and placed in over a dozen screenplay competitions (ScreenCraft, PAGE, Tracking Board, Slamdance, Austin, Nashville, etc.), and primarily writes dark hour-long TV dramas even though he still hopes to one day grow up to be a Muppet. Jeff is repped by Paul Weitzman at Culture Creative Entertainment and Alex Creasia at Pathfinder Media. 
Jahna Ferron-Smith | October 18th
MasterClass 2-3:30pm
Reading and talkback 4-6pm
Adrift, a new audio play by Jahna Ferron-Smith
Simone and Malik—a young Black couple—are making their first 21-day nautical crossing across the Atlantic Ocean, while filming it for YouTube. With an impending storm on the horizon, dwindling snack rations, and no escape from one another, what could go wrong?
Jahna Ferron-Smith is a Lila Acheson Wallace Playwriting Fellow at the Juilliard School, as well as a member of the Obie Award-winning playwrights collective, Youngblood. Her plays have been performed at Ensemble Studio Theatre, and the Samuel French Off Off Broadway Short Play Festival. Her plays include, THE WOODS. (developed at SPACE on Ryder Farm) SIR. (published by Samuel French), and SALT: A Rom Com (The Lark Jerome New York Fellowship Finalist).

Vanessa Garcia | October 25th
MasterClass 2-3:30pm
Reading and talkback 4-6pm
Ich Bin Ein Berliner, a new audio play by Vanessa Garcia
This is the true story of one woman's deep dive into why the fall of the Berlin Wall meant so much to her as she watched it come crashing down on TV, from the back seat of her math class in the great magic city of Miami. Why did she cry when she saw Eastern bloc kids wearing Levis and drinking coke? Had capitalism done a number on her, or was this something else, something bigger? Destiny and freedom calling, history and her Cuban roots tugging; punk rock headbanging to the idea that putting your money where your ideas are is as powerful a punch as they come. 
Vanessa Garcia is a multidisciplinary artist working as a novelist, playwright, screenwriter and journalist. Her debut novel, White Light, was published in 2015, to critical acclaim. Named one of the Best Books of 2015 by NPR, Al Dia, Flavorwire, and numerous other publications and institutions, it also won an International Latino Book Award. Her plays have been produced in Edinburgh, Miami, Los Angeles, New York, and other cities around the world. These include the immersive hit, Amparo ("Miami's Hottest Ticket," according to People en Español), winner of The Ruth Foreman Award. Most recently she's written for Sesame Street and adapted the National Award Winning Book, Waiting for Snow in Havana into a Limited Series. As a journalist, feature writer, and essayist, her pieces have appeared in The LA Times, The Miami Herald, The Guardian, The Washington Post, Narrative.ly, Huffington Post, and American Theatre Magazine, among numerous other publications. She holds a PhD from the University of California Irvine in English (with a focus in Creative Nonfiction), an MFA from the University of Miami (in fiction), and a BA from Barnard College, Columbia University (English and Art History). 
2019-20 SEASON
Jaqueline Goldfinger 
Sunday, October 13
Jacqueline Goldfinger is a playwright and dramaturg. She co-Founded The Foundry @ PlayPenn and Curates Page By Page. She is an Affiliated Artist at New Georges and The Lark Playwright's Center. She is a member of the writers' labs at The Barrow Group and Azuka Theatre. She won the Yale Drama Prize, Smith Prize, Generations Award, Brown Martin Award, Barrymore Award, and Philadelphia Critics Award. She was a Finalist at the 2018 International Book Awards. Her plays have been developed and/or produced by theaters including: The National Theatre/London, Wilma Theatre, The Kennedy Center, La MaMa, Disquiet/Lisbon, Florida Studio Theatre, Orlando Shakespeare, Kansas City Rep, Perseverance Theatre, Capital Stage Company, The Seattle Public, Manhattan Theatre Works, and the NYC International Fringe Festival. She is a member of the Dramatists Guild and represented by Abrams Artists Agency. For more information: www.jacquelinegoldfinger.com  

Christopher Demos-Brown 
Sunday, October 20
Christopher Demos-Brown has written over a dozen full-length plays and screenplays. Honors include the Laurents/Hatcher Award, a Steinberg Citation from The American Theatre Critics Association, and multiple regional theatre honors (including three Carbonell Awards, multiple Silver Palms and the inaugural Berkshire Theatre Award for Outstanding New Work).
Chris credits his career to Theatre Lab's founder, Lou Tyrell, who produced Chris's first play, WHEN THE SUN SHONE BRIGHTER. Lou also directed the first workshop of—and was essential in sculpting—Chris's play, AMERICAN SON, here at Theatre Lab. That play went on to a successful run on Broadway (staring Kerry Washington) and has been adapted as a feature film on Netflix for release this fall.

Patricia Cotter
Sunday, October 27
Patricia Cotter Awards include American Academy of Arts Letters, Richard Rodgers Award, Emmy Award. Plays include: The Daughters will receive its World Premiere by The San Francisco Playhouse in 2019, Rules of Comedy, produced in 2015 Humana Festival of Ten-Minute Plays. Drinking On A Plane in 2018, and The Anthropology Section in 2015 both produced by The Actors Theatre of Louisville's The Tens, Other plays include: 1980 (Or Why I'm Voting For John Anderson) Chicago's Jackalope Theatre 2017, Jeff Awards nominee for Best New Play, The Surrogate, winner of the 2016 Susan Glaspell Award, finalist at the 2016 O'Neill National Playwrights Conference, produced at Centenary Stage Company, NJ, in 2017, The Break Up Notebook (a GLAAD Award nominee). Musicals (librettist/ adaptations) include Rocket Science: A Musical, received readings at Playwrights Horizons in New York (directed by Kathleen Marshall) and was produced at The Village Theatre, Seattle; The Break Up Notebook: A Musical (based on her play), at The Vineyard Theatre in New York. Patricia is currently in residence as a playwright at the Playwrights Foundation in San Francisco.
Patricia joined us this year as one of our commissioned playwrights of the Fair Play Initiative.
2018-19 SEASON

Andrea Stolowitz
Masterclass | October 15th, 12:30-2:00pm
Reading The Berlin Diaries  | Oct 16th, 7:30pm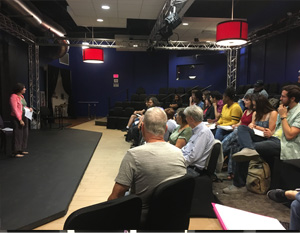 Ken Weitzman
Masterclass | October 22nd, 12:30-2:00pm
Reading  Justice is Dead (A Madcap Comedy)   | Oct 23rd, 7:30pm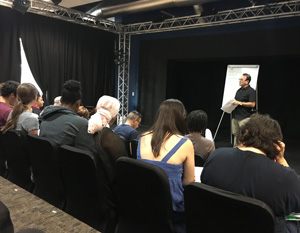 E.M. Lewis
Masterclass | October 29th, 12:30-2:00pm
Reading  Apple Season  | Oct 30th, 7:30p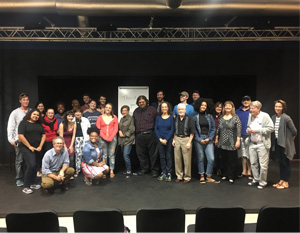 2017-18
Nilo Cruz
Vanessa Garcia
Tammy Ryan
Steven Dietz
2016-17
Deborah Zoe Laufer
Michael McKeever
Allison Gregory
Carter W. Lewis
2015-16