---
IN-PERSON SUMMER READINGS
We're collaborating with the Department of Theatre & Dance to offer a summer of IN-PERSON readings - including our newly commissioned audio plays from the 2021 Fair Play Initiative!
Tickets are FREE, but limited to 70 per reading.  
Registration is required.
Tickets for our Summer Reading Series are limited. A confirmation email will be sent within 2-3 days confirming your seat at the reading. 
Please call 561-297-3810 if you have questions.
Ticketing Information for each reading is below.
June 13 3PM: Everybody by Branden Jacobs-Jenkins: A 2017 Pulitzer Prize finalist is A freely adapted version of the 15th century morality play.  When Somebody faces imminent death, the choice between Friendship, Love, Kinship, Cousinship, and Stuff is complicated.  The cast is chosen by actors through a lottery at each performance as he or she travels down a road toward life's greatest mystery.  Directed by Elizabeth Price. 
SOLD OUT
June 20 3 PM: Sweat by Lynn Nottage: The 2018 Pulitzer Prize winning play examines the collision of race, class, family, friendship at a pivotal moment in America.  A group of friends in Reading, Pennsylvania have spent their lives sharing secrets and laughs on the factory floor.  When layoffs begin to chip away at their trust, they are pitted against each other in the hard fight to stay afloat.  Directed by Karen Stephens. 
SOLD OUT
June 27 2 PM: Blood Sisters by Andie Arthur: A new Audio Play presentation revolving around Cindy who is barely out of the closet ‐‐ even to herself. She tells herself that maybe, just maybe, if she tries hard enough, she will be able to find a man she can love. Jaq is a "self‐proclaimed man‐hating dyke." She swore off dealing with men years ago. Even gay men are beneficiaries of the patriarchy and act like it. 
It's 1981. An unexpected epidemic is hitting the gay community and while fear abounds, the government is doing nothing to help. Fear abounds, doctors are refusing to see patients, and there are major blood shortages ‐‐ can Cindy and Jaq overcome their antipathy to work together to help those in need and through helping those in need help themselves?  Directed by Matt Stabile 
June 27 4:30 PM: Versace Era by Juan C. Sanchez: A new Audio play presentation about Gay life in the 1990s in South Beach.  It was a golden time: extravagant parties, glamour, and celebrities and became known as the Versace Era, from when the famous and beloved designer took residence at Casa Casuarina in 1992. His death symbolized the end of those golden days -- and the end of refuge -- for many South Beach residents. 
Set in 1997 in a fictional cafe on Ocean Drive, the play follows the lives of several restaurant employees and guests as they come together to mourn the designer's tragic end and confront what it means to them and their community. As they work, eat, drink and mourn, their personal stories, interactions and conversations reveal a picture of resilience, celebration, pride, communion and unity. Directed by Matt Stabile 
July 11 3 PM: The Wolves By Sarah DeLappe: A 2017 Pulitzer Prize finalist is a portrait of life, liberty, and the pursuit of happiness for nine American girls who want to score on the soccer field.  Over the course of a season's triumphs and defeats, the team takes to the field in this comic and bracing portrait of young women coming of age in contemporary America. Directed by Margert M. Ledford 

July 18 3 PM: The Book of Will By Lauren Gunderson:  Winner of the 2018 Steinberg/ATCA New Play award.  Just three years after William Shakespeare's death, botched and pirated versions of his plays are appearing all over London. His friends and company members can see just one solution: printing an official version of all his plays in a single folio edition in order to preserve them and ensure their future. They may not have any money or clear-cut rights to his work, but they're armed with wit, humor, a deep camaraderie and a passion to preserve the plays that shaped their lives. With the help of their wives and colleagues, two actors set out not only to print a collection, but to uphold a legacy for the world.  Directed by Matt Stabile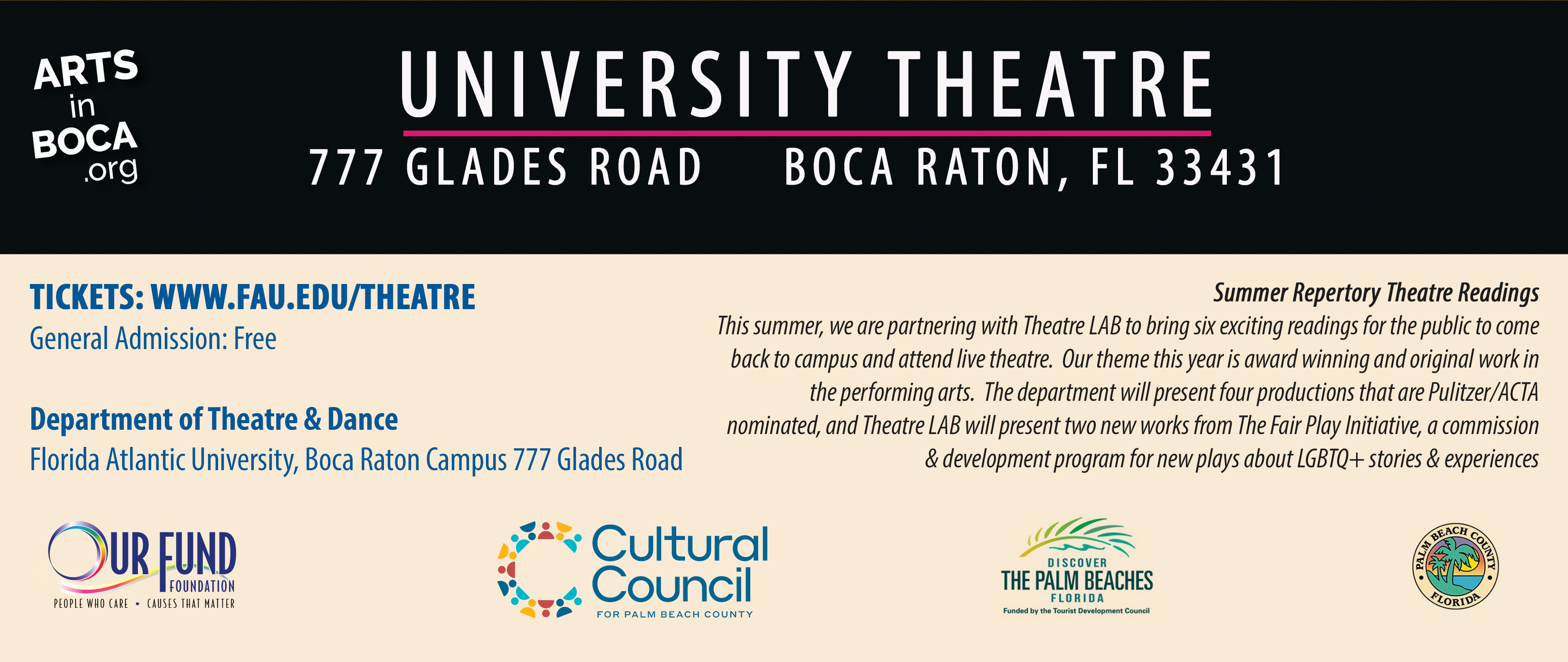 ---
If you love new work in American theatre, now there is Theatre Lab,the professional resident company of Florida Atlantic University.
Established in 2015 on the Boca Raton campus, Theatre Lab's mission is to inspire, develop, and produce new work, audiences, and artists for the American Theatre.
---
---
COMING SOON:
To Fall In Love by Jennifer Lane
A Southeastern Premiere
New Dates TBA
Directed by Louis Tyrrell
Featuring: *Niki Fridh & *Matt Stabile
Scientists claim that anyone can fall in love, simply by asking and honestly answering a specific series of 36 personal questions followed by four minutes of uninterrupted eye contact. But what if the goal is to fall in love AGAIN?  Can this exercise help Wyatt and Merryn save a marriage, splintered by tragedy? 
---
For tickets please visit www.fauevents.com or call 561-297-6124.
Please note that for the 2019-2020 season, there will be a processing fee for all FAU College of Arts and Letters tickets purchased online, by phone, at the Student Union Box Office and walk up on day of event. *

*Processing fee does not apply to student tickets, group tickets, subscription/season tickets, Ambassador of the Arts tickets, and Theatre Lab Alliance Member tickets at Theatre Lab shows.
Theatre Lab Alliance Members & Season Subscribers can purchase
subscriptions NOW by calling the box office at

561-297-6124
Sign Up for our Email List visit us on facebook