WGSS - Career Pathways
2023 
Career Pathways in WGS Monday, March 27th, 4 PM 
Keynote
Anna Eskamani is a bold fighter for Florida families and everyday people. Born and raised in Orlando, she's the daughter of working class Iranian immigrants who came to this country in search of the American Dream. Anna went to public schools, the University of Central Florida, and is a nonprofit professional currently seeking her PhD in Public Administration. She ran for office as a first time candidate in 2018, flipped a legislative seat, and is proud to serve as a State House Representative for District 42 winning both of her re-election campaigns in a landslide. She currently serves as the Chair of both the Orange County Legislative Delegation and the Florida Legislative Energy and Climate Caucus. A track record of kind sacrifice, endless hard work, and iron-clad values, Anna is known across the state and nation as a leader who is unbothered, unbossed, and committed to the people of Florida.  
Moderators
Rebecca André marched with her family against the Vietnam War in Washington D.C. while in high school and has been an activist ever since. She majored in Business Administration and caught the fever for life-long learning in Women's Studies courses, where she earned a Minor and a Master's Degree at Ohio State University. Because her best friend had recently been diagnosed with a mental illness, Beck's Master's Degree thesis addressed "Employment Solutions for Women with Mental Health Issues." Beck ultimately earned a Ph.D. in Educational Policy and Leadership with an emphasis on women's issues in higher education. Educational Technology developed into another passion 25 years ago and Beck served several universities and schools as Ed Tech Director, sharing her love of technology with faculty, staff, and K-20+ students. Currently, Beck is a PBC NOW board member, is an Alternative Regional Representative for FL Democratic LGBTQ+, and also serves as co-chair on the Industry Advisory Committee for FAU's Women, Gender, and Sexuality Studies. She moved to Delray Beach in 2008 where she recently retired and happily resides with her spouse in a super supportive community. 
Adrienne Percival works at Compass Community Center serving the LGBTQ community of Palm Beach County. As part of the Development and Outreach team, she helps coordinate signature events like Palm Beach Pride, Stonewall Ball, and groups like the business networking Pride Business Alliance and senior social Coffee Clatch. This opportunity opened up for Adrienne when she chose Compass for her internship while getting her MA in Women's Studies at FAU; she is now a member of the program's Advisory Council. Prior to that Adrienne had worked as a business coach and a software trainer. She lives with two dachshunds and too many Christmas trees. 
Panelists
Stephanie Alvarez is a human resources professional whose work includes developing new processes and supporting the implementation of new systems to improve staff experience. In her work Stephanie is responsible for developing systems to optimize key moments of the staff experience from recruitment and onboarding to succession planning. Stephanie earned her MA in Women, Gender, Sexuality Studies from Florida Atlantic University in 2018 and has worked in progressive politics since graduating. She joined the Working Families Party in 2022 as a member of the Equity, People, Inclusion and Culture (EPIC) Department working to streamline hiring and onboarding processes and create a better experience for all staff. Her WGSS degree constantly informs her work. Most recently, she led the implementation of an all staff Gender Inclusive Language Discussion Series, as part of a larger Language Justice Initiative for the party.  
Venus Bautista is a UCF alumni majored in Political Science and minored in Women's and Gender Studies. While at UCF, Ms. Bautista served as a mentor for 7th grade girls in a Women's and Gender Studies program, Science Leadership and Mentoring program (SLAM). After graduating, she interned at a law firm focusing on advocating for families, children and women in domestic violence cases. Ms. Bautista has recently been accepted into law school at Lincoln Memorial University Duncan School of Law in Knoxville, Tennessee. She is extremely excited for this new journey and she cannot wait to continue her education and pursue a career law.  
Morgan Boecher (he or they) is a New York City-based author, illustrator, and arts marketer who tells visual stories about folx on the margins, particularly trans people. With a decade of experience in nonprofit arts leadership, Morgan has directed teams at Oregon Shakespeare Festival, Signature Theatre in New York, and Caramoor Center for Music and the Arts. Holding a Master of Science in Nonprofit Management and Marketing from Columbia University's School of Social Work, Morgan's work centers people to build healthy work environments and bring forward-looking art to wider audiences. Morgan's first book What's Normal Anyway? started as a webcomic turned self-published Kickstarter success, and has been translated and sold to educators and readers internationally. As a speaker and a performer on queer topics, he has appeared at places such as New York Comic Con, Queers & Comics Conference, Flame Con, Columbia University, New College of Florida, University of Florida, LGBT Center in Manhattan, PrideWorks Conference, and National Out for Work Conference. 
Vanessa Charles is a top 1% real estate professional in the Tampa Bay area. Her formal education in Women's and Gender Studies paired with her background in marketing and branding lend her a wealth of advantages in the real estate business. She is the founder of The AMPLIFY Group - a real estate group that is committed to putting people first and amplifying more social good through their work. The AMPLIFY Group is a proud sponsor of many local non-profits such as EmpowHERment, Girls Rock Camp St Pete, and First Ladies Farm and Sanctuary. Along with helping people navigate the real estate process, Vanessa's favorite things are being an awesome cat parent with her husband and cat daddy Randy, playing and refereeing ice hockey, and supporting organizations that empower women and girls! iamvanessacharles@gmail.com
Mariah Fermin holds a master's degree in Social Work and a graduate certificate in Gender Studies along with an undergraduate bachelor's degree in Psychology and a minor in Women's and Gender Studies from UCF. While at UCF, Ms. Fermin served as a mentor for 7th grade girls in a Women's and Gender Studies program, Science Leadership and Mentoring program (SLAM) as well as a SLAM Facilitator and Program Manager.  Ms. Fermin is now a Guidance Counselor for Orange County Public Schools in Central Florida and an adjunct instructor in Women's and Gender Studies at UCF.
Viridiana Lieberman is a filmmaker based in Brooklyn, NY. She edited the feature documentaries The Sentence (HBO), which won the 2018 Sundance Film Festival US Documentary Audience Award and the 2019 Emmy for Exceptional Merit in Documentary Filmmaking and I Am Evidence (HBO) which won the 2019 News & Doc Emmy for Best Documentary and the short documentary, Through Our Eyes: Apart (HBO Max) which won the 2021-2022 News & Doc Emmy for Outstanding Short Documentary. She also edited Love the Sinner (Tribeca Film Festival), Special Olympics: 50 Years of Changing the Game (ABC/ESPN), Stonewall: The Making of a Monument (New York Times Op-Docs), Call Center Blues (Oscar Shortlisted, 2020), We Are: The Brooklyn Saints (Netflix), Breakaway (ESPN 30 for 30), Reopening Night (HBO) and Lowndes County and the Road to Black Power (Peacock). In 2020, she was a highlighted honoree in DOC NYC's 40 Under 40 list and her solo directorial debut, Born To Play, premiered on ESPN and ABC. Born To Play follows the Boston Renegades, a semi-professional women's tackle football team on a path for redemption after losing the national championship the previous year. An avid sports fan, Viridiana is also the author of Sports Heroines on Film: A Critical Study of Cinematic Women Athletes, Coaches and Owners, published by McFarland. She just completed editing the untitled Carlos Santana feature for Imagine Entertainment and Sony set for a 2023 release.
Gabrielle Magid is the Founder & CEO of Stronger Than Stigma® (STS), a 501(c)(3) nonprofit established in 2013, dedicated to next gen mental health advocacy "for us, by us." Gabrielle is a published author in The Forward, New Voices Magazine, and Hillel International's College Guide Magazine and a featured speaker for various civic organizations, including Hillel International, Rotary, UF Hillel, WashU Hillel, Leadership Jacksonville, and the Duval County Public School system. Gabrielle gave a TEDx talk entitled "The Stigma is Real," which is available on YouTube. She spoke at the Humanism in Medicine conference at Sidney Kimmel Medical College at Jefferson University. Gabrielle created The Living Room™, the first-ever mental health awareness pop-up shop meant to inspire dialogue on mental health. She created and launched The Nobody's Happy Comedy Tour™, traveling with comedian Josh Novey to raise awareness for STS' mission. She also created the How to be a Feelings Ninja™ workshop, using improv comedy to teach coping skills to participants including students (high school, college, and medical school) and mental health practitioners. 
 Gabrielle sits on brain trusts in her hometown for the biggest local funders, including Baptist Health. Her work has been recognized by MTV and funded by HBO, FIS, Haskell, the Delores Barr Weaver Fund, and Baptist Health, in addition to family foundations. 
 She serves on the Community Advisory Board of WJCT, the PBS/NPR affiliate station in Jacksonville. She is a graduate of the Jim Moran Institute's Nonprofit Executive Development program. And, she is passionate about improv comedy.
Francesca Menes, is the Deputy Organizing Director at Local Progress, a movement of local elected officials advancing a racial and economic justice agenda. Francesca is a political educator, legislative and policy strategist, entrepreneur and former television host committed to creating spaces to educate, inform and engage our people on the issues that are important in their daily lives; helping them to understand the personal is political and democratizing knowledge. She is the daughter of working-class Haitian immigrants raised in Miami's Little Haiti community and mother of Joie.  
Passionate about teaching and sharing knowledge, Francesca founded CommUnity Strategies, LLC. Rooted in community advocacy, she is committed to empowering individuals to embrace their voice, maximize their influence and exercise their collective power to transform their communities. Francesca is a co-founder and chair of The Black Collective, a movement committed to promoting a shared agenda to elevate political consciousness and amplify the economic power of Black communities.  
For over 15 years, Francesca has led coalition building, legislative, policy and advocacy campaigns with undocumented families, immigrants, refugees, students, Black and communities of color with a focus on policy-making process. In these spaces, she successfully led organizing efforts to draft, introduce and pass local, state, federal resolutions, policies and laws on the issues of education, immigration, housing, wage protections and job security. In 2021, Francesca was the catalyst for the litigation challenging HB 1, sounding the alarm about the criminalization of protest and the efforts to control local police budgets. Other key issues for advocacy: preemption/state interference and local democracy/governance.  
Francesca graduated from Florida International University, earning her BA in Political Science and Women's Studies with a minor in Philosophy and a certificate in National Security Studies and her Master's in Public Administration, with a certificate in Community Development.   
Francesca has appeared on and has been quoted in many national and Florida-based media outlets and publications, HLN, CNN en Español, USA Today, Politico, New York Times, Miami New Times, INFLUENCE Magazine, CBS Channel 4, NBC Channel 6, ABC Channel 10, Island TV, WLRN, Miami Herald, Sun Sentinel,  PolitiFact Florida, Florida Politics, NPR, The Boston Globe, Tampa Bay Times, CNN and Los Angeles Times. 
2021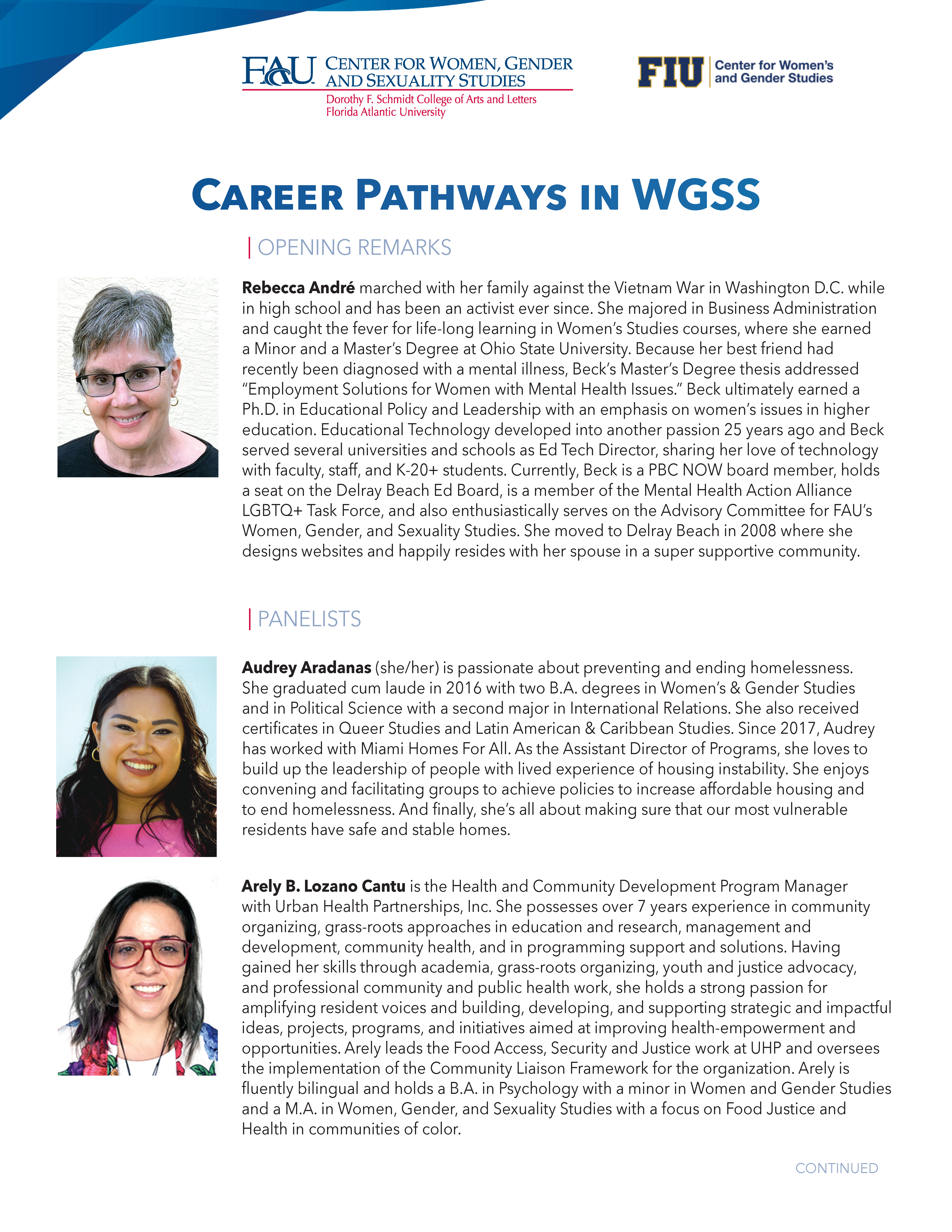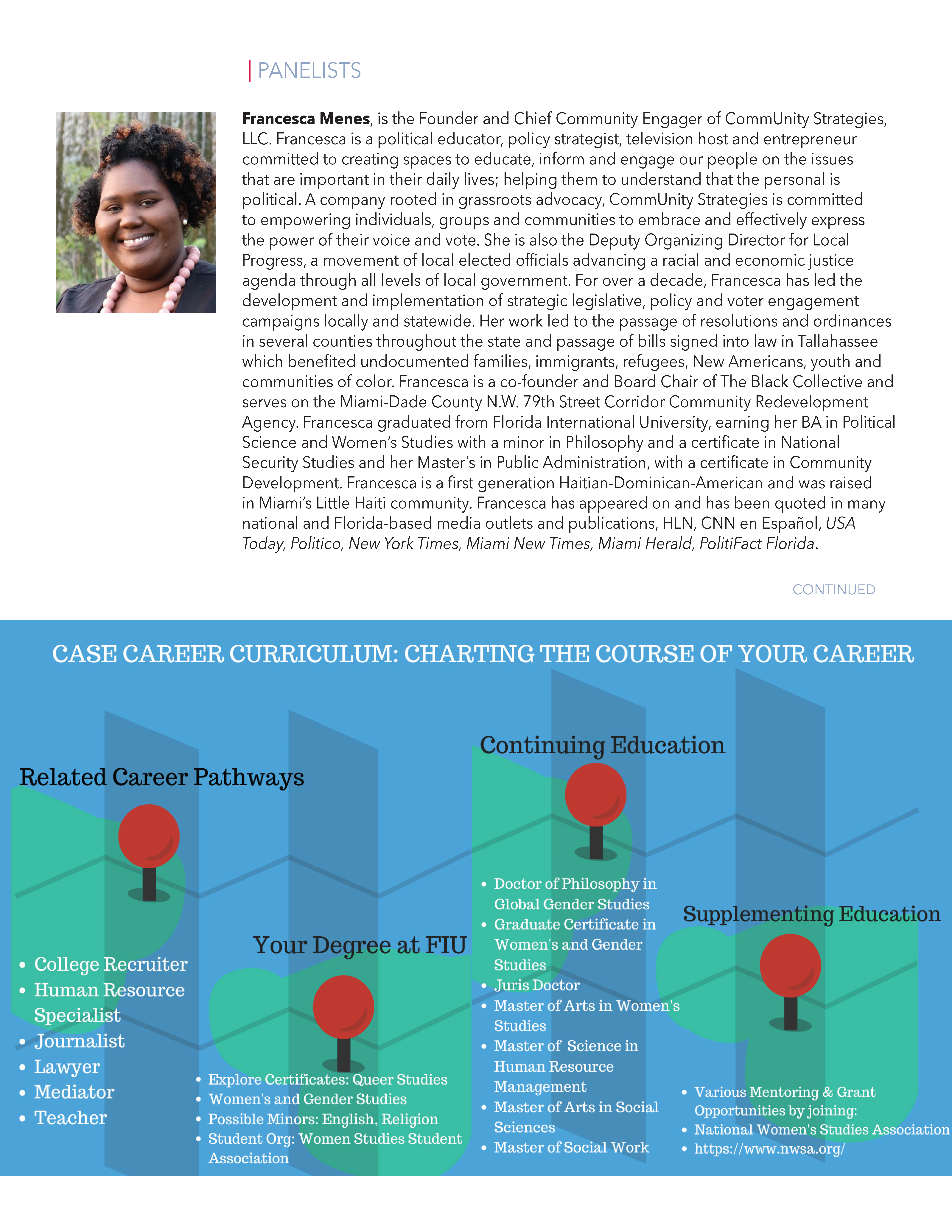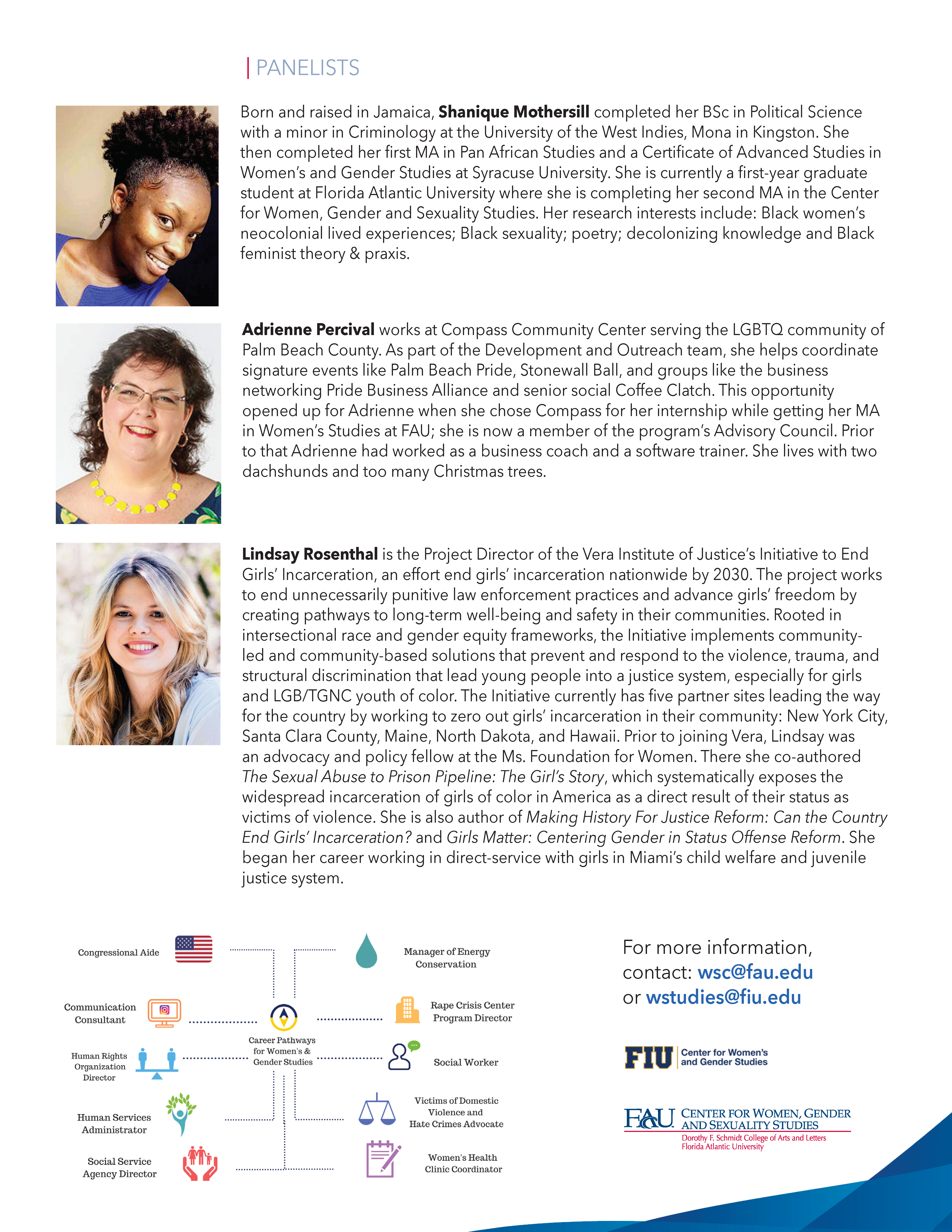 Video
---
2023
2021