Phi Sigma Tau: International Philosophy Honor Society
Florida Beta Chapter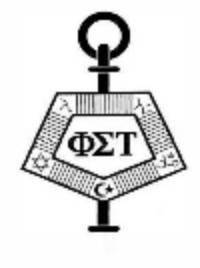 Congratulations to the Class of 2020 Inductee
About Phi Sigma Tau
Phi Sigma Tau was founded in 1930, at Muhlenberg College, as Alpha Kappa Alpha, with chapters in Maryland and Pennsylvania. Its essential purpose was and is to promote ties among philosophy departments in accredited institutions and students in philosophy nationally and, eventually, internationally.

Both on the local, national, and international levels, Phi Sigma Tau considers its organization as instrumental: a means for developing and honoring academic excellence as well as philosophical interest. The Florida Beta chapter of Phi Sigma Tau, at Florida Atlantic University, is the oldest chapter of the Society in Florida.

Inductions into the Florida Beta Chapter of Phi Sigma Tau are held once per academic year. Students are selected for induction into Phi Sigma Tau on the basis of overall academic achievement, demonstrated excellence in philosophy courses, and commitment to the pursuit of philosophical knowledge.

Students are notified when they have been selected for induction and are invited to participate in the induction ceremony that is held at the end of the academic year. The faculty advisor for the Florida Beta Chapter is Dr. Marina Banchetti.

If you are interested in finding out more about Phi Sigma Tau Honor Society, about its history, and about its criteria for membership, please visit their website at phi-sigma-tau.org.
Past Inductees
Cameron Black (Class of 2019)

Robert Kemper (Class of 2019)

Kjirsten Duran (Class of 2017)

Benjamin Magee (Class of 2017)

Alexa Menashe (Class of 2017)

Jaime Noicely (Class of 2017)

Timothy Woody (Class of 2017)

Alejandro Aparicio (Class of 2014)

Alexander Brams (Class of 2014)

Christopher Dasilva (Class of 2014)

David Desouza (Class of 2014)

Jessica Frank (Class of 2014)

Justin Whitehead (Class of 2014)

Paul Berg (Class of 2013)

Joel Costa (Class of 2013)

Lori Dilican (Class of 2013)

Najeeb Haber (Class of 2013)

Kalyn Hogard (Class of 2013)

Estelio Iglesias (Class of 2013)

Kenley Joseph (Class of 2013)

Matteo Londoño (Class of 2013)

Jessica Persaud (Class of 2013)

Debora Puac (Class of 2013)

Rebecca Brisky (Class of 2013)

Lydia Ramirez (Class of 2013)

Mitchell Robinson (Class of 2013)

Roger Rosena (Class of 2013)

Gena Rumble (Class of 2013)

Melissa Settar (Class of 2013)

Allison Tanner (Class of 2013)