CRIMINAL JUSTICE INTERNSHIP PROGRAM
"My Criminal Justice internship was a phenomenal opportunity and the best experience during my time at FAU. It allowed me to gain valuable first-hand experience along with lifelong connections with people of high stature in the field of Law Enforcement." – Rujay Howell
WHY INTERNSHIPS ARE IMPORTANT
Employers want to hire people with experience. That is what student internships are for: to gain on-the-job, in-the-field experience that will help your resume stand out and give you a better chance to land the job you want. Internships let you explore job options so you will have a clearer idea of what you hope to do after graduation (and maybe what you don't).
As a Criminal Justice student intern, you will earn three course credits toward your major, and if you choose to extend your internship or try out an additional one, you can also earn three elective credits. Perhaps best of all, internships sometimes lead to job offers. Case in point, getting an internship gives you a competitive advantage. Now is the time to make an internship plan.
PLAN AHEAD: FINDING INTERNSHIPS TAKES TIME
Most Criminal Justice students complete their internship(s) during senior year; however, qualifying students can intern as early as the second semester of junior year. Federal agencies normally require three to four months or more of lead time to process applicants. Nearly all agencies offering internships require interviews, application submissions and background checks prior to accepting student interns. Many also require polygraph examinations. This process can be lengthy and requires early preparation.
Go into the process knowing that it takes time to get internships with the agencies you want. At a minimum, be sure to contact the field experience coordinator at least 2-3 months prior to your internship semester to request available internship options. It will then be your responsibility to contact your preferred agencies and apply. Ideally you should lock in your internship and required advising appointments prior to registering for next semester's classes.
Field Experience Coordinator: Sigal Rubin, MSCCJ | rubins@fau.edu
"Having worked as an intern for Florida Atlantic University PD was a big step forward in my career. All the knowledge and experience I gained there will help me going forward as a future Police Officer."- Juan Cash
APPLYING FOR YOUR INTERNSHIP
Request a list of available internships from the field experience coordinator.
Prioritize the agencies you are most interested in, contact them, and apply.
When you have been accepted by an agency as an intern, you must then complete the school internship form and a Drop/Add form. Then send both completed forms to the field experience coordinator for review. Important: The field experience coordinator must approve and sign your school internship form before you can register for an internship course.
After receiving your signed school internship form, register for your internship course (CJ-4940 or CJ-4941). See course descriptions below.

CRIMINAL JUSTICE INTERNSHIP COURSES
The School of Criminology & Criminal Justice offers two internship courses. Both are offered as 3-credit pass/fail courses and require a minimum of 12 internship hours per week throughout the academic semester. Hours can be scheduled in any fashion that is agreed upon by the student intern and the agency.
CCJ-4940 CRIMINAL JUSTICE FIELD EXPERIENCE 1: This course is designed for Criminal Justice majors in their senior year who have a 2.5 GPA or better. Exceptions for non-majors and second-semester juniors are made on a case-by-case basis. Students taking CCJ4940 during Summer, must be registered for Summer Session #1, which spans the full twelve weeks of the summer semester. This course can be applied toward your 30 major credits.
CCJ-4941 CRIMINAL JUSTICE FIELD EXPERIENCE 2: This course is designed
for students who have passed CCJ-4940 and plan to spend an additional semester with the same agency OR have found another internship at a different agency. This course can be applied toward your free elective credits.
"My internship experience with the Orlando Police Department sparked my interest in GIS and passion for public service."- Maxwell von Werder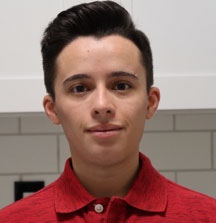 FULFILLING YOUR INTERNSHIP REQUIREMENTS
After completing your course registration, the field experience coordinator will send a letter to your agency internship supervisor confirming your eligibility and the number of hours per week needed to meet your course requirements. Once your internship begins, you must maintain a journal about your experience and submit a final paper. Specific project requirements are described in the course syllabus. Your agency supervisor will also evaluate your internship performance, which will be used as an additional factor in determining your course grade.
POTENTIAL AGENCIES FOR YOUR CRIMINAL JUSTICE INTERNSHIP
Click the chart below to view examples of agencies where our students have completed internships in the past. Keep in mind that our school partners with many agencies, including but not limited to those shown in the chart. For a list of currently available internship opportunities, please contact the field experience coordinator: Sigal Rubin, MSCCJ | rubins@fau.edu