Machine Shop - Boca Raton Campus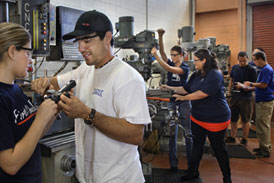 Locations and Hours of Operation
Boca Raton Campus, Engineering West (EW), Room 138
Open 9 a.m. – 6 p.m., Monday through Friday
If assistance is needed outside of normal hours send email to Nan An, Senior Machine Shop Teaching Instructor to find out if an accommodation can be made.
Contact
Shop Main Number: 561.297.3427
Nan An, Engineering Machinist and Lab Manager, office: 561.297.2811, email: nan@fau.edu
Student Shop Access
Shop use must be related to either funded research or a class assignment.
Students must complete the "Student Safety Training Session" offered in the shop. Register for this by sending an email to nan@fau.edu prior to working in the shop.
Students must submit a signed "Machine Shop Work Request Form" before beginning work on any project.
Shop Usage Guidelines
Do Not

 

Use

 any machine, tool or procedure you are not familiar with. 

Ask for Help
Safety glasses MUST BE WORN AT ALL TIMES and are available at the shop entrance.
Do not operate machinery with loose clothing or jewelry.
Long hair must be tied back and contained.
No open toed shoes allowed.
Clean machinery every time you use it.
The two person rule is in effect – DO NOT WORK ALONE.
Report any machine that has been damaged. This may keep the next user from getting hurt.
Please help keep this shop clean and safe. If you abuse the shop, you will lose your privilege to use it.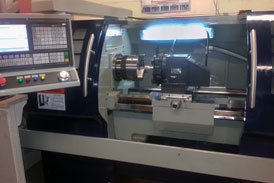 Services and Supplies
Materials
work can be done with metals, plastics, and other materials
Equipment
Computer Numerical Control (CNC) machining for milling, turning and waterjet cutting. A complete array of manual machines well-suited for one-off prototypes, top of the line Metal Inert Gas (MIG), Tungsten Inert Gas (TIG) and plasma cutting welding services which are provided for aluminum, stainless steel and other metals. Cutting, bending and machining of sheet metal are also available on a limited basis.
Assistance
estimating, scheduling, and interfacing with outside machine and specialty services when needed. Ordering supplies needed for projects, limited design consultation for cost effective completion of projects.
Services
fabrication of research prototypes; training on equipment and safety in the machine shop; assist students with choosing project materials, and fabrications; conduct labs and workshops upon request; take technical requests for special services or projects.
Supplies
shop inventory includes commonly used metals and hardware supplies. These items are available for use to be incorporated into projects for authorized students, faculty and staff.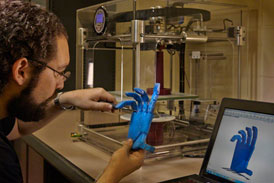 Equipment
3D Printing and Scanning
3D Systems 3D Touch – ABS and PLA – Color and specialty filaments available
ZCorporation ZPrinter 310 Plus – Monochrome
3D Scanning available upon request
CNC Equipment
CNC Lathe 16" x 40" capacity – 6 tool turret – 8" spindle chuck
CNC Vertical Machining Center 20" x 33" – 20 station tool changer
Lagun CNC Vertical Knee Mill – 15" x 30" travel – Manual tool change
3-Axis Waterjet Cutting Machine (IWM) - 4' x 8' capacity – thickness of cut will vary according to material – can cut all known materials except diamond, carbide and tempered glass
All of the above listed machines are operated using GCODE. This code is acquired through integrated Cam software; SolidCam, MasterCam and HSMWorks.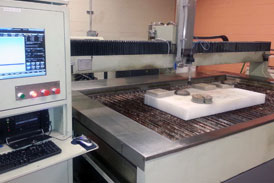 Manual Equipment
Rockwell 20" Vertical Bandsaw
Starite Horizontal Bandsaw – 10" x 20" capacity
Rockwell 10" Table Saw for wood and plastics
Supermax Vertical Knee Mill – 12" x 30" travel
ENCO Vertical Knee Mill – 12" x 30" travel
Gearhead Drill Press
Turnmaster 15" x 50" Lathe w/ 10" 3-jaw chuck
MSC 13" x 40" Lathe w/ 8" 3-jaw chuck
Toolroom-Type Lathe 10" x 20" w/ 6" chuck and equipped w/ 5C collets
6" x 48" Belt/Disc Sander w/ 12" disc