Electronics Labs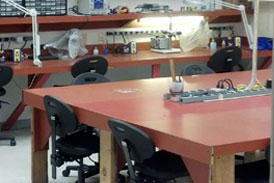 Locations and Hours of Operation
Boca Raton Campus, Engineering West (EW), Room 164
Dania Beach, SeaTech Campus, Room 105
Both locations open 7:30 a.m. - 4 p.m., Monday through Friday.
Lab Access After Hours
A lab assistant is available outside of normal hours at the Boca Raton campus location. The lab assistant's schedule is posted on the lab door since the times may vary.
Students that show responsibility and have been instructed in the lab equipment and safety procedures may be allowed lab access after normal hours at either location. If assistance is needed outside of normal hours email the lab staff to find out if an accommodation can be made.
Contacts
Ed Henderson, Sr. Engineer, Boca: 561.297.1371, SeaTech: 954.924.7111, email: ehender3@fau.edu
John Kielbasa, Sr. Engineer, Boca: 561.297.5350, SeaTech: 954.924.7113, email: jkielbas@fau.edu
Services and Equipment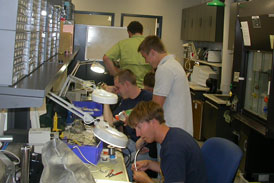 Project Assistance
design review, system troubleshooting, component analysis, software development/debugging, electronics packaging, electronics circuit design, printed circuit board layout
Lab Training
lab safety, test equipment operation, soldering techniques, wiring and connector fabrication, CAD software
Student CAD Tools
schematic capture, printed circuit board layout, embedded software development, circuit simulation
Tools and Equipment
soldering irons, heat guns, reflow oven, oscilloscopes, multi-meters, signal/function generators, power supplies, hand tools, work benches
Project Supplies
prototype parts, wire and connectors, fabrication materials, solder, heat-shrink, electronic hardware, breadboards
Purchasing Assistance
parts selection, vendor recommendations, university ordering procedures, pCard purchases and tracking
Lab Usage Rules
Before working in the labs, students must review safety procedures with the lab staff.
Before using any lab equipment, students must receive instruction on its use by the lab staff.
No equipment or tools are to be removed from the lab without specific approval from the lab staff.
Ask for assistance, don't guess.
Keep areas clean and neat.