distinguished speakers
Speakers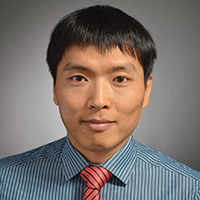 Genomics, Bioinformatics, Data Science, and Fellowship Opportunities for FAU Trainees
Friday, January 28, 2022 |  1:00 P.M. - 2:00 P.M.
Virtual Conference

Dawei Li
Associate Professor and Director of Genomic Medicine in the Charles E. Schmidt College of Medicine at Florida Atlantic University.
Abstract
Genomic medicine is rapidly changing the future of medicine. Sequencing and analyzing patient's genome are revolutionizing medical science and reshaping health care practices. "Every dollar we invested to map the human genome returned $140 to our economy." Read More
Sensitivity to Damping of Self-Excited Vibrations in Circulatory and Parametrically Excited Systems
Monday, January 24, 2022 at 2:00 P.M.
Location: Engineering East Room 106 |  SeaTech (Video conference) - Room Aud 250 
Peter Hagedorn 
Born in Berlin, Germany, grew up in Brazil, where he graduated (Engineer's degree) in mechanical engineering in 1964 at EPUSP and in 1966 earned his doctoral degree at the same University. 
Abstract
In mechanical engineering systems, self-excited vibrations are in general unwanted and sometimes dangerous. In most of these the linearized equations of motion the self-excitation terms are given by non-conservative, circulatory forces and/or parametric excitation. The presentation will discuss some recent results in linear and nonlinear systems of this type. Read More