Upcoming Events
Annual Empty Bowls Fundraiser
February 15th, 2023 10 am -2 pm 
Exhibition at BRiC
Postscript 12, an Art on BRiC Walls exhibit by FAU

Postscript 12 is an exhibition featuring the work of 12 graduate students currently enrolled in the Masters of Fine Arts Program at Florida Atlantic University. With concentrations in drawing, painting, graphic design and installation, each of these artists takes an innovative approach to their creative practice. The included artworks survey a wide swath of conceptual terrain, exploring themes such as environmental sustainability, immigration, and magical realism. An opening reception will be held for the artists on December 8th from 5:30 to 7:00pm at the Boca Raton Innovation Campus.

Featured Artists:
Leslie D. Albert
Olivia Rachel Austin
Nargiza Dadabaeva
Hamed Edalati Tabrizi
Tatyanna Gay
Lisa MacNamara
Parinaz Moghadampour
Ida Moraghebati
Narges Panahandeh
Maria Pimenova
Caitlin Rosolen
Azarakhsh Shafieikadkani
RSVP https://www.eventbrite.com/e/postscript-12-an-art-on-bric-walls-exhibit-by-fau-tickets-476700693607
Ceramics Winter Show and Sale
December 15th -17th, 2022
If you have any questions, please contact Angel DiCosola mdicosol@fau.edu or ceramicsguildoffau@gmail.com
We are pleased to announce the Fall 2022 Art and Design Lecture Series
at the FAU Visual Arts and Art History Department.
The event is free and open to the public. Registration is required.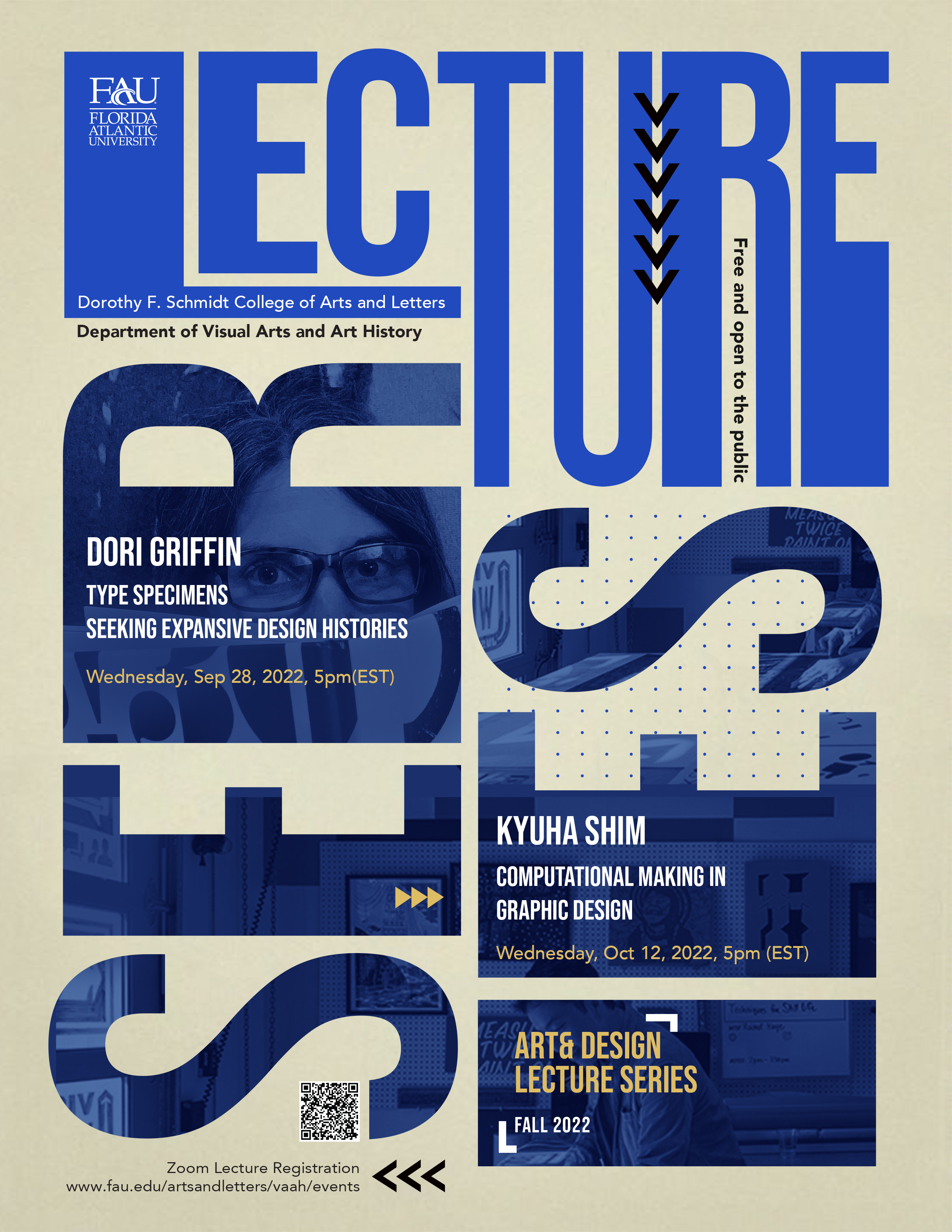 Dori Griffin | Type Specimens - Seeking Expansive Design Histories
Wednesday, Sep 28, 2022, 5pm (EST)
Dori Griffin, Associate Professor of visual communication design and design history at the University of Florida School of Art + Art History. She researches and writes about the complex relationships between what we see in the world around us and the narratives we construct around this visual information. She sees design—and its culturally embedded histories—as a way to shape not just culture at large, but the culture of design. Studying design history helps designers acquire tools and knowledge for creating more equitable, accessible futures. Griffin's own research centers two connected questions: How might we interrogate popular visual culture and its role in constructing social and disciplinary identities, past and present? And how might we critically document scholarly research methods and historical awareness as they're applied to studio design pedagogy?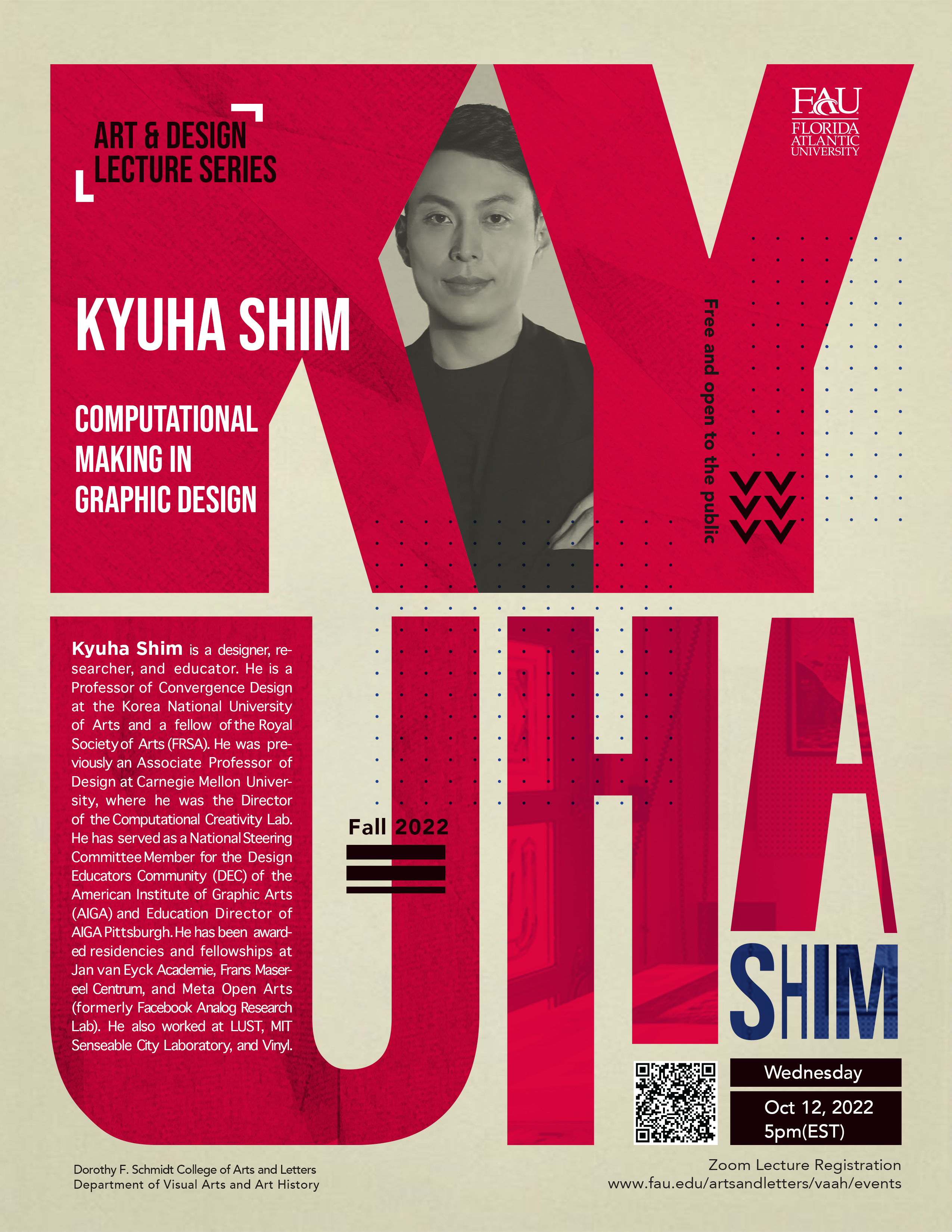 Kyuha Shim | Computational Making in Graphic Design
Wednesday, Oct 12, 2022, 5pm (EST)
Kyuha Shim is a designer, researcher and educator. He is a Professor of Convergence Design at Korea National University of Arts and a fellow of Royal Society of Arts (FRSA). He was previously an Associate Professor of Design at Carnegie Mellon University, where he was the Director of the Computational Creativity Lab. He has served as a National Steering Committee Member for the Design Educators Community (DEC) of the American Institute of Graphic Arts (AIGA) and Education Director of AIGA Pittsburgh. He has been awarded residencies and fellowships at Jan van Eyck Academie, Frans Masereel Centrum, Meta Open Arts (formerly, Facebook Analog Research Lab). He also previously worked at LUST, MIT Senseable City Laboratory, and Vinyl. His work has been exhibited internationally as places including Cooper Hewitt Smithsonian Design Museum, Museu Nacional da República, National Museum of Modern and Contemporary Art, Korea and ggg Gallery in Tokyo and in design festivals including AGI Open, Beijing Design Week, London Design Festival, Typojanchi Biennial and Seoul Design Olympic. He holds an MFA degree from the Rhode Island School of Design and conducted doctoral research at the Royal College of Art.
______________________________________________________________________________________________
Spring 2022 Exhibitions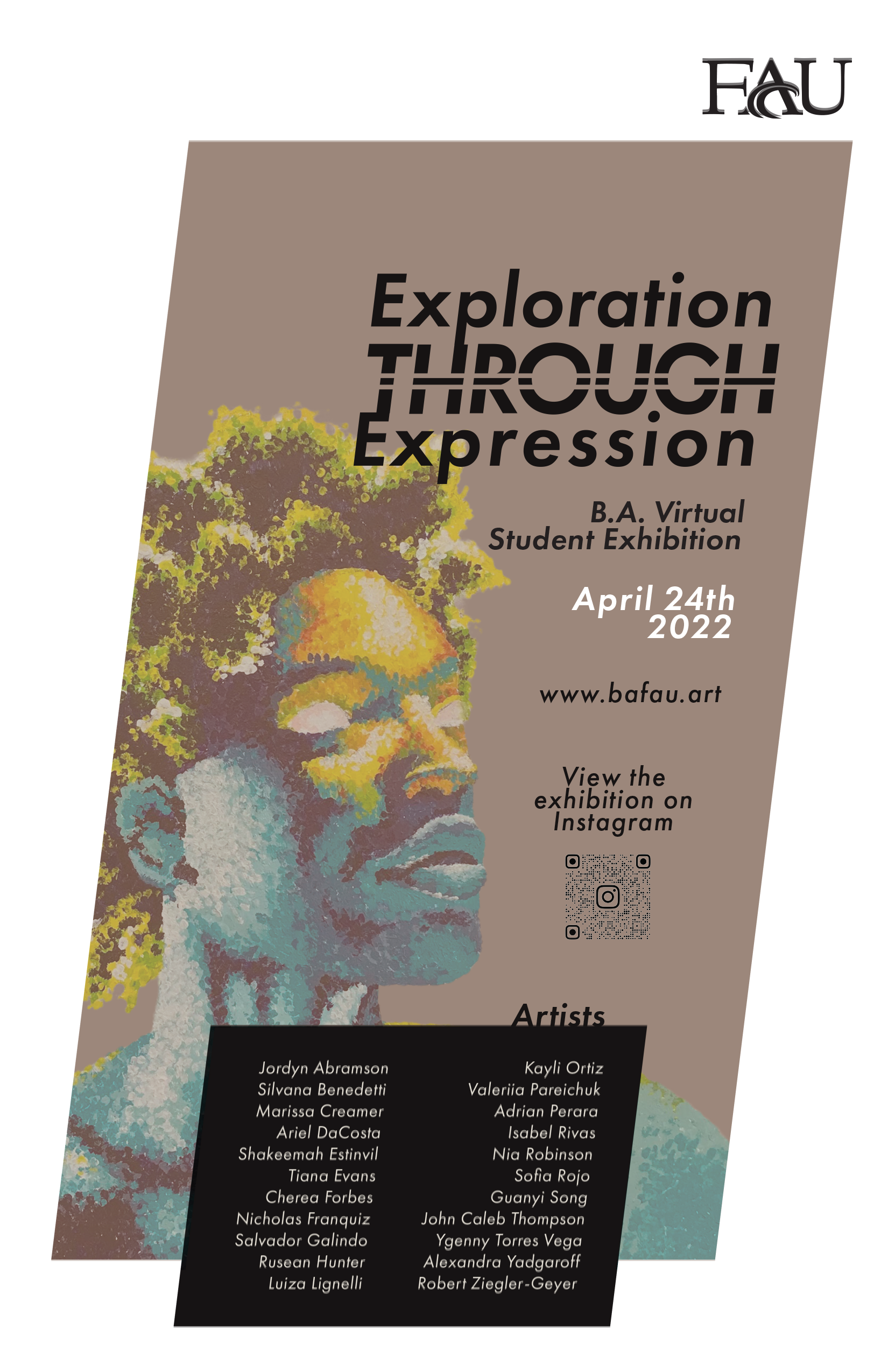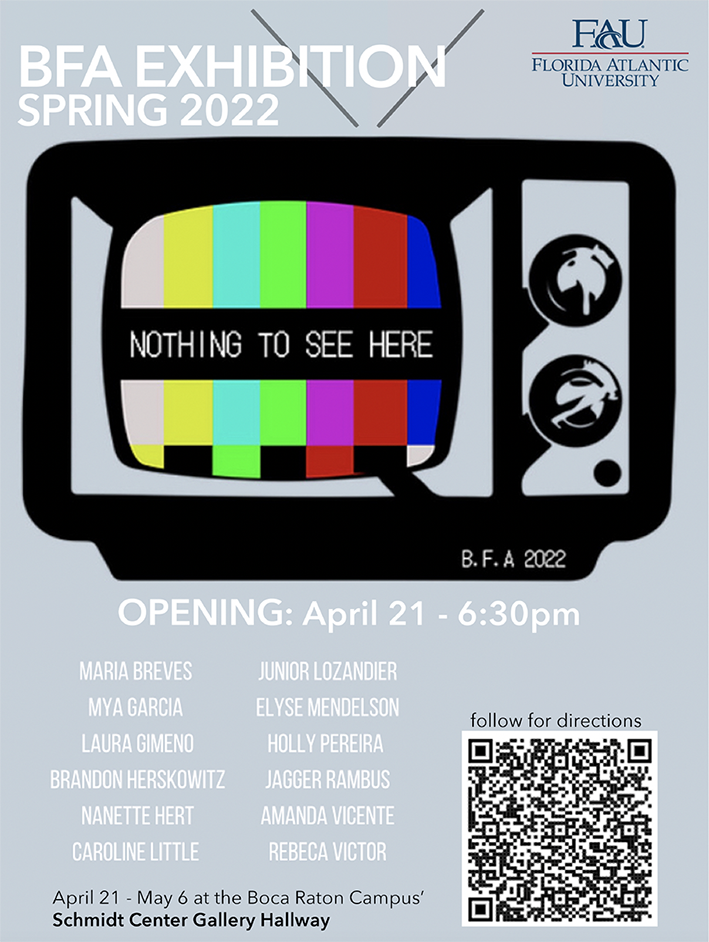 ____________________________________________________________________________________________________________
Illustrator, Joel Nakamura Presentation
Wednesday, April 6, 2022 at 4pm

Award winning artist Joel Nakamura is known for his unique style: a blend of folk art and sophisticated iconography rendered in a neo-primitive technique. He is chosen for many of his commissions for his knowledge of tribal art, mythology, and for his ability to convey stories and information in an intricate and engaging manner. 
 
Nakamura's ability to render humanity in such primal, edgy hues has captured the attention of clients like Time Magazine, US News & World Report, and the Los Angeles Times. His paintings have enlivened the pages of many other books and publications, as well as the 2002 Winter Olympics opening and closing ceremonies programs.
 
Nakamura has been profiled in Communication Arts, Step Inside Design, Confetti and Southwest Art magazines. He is proud to be the recipient of over two hundred awards of excellence. Nakamura splits his time between commercial and fine art projects. His work is in numerous private and corporate collections, including Wynonna Judd, Chick Corea, and US embassies around the world.    
_______________________________________________________________________________________
CLICK HERE TO THE RECORDED VIDEO
________________________________________________________________________________________
Fall 2021 Lecture Series
Please join the FAU Department of Visual Arts and Art History for the
Fall 2021 Art and Design lecture series.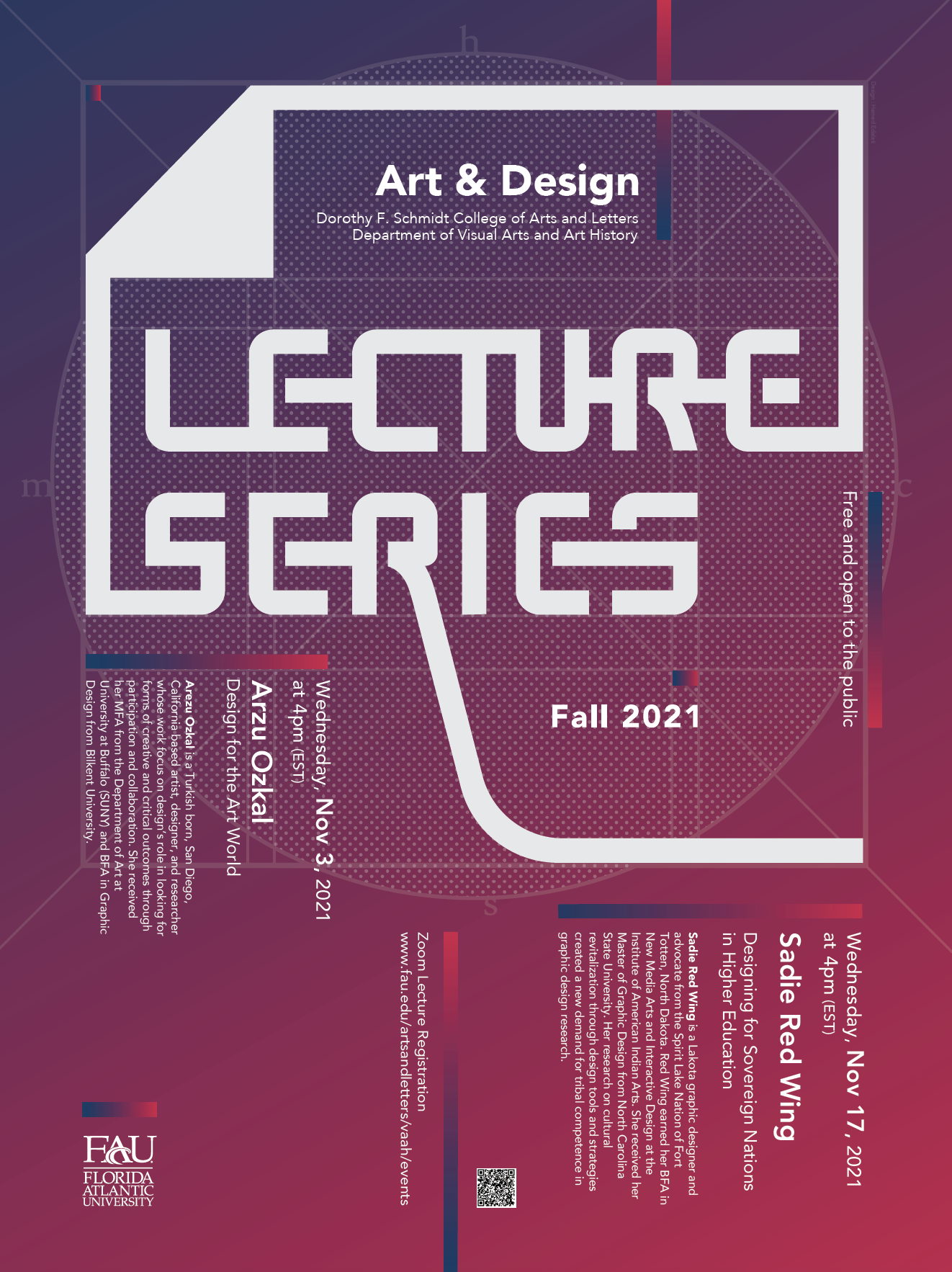 Arzu Ozkal | Design for the Art World

• Wednesday, November 3rd, 4 pm (via Zoom).

ARZU OZKAL is a Turkish born, San Diego, California based artist, designer, and researcher
whose work focuses on design's role in looking for forms of creative and critical outcomes
through participation and collaboration. She received her MFA from the Department of Art at the
University at Buffalo (SUNY) and BFA in Graphic Design from Bilkent University. She is
associate professor and interim director at San Diego State University, School of Art and Design.
Ozkal has exhibited and lectured nationally and internationally, and her work is in collections
across the country. Ozkal is a founding member of Home Affairs, an interdisciplinary art
collective focusing on creative projects about a range of issues impacting women's lives. Since
2011, they have been working together with women from Turkey, Europe, and the USA to
design platforms of social exchange. Collective received their first design patent for their
museum furniture for children.
________________________________________________________________

Sadie Red Wing | Designing for Sovereign Nations
in Higher Education

• Wednesday, November 17, 4 pm (via Zoom)

Sadie Red Wing is a Lakota graphic designer and advocate from the Spirit Lake Nation of Fort
Totten, North Dakota. Red Wing earned her BFA in New Media Arts and Interactive Design at
the Institute of American Indian Arts. She received her Masters of Graphic Design from North
Carolina State University. Her research on cultural revitalization through design tools and
strategies created a new demand for tribal competence in graphic design research. Red Wing
urges Native American graphic designers to express visual sovereignty in their design work, as
well as encourages academia to include an indigenous perspective in design curriculum.
Currently, Red Wing works as the Assistant Director of the Native Student Programs at the
University of Redlands, where she supports and provides resources to indigenous students during
their journey through higher education. Her work has been featured on AIGA's Eye on Design:
"Why Can't the U.S. Decolonize Its Design Education?" (2017) and Communication Arts:
"Decolonizing Native American Design" (2017).
This is a Zoom based event, and your registration is required for each lecture.
_________________________________________________________________________________________
PAST EVENTS
Wed. Apr 21, 4 PM EST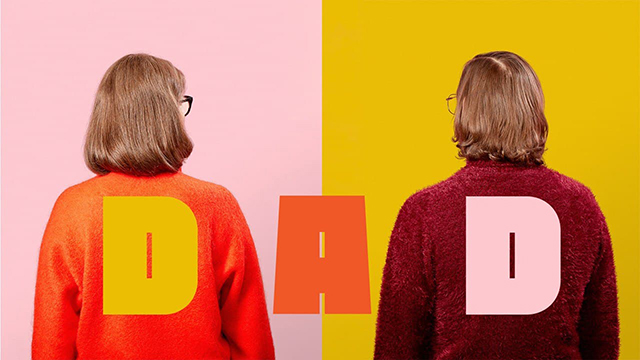 Studio Dad Design - Studio Presentation
The Remarque student group presents Studio Dad. Studio DAD is the creative practice of Tess Donohoe and Peter Dean. We create graphic design, writing, illustration, music and motion pieces. We build brand identity systems. We design and execute campaigns and content. We build experiential exhibits. We work with cultural institutions, local governments, non-profits, retailers, craftspeople, corporations and individuals who endeavor to make their part of the world more beautiful, more human and more their own.            
Click HERE to watch the recorded video
_____________________________________________________________________________________________________________
SPRING 2021 LECTURE SERIES
Please join the FAU Department of Visual Arts and Art History
for the Spring 2021, Art and Design lecture series.

Wed. Apr 07, 4 PM EST

Jessica Barness - Artist lecture
Design/ing Discourse and Critical Practice
Jessica Barness is a design scholar-practitioner. Her research focuses on critical practices and the visual design of scholarship, and the ways these intersect with design conversations in the public sphere. She serves as the Director of Research Initiatives for Design Incubation, and is an Associate Professor in the School of Visual Communication Design at Kent State University.
Click HERE to watch the recorded video.
Wed. Mar 03, 4 PM EST


Richard The - Artist lecture
The Aesthetic Potential of Technology

Richard The (he/his) is a designer, artist and educator. His work, ranging from graphic design to installations to user interfaces, investigates the aesthetic and cultural implications of an increasingly technology-driven society. After having studied at University of the Arts Berlin and the MIT Media Lab he has worked at Sagmeister Inc., led a design group at the Google Creative Lab and is co-founder of the transdisciplinary design studio TheGreenEyl. He is an Assistant Professor of Art Media and Technology at Parsons School of Design. His work has been recognized by international design institutions such as D&AD, Art Directors Club New York, AIGA, Communication Arts, Type Director's Club Tokyo and Ars Electronica, Linz and he has taught at NYU ITP, School of Visual Arts and MIT School of Architecture.
Click HERE to watch the recorded video.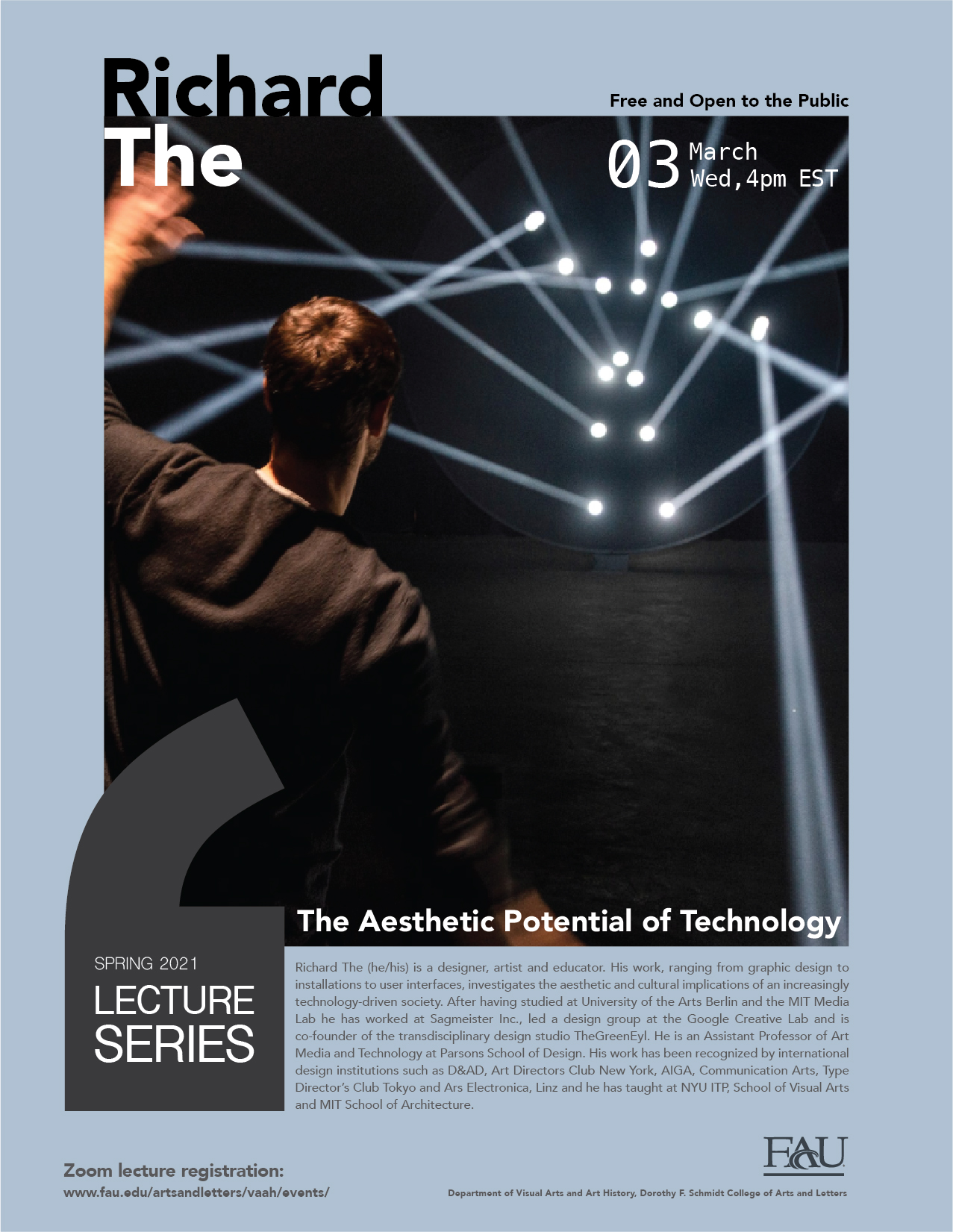 ___________________________________________________________________________________________

Wed. Jan 27, 4 PM EST


alejandro t. acierto - Artist lecture
Stepping out of a straight present:
circulations, recurrences, and queer disruptive practice
alejandro t. acierto is an artist, musician, and curator whose work is largely informed by legacies of colonialism found within human relationships to technology and material cultures. He has presented projects and screenings for the 2019 Havana Biennial in Matanzas, Cuba, the Yerba Buena Center for the Arts (San Francisco), Issue Project Room (NYC), MCA Chicago, the Art Institute of Chicago, the Echo Park Film Center (LA), Stove Works (Chattanooga) and Eastside Projects (Birmingham, UK), among others. He has presented multimedia performance works for the Rapid Pulse Performance Art Festival (Chicago), High Zero Festival (Baltimore), the KANEKO (Omaha), Center for New Music and Technology at UC Berkeley, and The Quarantine Concerts for ESS Chicago. Additionally, his curatorial projects have been mounted at Vanderbilt University's Space 204 Gallery, Coop (Nashville), and online for the Wrong Biennial.
acierto has held residencies at Skowhegan School of Painting and Sculpture, Virginia Center for the Creative Arts, Banff Centre, High Concept Laboratories, LATITUDE, Chicago Artists' Coalition, and Digital Artist Residency. A 3Arts Awardee, he received his undergraduate degree from DePaul University, an MM from Manhattan School of Music, an MFA in New Media Arts from University Illinois at Chicago (UIC) and was an inaugural Artist in Residence for Critical Race Studies at Michigan State University. He also co-directs CQDELAB, an ongoing collaborative project with KT Duffy that is invested in developing and sustaining queer-feminist digital spaces, systems, and toolsets. Together, they authored the artist book CQDE: A Feminist Manifestx of Code-ing published by Sybil Press and continue to present workshops and installations in digital and IRL spaces. Currently, he is an Andrew W. Mellon Assistant Professor of Digital Art and New Media and at Vanderbilt University and recently held a Mellon Faculty Fellowship in Digital Humanities.
Click HERE to watch the recorded video.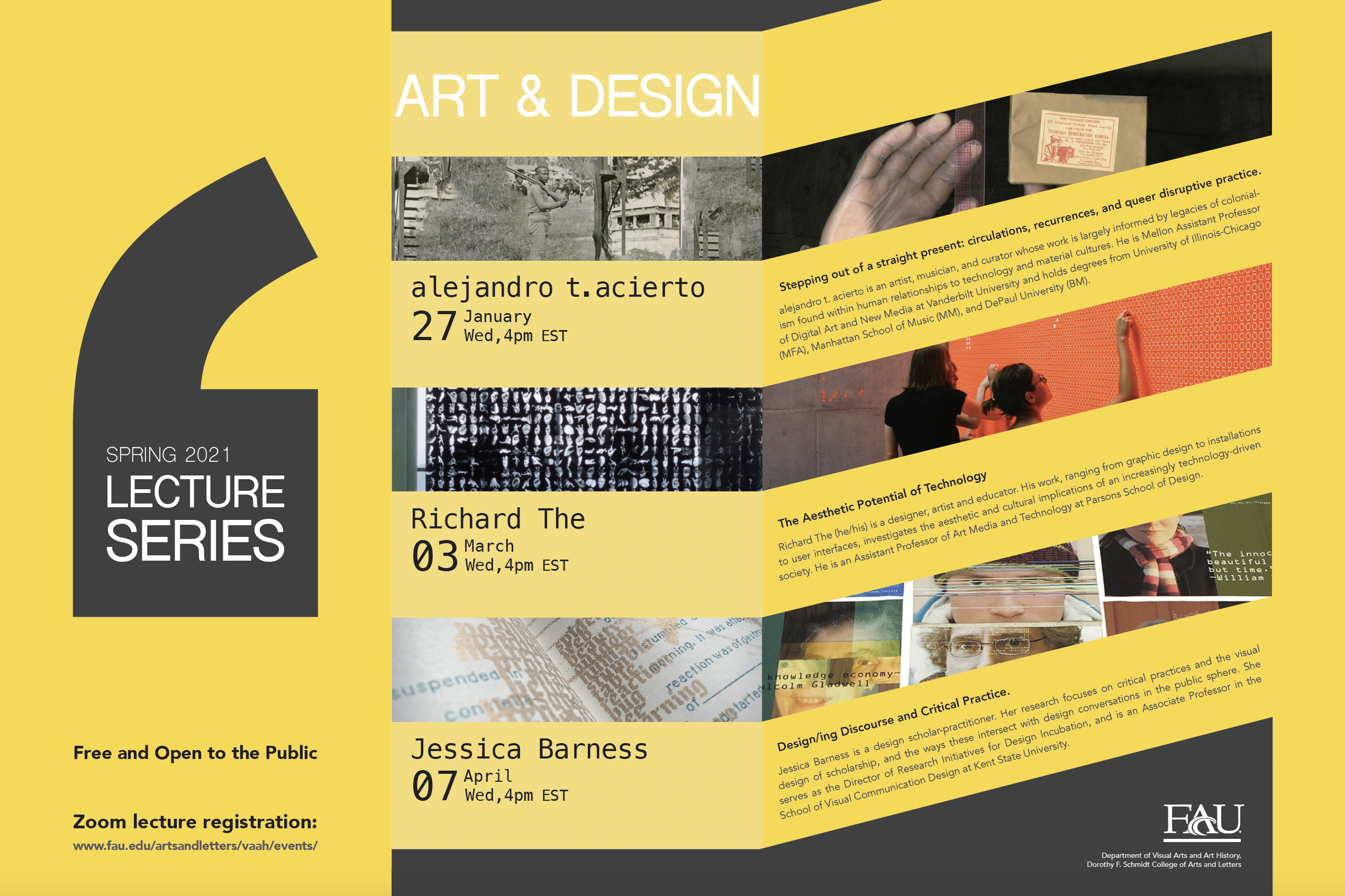 ---
---
---
---
---
---
---